In This Section
Susan A. Reeves, EdD, RN, Named Executive Vice President of Dartmouth-Hitchcock Medical Center
By

Newsroom

July 17th, 2020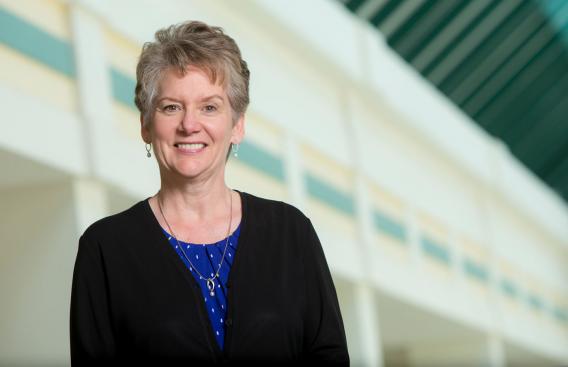 DHMC is a vibrant center for high-quality health care, health professions education and discovery. I look forward to our continued growth so that we may keep our promise to improve the health of our region.
Susan A. Reeves, EdD, RN
Susan A. Reeves,  EdD, RN, currently serving as Chief Nursing Executive and Executive Vice President for Research and Education at Dartmouth-Hitchcock Health (D-HH), has been named Executive Vice President of Dartmouth-Hitchcock Medical Center (DHMC) in Lebanon.
DHMC is the flagship hospital of the D-HH system, offering primary, specialty, and subspecialty care to northern New England. DHMC is licensed for 396 beds, and employs more than 6,500 providers, nurses, and staff. Construction will begin later this month on a 200,000 square-foot addition to its inpatient facility.
The D-HH system, which includes DHMC in Lebanon, community group practices throughout New Hampshire, New London Hospital, Alice Peck Day Memorial Hospital, Mt. Ascutney Hospital and Health Center, and Visiting Nurse and Hospice for Vermont and New Hampshire,  continues to grow, and with the planned combination with Manchester-based GraniteOne Health, the level of complexity in operations of the system, through clinical integration and other expected business shifts, is increasing.
 
"Most of our D-HH members have in place a senior, local leader at their helm, with a concentrated focus on operations for each member organization," said D-HH CEO and President Joanne M. Conroy, MD. "It is appropriate that we have a similar leadership structure for DHMC, the academic organization within our academic health system, clarifying the role of DHMC as a distinct member of the D-HH system."
 
Reeves will be responsible for establishing and executing DHMC's short- and long-range objectives, to ensure efficient, effective and high-quality patient care to meet the community needs of the DHMC service area. The move will allow Dr. Conroy  to fully concentrate on the evolving D-HH health system,   as she continues as the CEO and President of Dartmouth-Hitchcock and Dartmouth-Hitchcock Health.
 
"I've spent most of my professional career in the Dartmouth-Hitchcock system, and I'm honored and humbled to take on this role," Reeves said. "DHMC is a vibrant center for high-quality health care, health professions education and discovery.  I look forward to our continued growth so that we may keep our promise to improve the health of our region."
 
While leading DHMC, Reeves will also maintain her focus on D-HH's academic mission, guiding efforts at the education of health professionals and the system's expanding research portfolio. And she will continue to oversee D-HH Nursing, re-evaluating nursing at the system level with D-HH member nurse leaders.
 
Reeves brings decades of knowledge and experience and has been a member of the Dartmouth-Hitchcock community for more than 40 years. Early in her career, her clinical specialty was oncology, with a sub-specialty in radiation oncology nursing. Later she served on the senior leadership team, where she was administratively responsible for the inpatient hospital, D-H's Norris Cotton Cancer Center and the D-H Emergency Services programs. As part of a contractual arrangement with D-H, beginning in 2007, she led the Nursing program at Colby-Sawyer College as Dean and Professor in the School of Nursing and Health Professions. She stayed there until her return to D-HH as the Chief Nursing Executive in June, 2017. Reeves also recently led the effort to expand D-HH's partnership with Colby-Sawyer to train and recruit qualified health care professionals in critical areas by offering new undergraduate and graduate degree programs.
 
Reeves received her Diploma in Nursing from Mary Hitchcock Memorial Hospital in 1980 and earned her Bachelor of Science degree, with a major in nursing, from Colby-Sawyer College in 1988. She attended the University of New Hampshire, where she earned a Master's Degree in Nursing Administration in 1991; she earned her Doctorate in Educational Leadership and Policy Studies from the University of Vermont in 2010.
 
Her scholarship interests lie in the fields of health care quality and patient safety, and she actively participates in numerous local, regional and national programs with this focus. Locally, she is a trustee and vice-chair of the board of New London Hospital. Sue and her husband, David, live in New London. They have two sons and two grandchildren.
 
About Dartmouth-Hitchcock Health
Dartmouth-Hitchcock Health (D-H Health) is a non-profit academic health system primarily serving New Hampshire and Vermont as well as patients from across New England. As the largest health care system and employer in New Hampshire, D-H Health is an integrated health care delivery network of providers and member organizations with the same commitment to provide the highest quality of care to the nearly 2 million community members we serve throughout the region.