In This Section
Dartmouth-Hitchcock Medical Center Performs Milestone 1,000th Transplant Surgery
By

Newsroom

August 18th, 2020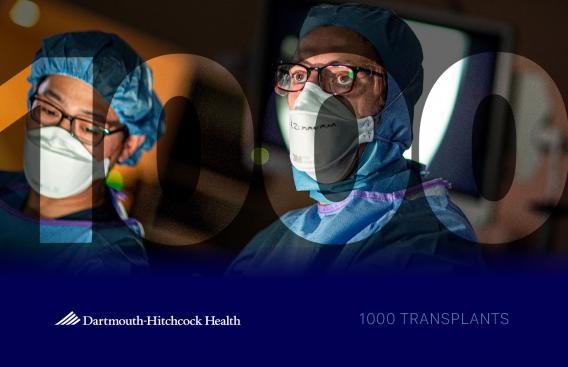 Dartmouth-Hitchcock Medical Center (DHMC) is proud to announce the 1,000th solid organ transplant has been performed by its Solid Organ Transplant program. Launched in 1992, DHMC is home to the only organ transplant center in the state of New Hampshire and offers transplant services for children and adults. 
The recipient, a male, received a kidney from a living donor. Both the donor and recipient are recovering after surgery and doing well. 
"This milestone is a wonderful accomplishment for our team and medical center," said DHMC's Solid Organ Transplant Section Chief Michael Daily, MD, MS, FACS. "We have an incredible team and a growing interest from the community. I think that the word is getting out about our program. I'm so excited about the future for transplants here."
Over the past 28 years, there's been some other significant achievements for the transplant team, including being the first program in New England to stop using steroids consistently as a daily maintenance immunosuppressive drug; the first program in the United States to use one anti-rejection drug in 50% of patients; and the first program to match donors and recipients, and successfully transplant a donor organ from across the country as part of a "paired donor" pilot program through the National Kidney Registry. The kidneys in ice chests were exchanged on the tarmac at the Greater Pittsburgh International Airport in 2010 between DHMC and Washington University Medical Center in St. Louis. 
"Our motto is, and has always been, minimizing the risk while maximizing the benefit of transplantation," said DHMC's Solid Organ Medical Director Michael Chobanian, MD. "The excellence of our program's outcomes have been based upon a commitment by both patients and staff to provide the best possible care to every possible patient." 
Organ donation at DHMC is coordinated by New England Donor Services (NEDS). DHMC is one of 14 designated transplant centers in the region that partners with NEDS to provide life-saving organ transplants to patients in need. Staff members from NEDS support donor families and manage the recovery and transportation of donated organs. 
"As the organ procurement organization serving New England, we have had a long, successful and collaborative working relationship with Dartmouth-Hitchcock Medical Center," said NEDS Regional Director Posy Durning, PA, CPTC. "We congratulate DHMC on the accomplishment of the 1000th transplant and we look forward to working with them for many years to come."
To learn more about organ transplantation at DHMC, visit dh.org/transplantation. 
About Dartmouth-Hitchcock Health
Dartmouth-Hitchcock Health (D-HH), New Hampshire's only academic health system and the state's largest private employer, serves a population of 1.9 million across northern New England. D-H provides access to more than 2,000 providers in almost every area of medicine, delivering care at its flagship hospital, Dartmouth-Hitchcock Medical Center (DHMC) in Lebanon, NH. DHMC was named again in 2020 as the #1 hospital in New Hampshire by U.S. News & World Report, and recognized for high performance in 9 clinical specialties and procedures. Dartmouth-Hitchcock also includes the Norris Cotton Cancer Center, one of only 51 NCI-designated Comprehensive Cancer Centers in the nation; the Children's Hospital at Dartmouth-Hitchcock, the state's only children's hospital; affiliated member hospitals in Lebanon, Keene, and New London, NH, and Windsor, VT, and Visiting Nurse and Hospice for Vermont and New Hampshire; and 24 Dartmouth-Hitchcock clinics that provide ambulatory services across New Hampshire and Vermont. The D-H system trains nearly 400 residents and fellows annually, and performs world-class research, in partnership with the Geisel School of Medicine at Dartmouth and the White River Junction VA Medical Center in White River Junction, VT.