By

Bonnie Barber

Photography by

Mark Washburn

December 18th, 2017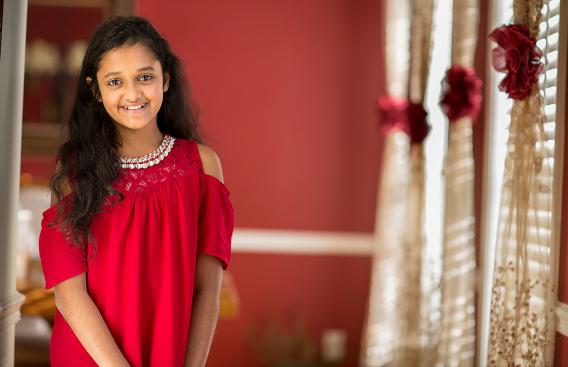 I wish people would understand that I can eat sugar even though I have Type 1 diabetes. They think I can only eat vegetables and fruit. I can eat anything. I just need to enter my carbs in the insulin pump.
Shruthi Sriram
In the fall of 2010, Shruthi Sriram was a typical five-year-old, who enjoyed playing with her friends, dancing, drawing and roller skating in her hometown of Bangalore, India. So, when she suddenly became lethargic and started losing weight, her father Sriram Krishnan and her mother Suja Sriram were alarmed. Shruthi was drinking a lot of water and urinating frequently throughout the night, but tests at their local hospital ruled out the urinary tract infection that doctors suspected. As she continued to grow weaker, her parents were desperate for answers and took her to a larger hospital. Tests revealed that Shruthi's blood sugar levels and ketones were dangerously high, and doctors diagnosed her with Type 1 diabetes.
"Her breath smelled like strawberries and we learned that the breath smells very sweet when ketones are high," Sriram says. "It seems like her pancreas stopped working about a month before she was diagnosed. She was hospitalized for three or four days so the ketones could come down. It was a very traumatic time for us."
When the couple sought care for her in their native India, they learned that there were only a few pediatric endocrinologists in the country, which made it difficult to get appointments (endocrinologists specialize in diseases that affect the body's endocrine glands and hormones). Sriram adds that the treatment for Type 1 diabetes in India at that time was nearly identical to the treatment patients received for the more prevalent Type 2 diabetes, which is a very different disease. While people with both diseases have higher than normal blood sugar levels, people with Type 1 diabetes do not produce any insulin while people with Type 2 diabetes produce too little insulin or cannot utilize insulin efficiently.
"We researched the best we could do for her, and there is much better care for Type 1 diabetes in the U.S.," says Sriram, who asked his manager to be reassigned to the company's office in the U.S. Six months later the family moved to New Hampshire.
The Krishnan family settled in Bedford and the school nurse at Shruthi's elementary school recommended Dartmouth-Hitchcock (D-H) Manchester for her health care. "That's how we got to know Dartmouth-Hitchcock and Dr. [Nancy] Charest and her team," Sriram says. "They were so welcoming, helpful and very positive. It was a totally different experience for the family, which was earlier very depressed after learning about our child's new chronic disease. They walked us through every step of her treatment, kept us informed, and gave us the pros and cons of her various options."
"We met Shruthi and her family at our CHaD [Children's Hospital at Dartmouth-Hitchcock] Manchester location in the summer of 2011 when she was five-and-a-half-years old," says Nancy Charest, MD, chief of Pediatric Endocrinology at CHaD. "The treatment for Shruthi's diabetes was somewhat different in India, and the family went through intensive diabetes self-management education at our CHaD Pediatric Diabetes Education Program to transition Shruthi to multiple daily injections of insulin, a more flexible diabetes regimen for her age."
About a year later, after conferring with Charest and Pediatric Diabetes Program Coordinator Laurie Campbell, the family decided to transition Shruthi to an insulin pump. "Insulin pump therapy was chosen by the family as it involves fewer insulin injections and has the ability to deliver the small amounts of insulin that a young child requires," says Campbell, who trained the family in the fall of 2012 and started Shruthi on an insulin pump that November.
Another improvement to the now 11-year-old's lifestyle was the addition earlier this year of a continuous glucose monitor. "It's much easier now. I don't have to prick my finger 10 times a day, so it's much less painful," Shruthi says. "It's like a phone; all I have to do is take it out of my pocket and check it. And it gives an alarm if my glucose is getting too low."
Campbell adds, "As Shruthi and her family move forward in her day-to-day diabetes care, the continuous glucose monitoring system will help the family make more informed decisions around her diabetes management."
Shruthi leads a very active life. She dances, rides her bike, hikes, swims and plays basketball, and is careful not to miss insulin doses and to calculate her carbohydrates so that she maintains a stable blood sugar level. "But I wish people would understand that I can eat sugar even though I have Type 1 diabetes," Shruthi says. "They think I can only eat vegetables and fruit. I can eat anything. I just need to put my carbs in the device [insulin pump]. But before I got the device, I always searched the internet for carb totals anyway, so I've memorized a lot of them and know how many carbs everything is."
As parents, Sriram says he and his wife try to help Shruthi find the right balance between her activities and her food. "If it's a heavy activity where she is running around a lot like basketball, it impacts her blood sugar, and we have to calculate how many carbohydrates she may need," he says, adding that they keep snacks and juice on hand for her. "The equipment has helped so much, and Dartmouth-Hitchcock made all this available to her."
A smart, lively and engaging sixth grader, Shruthi has impressed Charest and Campbell with her can-do spirit and upbeat personality over the six years she has been their patient. "Shruthi has always been cheerful and optimistic in the face of this chronic disease," Charest says. "Nothing seems to phase her regarding the necessary tasks she needs to perform on a daily basis to care for her diabetes."
When asked what she wants to be when she grows up, Shruthi says, "When I was younger wanted to be a teacher. But now I kind of want to become a doctor because I already know so many things. Or I might become a mathematician because I do math about 10 times a day calculating carbs. So, I've gotten pretty good at math!"
CHaD's Lebanon and Manchester locations both offer comprehensive Pediatric Diabetes Education Programs for patients and families. For more information on Lebanon programs, call (603) 653-9877; for Manchester programs, call (603) 695-2790.