In This Section
Dartmouth-Hitchcock Medical Center Receives Nation's First Designation as a Center of Excellence for GreenLight™ Laser Therapy
By

Newsroom

September 3rd, 2020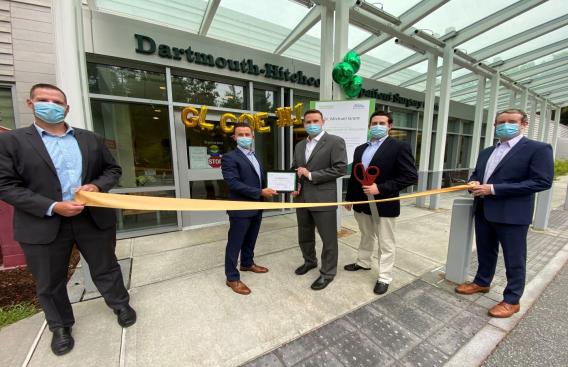 Dartmouth-Hitchcock Medical Center's (DHMC) Men's Health Center, under the co-direction of Michael Grant, MD, has been designated as the first Center of Excellence in the United States for GreenLight™ Laser Therapy treatment – a minimally invasive outpatient procedure for men looking to treat their benign prostatic hyperplasia (BPH), not just the symptoms.
BPH is a condition in which a man's prostate enlarges and squeezes the urethra, causing frustrating symptoms such as frequent or urgent need to urinate, a weak or interrupted urine stream, incomplete bladder emptying and the need to urinate several times a night. It affects close to 50 percent of men by age 60, and up to 90 percent of men by age 85.
GreenLight Therapy can help provide immediate relief from enlarged prostate symptoms. This therapy uses laser energy to vaporize the enlarged tissue, creating an open channel for urine to pass through the urethra and requires no incisions and typically has no overall negative impact on sexual function.
The Center of Excellence designation recognizes Grant's high degree of experience with GreenLight Laser Therapy and commitment to delivering effective, long-lasting therapy to men suffering from BPH.
"Being designated as a GreenLight Center of Excellence is a meaningful recognition for us, as we strive to provide the best possible treatment of urological conditions for our patients," said Grant, Co-Director of the Men's Health Center at DHMC. "The primary options for treating BPH are still through behavior modifications and medications. However, medications do not work for everyone and may have undesirable side effects such as dizziness, sexual dysfunction and lower sex drive. With GreenLight Laser Therapy, we've been able to provide reliable relief of BPH for men who want to avoid medications or invasive surgery. This has been possible due to an exceptional team of residents, OR nurses, anesthesia and clinical support staff."
GreenLight Therapy is currently being used in many leading urology practices throughout the United States. To date, more than 1 million patients around the world have been successfully treated with GreenLight Therapy.
For more information, visit The Men's Health Center at Dartmouth-Hitchcock or TreatMyBPH.com
About Dartmouth-Hitchcock Health
Dartmouth-Hitchcock Health (D-HH), New Hampshire's only academic health system and the state's largest private employer, serves a population of 1.9 million across northern New England. D-H provides access to more than 2,000 providers in almost every area of medicine, delivering care at its flagship hospital, Dartmouth-Hitchcock Medical Center (DHMC) in Lebanon, NH. DHMC was named again in 2020 as the #1 hospital in New Hampshire by U.S. News & World Report, and recognized for high performance in 9 clinical specialties and procedures. Dartmouth-Hitchcock also includes the Norris Cotton Cancer Center, one of only 51 NCI-designated Comprehensive Cancer Centers in the nation; the Children's Hospital at Dartmouth-Hitchcock, the state's only children's hospital; affiliated member hospitals in Lebanon, Keene, and New London, NH, and Windsor, VT, and Visiting Nurse and Hospice for Vermont and New Hampshire; and 24 Dartmouth-Hitchcock clinics that provide ambulatory services across New Hampshire and Vermont. The D-H system trains nearly 400 residents and fellows annually, and performs world-class research, in partnership with the Geisel School of Medicine at Dartmouth and the White River Junction VA Medical Center in White River Junction, VT.