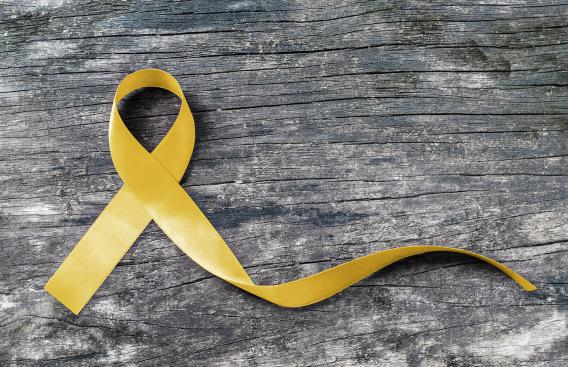 Over the last 10 years, suicide death rates have grown across New Hampshire and the United States. According to the 2018 Annual Suicide Report produced by the National Alliance for Mental Illness (NAMI) New Hampshire, the State Suicide Prevention Council and the Youth Suicide Prevention Assembly, in 2014, New Hampshire suicide rates became the second leading cause of death between the ages of 15 and 44. 
And this was before the COVID-19 pandemic. With so many unknowns still surrounding COVID-19, individuals who already experience anxiety, depression and loneliness are likely to feel these at a higher intensity right now. And for others, this new constant state of heightened anxiety and uncertainty can feel overwhelming, but hope is possible, as mental health issues can be addressed and treated.   
Suicide awareness
Suicide doesn't just affect an individual or their family; it also affects their community, so it's important for all of us to contribute to awareness around the risks for and warning signs of suicide. That is why in 2019, Dartmouth-Hitchcock (D-H) formed the Suicide Prevention Committee, an extension of the Substance Use and Mental Health Initiative (SUMHI). The group includes members of the D-H Community Health Improvement team, the Injury Prevention Center at the Children's Hospital at Dartmouth (CHaD), the Live Well/Work Well program for employee wellness, the Employee Assistance Program and other health care personnel. "We're working together to create awareness and learn from one another, working collaboratively on different efforts to improve outreach and support. We were just gaining momentum as COVID-19 hit," says Angie Leduc, MBA, CPS, senior community heath partnership coordinator, Community Health Improvement.
Leduc is one of eight Connect Suicide Prevention trainers at D-H. The Connect program is a nationally-renowned program developed by NAMI New Hampshire, which delivers an integrated, systematic approach to suicide prevention.
Creating awareness is about sharing resources, knowing how to recognize warning signs in ourselves or others and letting people know where they can find help. "Suicide is generally preventable and hope is possible. People can get help, treatment and recovery are possible, and lives can be saved," says Leduc. "We can find ways to increase access to helpful resources, and increase connection to one another."
What can you do if you are struggling or know someone who is?
"The key is for people to be willing to check in with themselves, and with others, and to use the resources that are available," says Steve Cole, PhD, psychologist and program manager for the Employee Assistance Program. Whether you are struggling with feelings of increased sadness or anxiety, or know someone who is, it's important to talk about those feelings. It's normal to experience higher levels of stress right now. There are new demands in our lives, such as helping teach children at home or adjusting to working from home away from co-workers. "But if those feelings of frustration continue and they affect your desire or ability to live your life, then it's time to reach out," says Cole.
Cole also advises that if you notice a change in someone's behavior, reach out and talk with them. There are ways we can be there for others, whether in person or virtually.
"The whole point of the Connect program is to get us talking to one another, creating a sense of understanding and connecting to helpful resources. And ultimately, not being afraid to talk about suicidal feelings," says Leduc. "We need others to know that it's okay to seek help. And we need to model that behavior ourselves."
If you, or someone you know is having a hard time coping, Cole offers these strategies:  
A change in health habits. Eating healthier, getting outside and exercising can all help lift your mood. Try taking a walk outside when you're feeling overwhelmed.
Be a compassionate listener. Sometimes a friendly ear is enough for people struggling. "Be conscious of a person's thoughts about feeling hopeless," says Cole. "If you notice their mood hasn't improved or has worsened, it's okay to suggest that they seek out help."
Contact your primary care provider or consider reaching out to a mental health provider.
Find help. Here are some important resources available: