In This Section
Torrey Named Interim Chair of Psychiatry at Dartmouth-Hitchcock
By

Newsroom

October 5th, 2020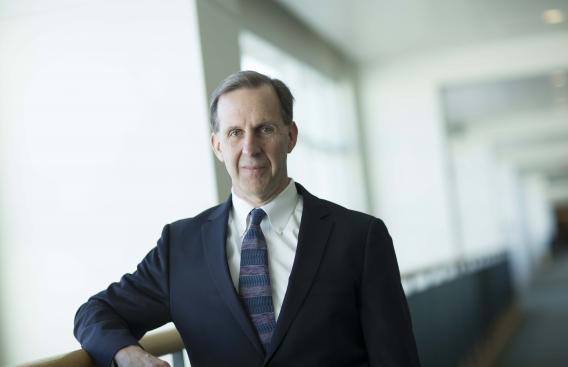 Dartmouth-Hitchcock (D-H) has named William C. (Will) Torrey, MD, as the Interim Chair for the Department of Psychiatry. As interim chair, Torrey will be responsible for leading the Department of Psychiatry to deliver value-based care, education and research programs consistent with the strategic plans for both Dartmouth-Hitchcock Health (D-HH) psychiatric services and the Geisel School of Medicine at Dartmouth College. In addition, Torrey will manage interactions and relationships within the regional service area and continue to ensure effective working relationships with referring physicians, surgeons and hospitals throughout northern New England.
"We are pleased to have Dr. Torrey take on the role of interim chair of the Department of Psychiatry," said D-HH Chief Clinical Officer Edward J. Merrens, MD, MHCDS. "He is incredibly talented and accomplished in the psychiatry space, with advocacy for mental health awareness and a dedicated partner in incorporating behavioral health into primary care. His extensive experience in health care and firsthand knowledge of the issues and challenges facing us in New Hampshire will be an incredible asset to us in this position."
A graduate of Dartmouth College and Harvard Medical School, Torrey returned for his residency in Psychiatry at Dartmouth-Hitchcock Medical Center and has remained in the D-HH system since his training. He has held a number of leadership roles throughout his career, including medical director of West Central Behavioral Health, medical director of the Department of Psychiatry at D-H, and most recently, vice chair for Clinical Services for the Department of Psychiatry at D-H.
Torrey, nationally known for his research, teaching and writing on a variety of topics related to psychiatry and mental illness, has received a number of awards and recognitions for his work. Most recently, he was awarded the 2019 National Alliance on Mental Illness Exemplary Psychiatrist award for his commitment "to improving care for adults with severe mental illness and integrating psychiatric care into primary care." He will serve as Interim Chair while a national search is conducted to fill this important leadership position.
Torrey succeeds Alan I. Green, MD, who recently stepped down after 18 years as Chair. Green contributed greatly to substance use disorder research, and he remains the Raymond Sobel Professor of Psychiatry and a Professor of Molecular and Systems Biology at the Geisel School.
About Dartmouth-Hitchcock Health
Dartmouth-Hitchcock Health (D-HH), New Hampshire's only academic health system and the state's largest private employer, serves a population of 1.9 million across northern New England. D-H provides access to more than 2,000 providers in almost every area of medicine, delivering care at its flagship hospital, Dartmouth-Hitchcock Medical Center (DHMC) in Lebanon, NH. DHMC was named again in 2020 as the #1 hospital in New Hampshire by U.S. News & World Report, and recognized for high performance in 9 clinical specialties and procedures. Dartmouth-Hitchcock also includes the Norris Cotton Cancer Center, one of only 51 NCI-designated Comprehensive Cancer Centers in the nation; the Children's Hospital at Dartmouth-Hitchcock, the state's only children's hospital; affiliated member hospitals in Lebanon, Keene, and New London, NH, and Windsor, VT, and Visiting Nurse and Hospice for Vermont and New Hampshire; and 24 Dartmouth-Hitchcock clinics that provide ambulatory services across New Hampshire and Vermont. The D-H system trains nearly 400 residents and fellows annually, and performs world-class research, in partnership with the Geisel School of Medicine at Dartmouth and the White River Junction VA Medical Center in White River Junction, VT.