In This Section
Joanne M. Conroy, MD, Addresses the Annual Meeting of the American Society of Anesthesiologists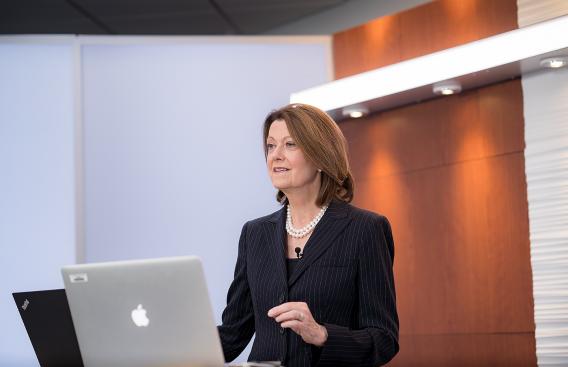 Joanne M. Conroy, MD, CEO and president of Dartmouth-Hitchcock Health and board-certified anesthesiologist, virtually gave the annual Rovenstine Lecture to the American Society of Anesthesiologists (ASA) from Dartmouth-Hitchcock Medical Center in Lebanon, NH, on Sunday, October 4.
Conroy's lecture, "Vital Signs: Transforming 21st Century Anesthesia Practice," highlighted how this century has been a transformative time for the practice of anesthesia. She began by acknowledging those that were watching for their tireless work for their communities, their patients and their colleagues during the pandemic. Conroy also recognized how unusual the circumstances were, including the fact that she was not there in person, and remarked, "Honestly it's kind of fun being the first virtual Rovenstine lecturer, and I probably won't be the last."
In her 30-minute presentation, she focused on three areas: disruption, equity and patient safety. Conroy emphasized that the pandemic will require anesthesiologists to closely examine how they work across their organizations, how they embrace technology, and how they determine value and payment.
Conroy ended her presentation highlighting the other female Rovenstine lecturers and "Women of Impact," the non-profit organization of 80 women health care leaders that she started in 2013. "We will change how health care is delivered in the United States. Remember Health Care change begins with all of us," Conroy said.
Watch the full lecture here.