In This Section
Dartmouth-Hitchcock Neurologist Barbara Jobst, M.D., named Tech Professional of the Year by NH Tech Alliance
By

Newsroom

October 16th, 2020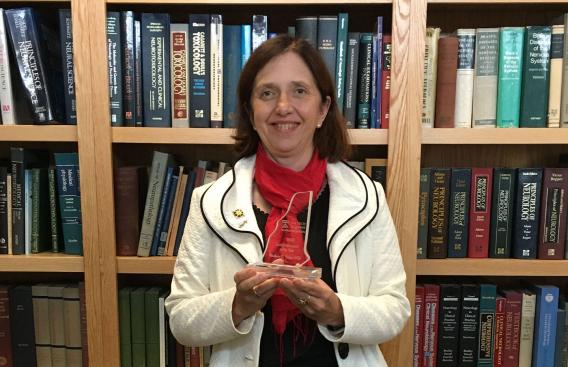 I am honored to be recognized by the NH Tech Alliance, and applaud their efforts to illuminate the work of women in STEM fields and in promoting STEM opportunities to girls and young women throughout the state
Barbara Jobst, MD, PhD
Dartmouth-Hitchcock neurologist Barbara Jobst, MD, PhD, has been named the 2020 Tech Professional of the Year by the NH Tech Alliance. The honor was announced at the fifth annual 'TechWomen/TechGirls' awards luncheon, held virtually earlier this month.  
The annual award acknowledges the accomplishments of New Hampshire women who contribute to help to advance science, technology, engineering and math (STEM) education and/or professional STEM advancements for women throughout the state.
Jobst serves as Co-director of the Dartmouth-Hitchcock (D-H) Epilepsy Center at Dartmouth-Hitchcock Medical Center in Lebanon. She is the section chief for Adult Neurology and Vice Chair of the Neurology Department. She is also the Louis and Ruth Frank Endowed Professor of Neurosciences at the Geisel School of Medicine at Dartmouth.
"I am honored to be recognized by the NH Tech Alliance, and applaud their efforts to illuminate the work of women in STEM fields and in promoting STEM opportunities to girls and young women throughout the state," said Jobst.
Jobst is a clinician-investigator who applies advanced technology to benefit patients and has trained many students, residents, fellows and junior faculty in using technology to advance medicine. After her initial work in describing epilepsy characteristics and her work in the prognosis after epilepsy surgery, she moved her scientific interest to measuring brain waves with implanted brain electrodes and brain stimulation. She and her team have participated in multiple multicenter trials involving brain stimulation. Following epilepsy patients for prolonged periods, she observed that the memory consequences of epilepsy are as disabling as seizures. Since then she has studied the interaction of memory and epilepsy. Her work has included improving memory with deep brain stimulation as well as developing and implementing a cognitive-behavioral program for memory problems in epilepsy (HOBSCOTCH - HOme Based Self-management and COgnitive Training CHanges Lives). She has coordinated the Managing Epilepsy Well network, one of the thematic research networks of the CDC, aimed to improve the quality of life of patients with epilepsy through cognitive training.
"Epilepsy as a chronic disease is cruel in that it can render patients unable to lead a normal, fulfilling life," said Jobst. "To truly improve the lives of patients, innovations need to be based on rigorous science, and our team at Dartmouth-Hitchcock has been able to transform epilepsy care through a combination of excellent clinical care and translational science."
Originally from Germany, Jobst attended Dartmouth Medical School (DHMC -now known as the Geisel School of Medicine at Dartmouth) for four months in 1992 as a medical exchange student. She returned to the United States in 1996 as a medical resident at DHMC after earning her medical degree, and has been with D-H ever since. Her leadership roles in academics have included chair of the American Epilepsy Society annual meeting and epilepsy chair of the Scientific Program of the American Academy of Neurology.
About Dartmouth-Hitchcock Health
Dartmouth-Hitchcock Health (D-HH), New Hampshire's only academic health system and the state's largest private employer, serves a population of 1.9 million across northern New England. D-H provides access to more than 2,000 providers in almost every area of medicine, delivering care at its flagship hospital, Dartmouth-Hitchcock Medical Center (DHMC) in Lebanon, NH. DHMC was named again in 2020 as the #1 hospital in New Hampshire by U.S. News & World Report, and recognized for high performance in 9 clinical specialties and procedures. Dartmouth-Hitchcock also includes the Norris Cotton Cancer Center, one of only 51 NCI-designated Comprehensive Cancer Centers in the nation; the Children's Hospital at Dartmouth-Hitchcock, the state's only children's hospital; affiliated member hospitals in Lebanon, Keene, and New London, NH, and Windsor, VT, and Visiting Nurse and Hospice for Vermont and New Hampshire; and 24 Dartmouth-Hitchcock clinics that provide ambulatory services across New Hampshire and Vermont. The D-H system trains nearly 400 residents and fellows annually, and performs world-class research, in partnership with the Geisel School of Medicine at Dartmouth and the White River Junction VA Medical Center in White River Junction, VT.