In This Section
Dartmouth-Hitchcock Health Urges Proper Disposal of Unused Prescription Drugs
By

Newsroom

October 21st, 2020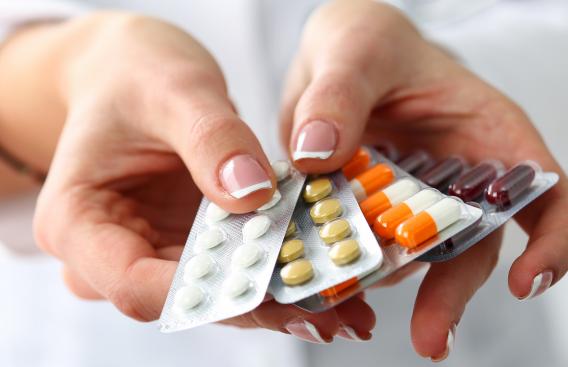 As we keep ourselves and our families safe from infectious disease, we also must take steps to prevent tragedies from unsecured or unused medications found in the home. I urge all members of the D-HH community to take advantage of Drug Take Back Day
Staci Hermann, PharmD, MS, D-HH Chief Pharmacy Officer
The next National Drug Take Back Day is set for Saturday, October 24, offering people the opportunity to drop off their unused prescription drugs to be destroyed safely and securely. This year, due to COVID-19 restrictions, unused drug collections will take place at police departments and other select locations around the Upper Valley and New Hampshire. Additionally, all Dartmouth-Hitchcock Health (D-HH) pharmacies have a drug take back box that can be accessed year round.
"While the pandemic has changed just about everything in our lives, the need for proper disposal of unused medications from the home has not changed," said Staci Hermann, PharmD, MS, Chief Pharmacy Officer for D-HH. "As we keep ourselves and our families safe from infectious disease, we also must take steps to prevent tragedies from unsecured or unused medications found in the home. I urge all members of the D-HH community to take advantage of Drug Take Back Day while observing current physical distancing guidelines."
The October 2019 Drug Take Back Day brought in 882,919 pounds (almost 442 tons) of unused or expired prescription medication and e-cigarette "vape" devices (https://www.getsmartaboutdrugs.gov/content/national-take-back-day).
While news on the pandemic has overshadowed that of the opioid epidemic, multiple reports indicate opioid-related deaths are on the increase (https://www.ama-assn.org/system/files/2020-10/issue-brief-increases-in-opioid-related-overdose.pdf), and it is more important than ever to properly dispose of unused and unwanted medications. Also, with so many people staying at home these days, it's important to make sure your medication is properly locked up, accounted for or disposed of during National Drug Take Back Days.
"This event is a collaborative effort between the Drug Enforcement Administration, state and local law enforcement agencies in an effort to remove potentially dangerous controlled substances from homes across the country," said Lebanon, NH, Police Chief Richard Mello. "This event raises awareness of the potential hazards that exist by improper disposal of controlled substances, needles and syringes. The public is able to turn over expired, unused, or unwanted controlled substances and other medications to law enforcement for proper disposal."
 For a full list of Drug Take Back Day drop-off locations, visit https://takebackday.dea.gov/
About Dartmouth-Hitchcock Health
Dartmouth-Hitchcock Health (D-HH), New Hampshire's only academic health system and the state's largest private employer, serves a population of 1.9 million across northern New England. D-H provides access to more than 2,000 providers in almost every area of medicine, delivering care at its flagship hospital, Dartmouth-Hitchcock Medical Center (DHMC) in Lebanon, NH. DHMC was named again in 2020 as the #1 hospital in New Hampshire by U.S. News & World Report, and recognized for high performance in 9 clinical specialties and procedures. Dartmouth-Hitchcock also includes the Norris Cotton Cancer Center, one of only 51 NCI-designated Comprehensive Cancer Centers in the nation; the Children's Hospital at Dartmouth-Hitchcock, the state's only children's hospital; affiliated member hospitals in Lebanon, Keene, and New London, NH, and Windsor, VT, and Visiting Nurse and Hospice for Vermont and New Hampshire; and 24 Dartmouth-Hitchcock clinics that provide ambulatory services across New Hampshire and Vermont. The D-H system trains nearly 400 residents and fellows annually, and performs world-class research, in partnership with the Geisel School of Medicine at Dartmouth and the White River Junction VA Medical Center in White River Junction, VT.