Photography by

Mark Washburn

January 10th, 2018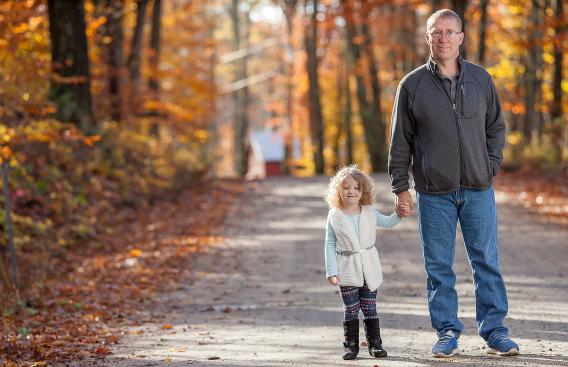 You have to learn to love therapy, treat it like a game, like it's part of your everyday life.
James Moore, Canaan, New Hampshire
"I was doing everything right. I did a lot of hiking, ran every day, even ate vegetarian meals," says James Moore, 50, of Canaan, New Hampshire, "so it was surprising when I had my stroke. It was just bad luck."
Moore remembers a good deal of what happened on March 7, 2016. "I woke up, got out of bed and instantly collapsed," he says. His wife, Candy, saw him fall and immediately called 911. Emergency medical technicians (EMTs) arrived within minutes to transport him to the Emergency Room at Dartmouth-Hitchcock Medical Center (DHMC).
Semi-coherent, Moore watched as his critical care team, led by Diana Rojas-Soto, MD, in Neurology, explained that he had had a stroke, and that there was some swelling on his brain. "I kept thinking, 'This isn't sounding very good,'" he says. "Then I thought that I wasn't going to make it. But somehow I did."
Rojas-Soto ordered a MRI (magnetic resonance imaging) and a CT (computerized tomography) scan, determining that Moore had experienced an arterial dissection—an uncommon instance of a tear in the wall of the artery, which causes blood to accumulate there, clot and begin to impede blood flow, leading to stroke.
Able to stabilize Moore's brain swelling to avoid surgery, Rojas-Soto explained that the tear in his artery was healing and closing itself off. "Fortunately his brain responded very well to a medication called Mannitol that helps decrease the swelling," says Rojas-Soto, "otherwise, we would have had to take him to the Operating Room to remove part of his skull to give room for the swelling to continue its natural course."
But Moore could already feel the damage from the stroke. "They were asking me to move my left leg, my toes, my hands," he says. "I couldn't do any of that on my left side."
Learning to love therapy
Moore looks back on his journey—beginning with the stroke, followed by many weeks of occupational, physical and cognitive therapy both at DHMC and at Spaulding Rehabilitation Hospital in Boston, Massachusetts—and believes he is not the same person. "The old version of me is gone," he says.
As he has worked to regain strength, mobility and speech, Moore learned to accept the new version of himself.
 "When I first came to Spaulding, I couldn't really talk, and my body was ruined." While there, Moore made significant strides and, after two and a half weeks, returned to Dartmouth-Hitchcock's (D-H's) Heater Road facility to continue working with occupational therapists Karen Thorp, OTR, and Gregory Morneau, OTR, CWCE; and physical therapist Kasie Cavagnaro, DPT; as well as with Mark Hegel, PhD, in Psychiatry.
"Everybody at DHMC is very empathetic and understand what you're going through," he says. And his therapists' encouragement helped him learn to approach therapy with a kind of affection. "You have to learn to love therapy, treat it like a game, like it's part of your everyday life."
As advice for others recovering from stroke, he adds, "Focus on letting go—letting go of the anger and who you used to be—and redefine yourself. If you can do that, you'll be fine."
With Hegel's guidance, Moore overcame periods of depression and anxiety, which are not unusual following a brain injury like a stroke, and refocused on what is most valuable to him. "Spending time with my family and my granddaughter," he says, "because at the end of the day, you really have nothing else but your family."
Moore has continued following up with Rojas-Soto, and together they have explored additional possible therapies to improve physical and cognitive strength, some of which she does not recommend.
He researches on his own about therapies that could help his recovery and brings them to my attention for my opinion," Rojas-Soto says. "And I research on my own to understand the science behind those therapies, the strength of the evidence that supports them and if they could be helpful."
Moore appreciates her openness to new therapies. "Instead of saying, 'Don't bother,' she'd tell me why something wouldn't work and to keep researching because it was good for my mind."
More than a year and a half after his stroke, Moore is getting back to an active life with the people he loves most. "I'm in pretty good shape now. I'm walking, talking; my cognition's not bad. I'm getting better all the time," he says. "Dr. Rojas-Soto and my whole team at Dartmouth-Hitchcock gave me the opportunity to pick up the pieces and drive forward. So I'm very optimistic about the future."