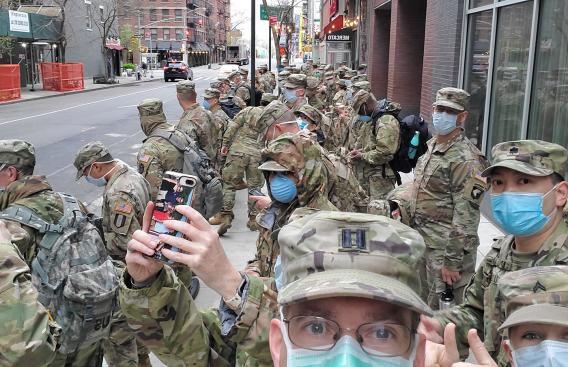 When the COVID-19 pandemic began in March, the demand for health care workers and health care resources grew rapidly as the virus made its way across the country. With lower numbers of COVID-19 patients in our region, many D-HH employees were called upon to assist in areas of need, particularly hotspots like New York City and Texas. Here are some highlights from just a handful of D-HH employees who lent their expertise and skills.
Talia Audley, MSN(c), RN, CCRN, CEN, CFRN
Cardio Vascular Critical Care
D-H Lebanon
New Hampshire Disaster Medical Assistance Team (NH-1)
U.S. Department of Health & Human Services, National Disaster Medical System
California, New York City, NY and Corpus Christi, TX
As part of a Disaster Medical Assistance Team (DMAT)—a federal response team whose focus in 2020 was providing COVID-19 relief—Audley's call to service quickly brought her to the forefront of the pandemic. In March, she joined a team of medical professionals who helped disembark passengers from a cruise ship in Oakland, CA, and quarantine them at Travis Air Force base in Sacramento, California. DMAT teams fall under the U.S. Department of Health and Human Services and are called upon, typically with 24-hours' notice, to assist with medical preparations from events such as political conventions to disaster relief after hurricanes.
Over the course of the next six months, Audley went on two more DMAT missions that worked directly with the Department of Defense, including helping to staff an Emergency Department in Texas, an Intensive Care Unit in Manhattan, a morgue in Brooklyn and other assignments that included triage, staffing a 24-hour pharmacy line, delivering truckloads of care packages and serving nearly 2,500 meals a day. Audley's DMAT joined joint military forces serving in Operation Gotham in the heart of New York City.
"It is intensely amazing in every way to recognize what we accomplished as a team—as a national public health system. It's been an honor to be part of the DMAT team," says Audley.
Michael S. Douglass, RN
Operating Room
New London Hospital
Captain, U.S. Army Reserve
399th Combat Support Hospital
Operation Gotham, Javits Center, New York, New York and Queens Hospital in Jamaica Plains
Douglass was given two and half days' notice to report to Fort Devens in Massachusetts, where he awaited final orders for deployment. His unit expected to be assigned the task of setting up a mobile hospital, as they would in a wartime situation. But instead, they were mobilized to be part of the Urban Augmentation Medical Task Forces, a FEMA model developed for providing critically needed support staff for hospitals in dire need of care providers at all levels of care, from nutritional staff to physicians.
The first part of Douglass' task force mission was at New York City's Javit's Center, and the second took place at Queens Hospital in Jamaica Plain, the epicenter of the COVID-19 pandemic at that time. In total, Douglass served in New York City for close to 10 weeks.
"I'm a nurse and a soldier—and the country was in need. I was proud to respond on both a personal and professional level. I have family that lives in New York City, so it was very personal to me," says Douglass. "This was not the deployment that any of us had ever imagined. When we joined the service, and you think of deployment, you think of the Middle East or somewhere distant; you don't think of cities like New York City or Houston."
Nirva Driscoll, BS, RCP-RRT
Respiratory Therapist
Cheshire Medical Center
Staff Sargent
U.S. Air Force Reserves
Critical Care Air Transport Team
439th Aeromedical Staging Squadron
Jacobi Medical Center, Bronx, New York
Driscoll, who has been in the Air Force Reserves since 2013, reported to Westover Air Force Base in Massachusetts, where she received orders for service in New York City. She was there for two and a half months.
"I've been a respiratory therapist for 11 years at Cheshire Medical Center, where we have a 10-bed ICU. Down there, I was covering two different floors and vented about 10 patients every single day. I had never seen so many sick people," says Driscoll.
"I was a part of history. We had never been part of something like this before, where you had a combination of military branches, professionals and civilians working together. We're going to look back at our experiences 10 years from now and say we were part of that incredible mission. We were able to help the city, the citizen, the staff members. It was a rewarding feeling."
Cherry Lynn Maglangit, DNP, MSN, RN, CCRN, NE-BC
Nurse Navigator, Neuro-Oncology and GU, Oncology
NCCC
Captain, U.S. Army Reserve
ICU Section Chief
405th Field Hospital
Operation Gotham, Javits Center, New York, New York and Operation Ready Warrior in Ft. McCoy, Wisconsin
Maglangit's Army Reserves unit was activated at the end of March 2020. After short briefings and training held at Fort Devens, Maglangit, along with several other reserve units, eventually deployed to New York City. Maglangit's team was stationed at the Javits Center, a convention center—turned 4,000-bed military hospital set up in New York City during the peak of the pandemic. Maglangit's team was one of 15 task forces put together by the Department of Defense that was made up of Federal Emergency Management Association ( FEMA), Department of Health and Human Services (DHHS), National Guard, Navy and Air Force personnel to provide medical support during the COVID-19 pandemic.
"When we arrived, the streets of Manhattan were empty. New York City was once my home, and to see only soldiers walking the empty streets was really eerie," Maglangit says. "I never expected to be part of such a historic mission. It was a profound learning experience that futures generations will learn from. I was very proud to be part of this historic mission.
Maglangit was stationed in New York City for approximately four weeks and later to Ft. McCoy, TX, to support other health care workers.