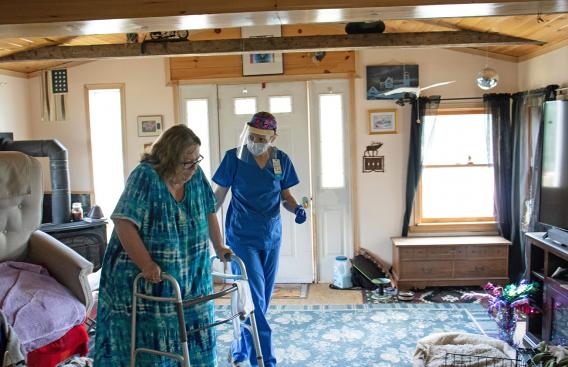 As northern New England begins to emerge from the stay-at-home conditions necessitated by COVID-19, Visiting Nurse and Hospice for Vermont and New Hampshire (VNH) is finding its way to a new normal. "The region is stable now," says Johanna Beliveau, president and CEO. "Having met the challenges of the first uncertain months of COVID-19, we're planning for care delivery to serve our patients and partner hospitals in a world that continues to include the virus."
When its five partner hospitals in the 4,000-square-mile region it serves began suspending services, day-to-day operations at VNH slowed. "Forty percent of our business is in rehabilitation, so, when surgeries stopped, and clinical services slowed, so did referrals for physical, speech and occupational therapies," says Hilary Davis, director of External Relations and Service Excellence. While in-home hospice service levels remained unchanged, VNH's total patient census decreased by 24 percent.
That doesn't mean that VNH staff were idle through the spring. Stocked with the personal protective equipment (PPE) needed to provide in-home care, staff continued to accept referrals for patients who required in-home care to supplement their physician's services. "With many outpatient clinics closed, we utilized our staff to support patients with increased blood draws, INR and vital checks," says Davis. VNH also implemented telehealth with patients whose goals could be met through a virtual visit, including nursing and therapy. Offering telehealth was also a satisfier for patients who were trying to limit the number of people in their homes.
Medicare instituted a waiver that classifies patients who are self-isolating as "homebound," making them eligible for services that would ordinarily be delivered inside clinics. VNH gladly accepted these referrals, allowing people to stay safe at home and receive necessary nursing and therapy services. Additionally, VNH was ready and able to take referrals for patients who did not meet home health eligibility criteria, but had nowhere else to receive certain services. "We've taken on that work because the patients have a need, and it was the right thing to do," says Davis.
To date, no VNH staff have tested positive for COVID-19, a clear indication that practices, procedures and proper PPE are effectively mitigating risk. That's important because demand for home health and hospice services is growing while the risk of COVID-19 infection remains. With the opening of clinics and elective surgery services, VNH is back to about 90 percent of its typical patient census. "We're continuing to use advanced PPE—masks, gloves and face shields—for every visit," says Davis. "We can't regulate who goes in and out of a patient's home or where they've been, but we can and do mitigate risks with extra layers of protection."
Both Davis and Beliveau attribute VNH's ability to maintain high levels of service in pandemic conditions to deliberate, frequent communication. "Our robust communication strategy kept the teams informed and ready to execute changing practices. We heard routinely from staff that the frequent communication instilled confidence in the organization and our handling of the pandemic," says Beliveau. "For a time, we shared daily, written communication, and leaders conducted daily check-ins to ask staff what they needed and what they were learning. We've learned that you can never communicate too much."
Davis adds that the confidence that comes from being fully informed is especially beneficial to home health care workers. "It's critical for VNH staff to be confident on the job," says Davis. "They're not surrounded by other professionals. They're on their own in a patient's home. They have to think critically and fast, solve problems and work at the top of their license."
COVID-19 has made maintaining consistently high levels of energy a greater challenge. "The extended period of time we've been in isolation is wearing on everyone," says Beliveau. "We haven't been able to meet face-to-face with peers or go out after work. People need a rest from the hyper-vigilance that COVID-19 requires, so we're working to give people a break from work and go on vacation."
Besides thinking about its staff recovery from COVID-19 challenges, VNH leaders are focused on how the organization will emerge from pandemic operations to a new normal. "Our payment model changed in January, right before COVID-19 changed our work and workload," says Beliveau. "We're recovering from a lower patient volume with a new payment model in which we have no experience. Predicting the future with so many new variables is challenging at best."
On the other hand, Beliveau and Davis have no questions about VNH's ability to help partner hospitals and patients through any COVID-19 surge. "If needed, our staff can again act as a force multiplier for nurses and therapists who can't deliver outpatient services," says Davis. Beliveau points out that while VNH has been moving away from telehealth, the technology and skill is there to turn back "on a dime" whenever the need arises.
"We're prepared, we've been prepared and we'll continue to adapt as needed to meet the needs of our community and health system," says Davis.