In This Section
Virtual Visit Volunteers Connect Patients and Their Loved Ones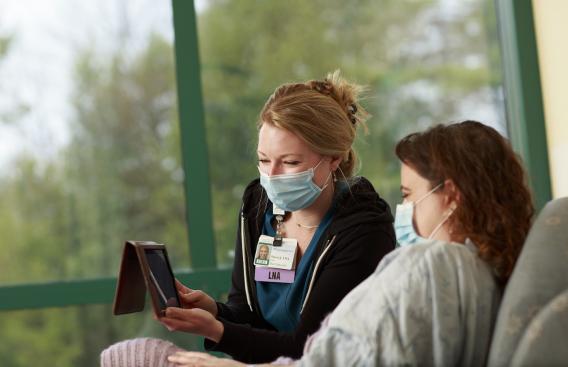 We started Virtual Visit Volunteers to support nurses in making sure that patients got the visiting assistance they needed.
Susan Hanlon, MBA
When COVID-19 restrictions limited patient visitations, Dartmouth-Hitchcock Medical Center (DHMC) nurses began helping patients connect to friends and family through Zoom, FaceTime, Google Duo, WhatsApp and other virtual communication applications. "Visits are really important but nurses were already so busy," says Susan Hanlon, MBA, director of operations, Population Health. "We started Virtual Visit Volunteers to support nurses in making sure that patients got the visiting assistance they needed."
Virtual Visit Volunteers support adult inpatients who are not able to connect with loved ones on their own because they lack a device, lack required technical knowledge or have a physical limitation. "Volunteers have been rounding to collect patient referrals from nurses and check-in directly with patients," says Sarah Latario, volunteer coordinator for Virtual Visits. "Patients can also ask a nurse to call a volunteer or contact us directly through phone or email."
Once a request or referral is made, a volunteer takes care of everything, including disinfecting the devices which they have been specially trained to do. "Volunteers help patients and visitors schedule a call, bring an iPad to the patient room and ensure that connections are made, leave the room during the call and then retrieve the iPad when the patient is finished using it," says Latario.
DHMC provided iPads are set up for virtual visits, have the advantage of D-H security and can be attached to a stand extending over the patient's bed or chair. Volunteers can also help patients conduct virtual visits using their own phones, iPads or laptops.
"We're just getting started, but virtual visits have already helped many patients," says Latario. "Even intubated patients, who can't speak, have been able to experience family gatherings."
Andy Williams, one of the several Virtual Visit Volunteers, sees the impact virtual visits have on patients. "Many of our patients travel long distances," says Williams. "Their friends and family might not be able to drive hours for a 30-minute visit. There was one patient we helped connect to family visits three times each week. He really looked forward to it. There was so much laughter, and the energy of his room really changed during those visits. When I collected the iPad at the end of the call, I could tell he felt better."
With experience under their belts, Virtual Visit Volunteers are ready for any changes in COVID-19 restrictions. Latario and Hanlon agree that the program will continue to grow even after those restrictions have lifted. "Even if we're able to allow all the visitors in the world, patients will still need a way to connect with people who are far away or can't travel," says Hanlon. "Virtual Visit Volunteers is becoming part of the fabric of patient care at D-H."
Contact Virtual Visit Volunteers at 603-650-5341 or email virtualvisit@hitchcock.org.