In This Section
Purple Pod Treats Pregnant Patients with Substance Misuse Disorders
By

Bonnie Barber

Photography by

Bonnie Barber

January 10th, 2018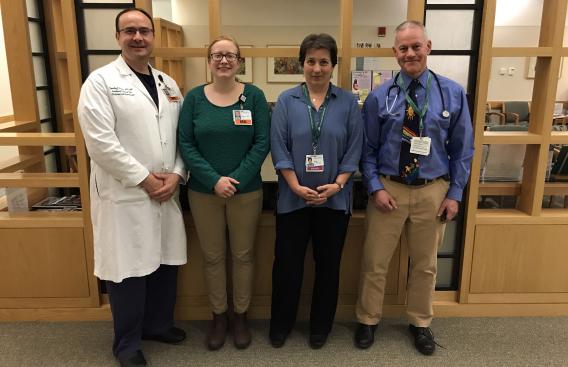 Like many large service lines at Dartmouth-Hitchcock Medical Center (DHMC), the Division of Obstetrics and Gynecology (OB/GYN) is divided into pods as a way to provide more continuity to patients. This past September, OB/GYN created a new pod, dubbed the "Purple Pod," which is a special weekly clinic for patients with pregnancies complicated by substance use disorders.
The Purple Pod is staffed by Timothy J. Fisher, MD, MS, OB/GYN residency program director and interim director of general OB/GYN, Daisy Goodman, DNP, MPH, CNM, WHNP-BC, a certified nurse midwife and women's health nurse practitioner, and three second-year OB/GYN residents Tara Higgins, Meredith Pavicic and Zachary Spalding. As of December, the clinics were averaging six to nine patients at weekly afternoon sessions.
D-H Today recently spoke to Fisher and Goodman to learn more about the Purple Pod program. Goodman is also director of Women's Health Services for Dartmouth-Hitchcock's Moms in Recovery program (formerly known as the Perinatal Addiction Treatment Program). Additionally, we spoke to Children's Hospital at Dartmouth (CHaD) pediatrician Steve Chapman, MD, who was inspired by the OB/GYN Purple Pod program to start his own Purple Pod in Pediatrics. Chapman directs the Boyle Community Pediatrics Program and is also director of child health for the Moms in Recovery program.
What inspired the creation of the Purple Pod?
Goodman: We recognized that we have a significant proportion of pregnant patients, primarily with opioid use disorder, who were not getting the same comprehensive services that we provide at our Moms in Recovery program at Rivermill.
Fisher: We found that many of our prenatal patients who were in recovery were receiving their medication assistance [such as buprenorphine] from prescribers outside of D-H [Dartmouth-Hitchcock], which is fine. These were patients who had been identified with opioid or other substance use disorders, and because they had previously established relationships with these outside prescribers they frequently wanted to stay with them. Unfortunately, we realized we weren't offering the same kind of wrap-around services that we offer patients in the Moms in Recover program, such as customized elements of prenatal care, disease-specific behavioral health support, social work resources, recovery coach support, education around neonatal abstinence syndrome and what to expect when they were in the hospital.
Goodman: They were getting high-quality, routine obstetric care from us, but without a lot of the education to help prepare them for coming to the hospital and understand how best to care for their babies. To address that, we decided to develop a mini clinic. One of the things we help them understand is that their babies need to be observed in the hospital for four days after they are born and may need to be treated for neonatal abstinence syndrome (NAS). And we make sure they have all the social supports they need. Because there's such a high prevalence of this condition in the obstetric population right now, we decided caring for women with substance misuse disorders should be one of the curriculum focus areas of the second-year residents. So we also precept three second-year OB/GYN residents in the Purple Pod.
Fisher: From a residency education standpoint, we recognized that there was an opportunity to have a curriculum around perinatal substance misuse for our physicians in training, so that while they are in residency they are more confident and able to care for these patients. And, perhaps more importantly, when they leave our program they will be able to go out in communities and offer comprehensive care to pregnant women in recovery. The curriculum includes additional education for these resident doctors to be licensed to prescribe buprenorphine after they graduate from residency.
Goodman: As part of this new curriculum, all the second year OB/GYN residents obtain a buprenorphine waiver. In addition to staffing the Purple Pod at DHMC, the residents also see patients at Catholic Medical Center (CMC) in Manchester as part of CMC's Roots for Recovery program.
What kind of care is provided to Purple Pod patients?
Fisher: We provide them with comprehensive prenatal care as we would for any pregnant patient, but the OB/GYN providers who are delivering that care—me, Daisy and our second-year OB/GYN residents—all have expertise and/or additional training in perinatal substance misuse. So, we're a little bit more nimble and able to address medication dosing concerns, assess for signs and symptoms of withdrawal, and be generally more comfortable with the substance misuse treatment aspect of their care. Understandably, most other OB/GYN care providers tend to defer all of those discussions to the patients' prescribing practitioners in the community. That doesn't lend itself as well to optimal coordination of care. We set up all of the administrative details for our Purple Pod patients, such as special consent forms that allow us to communicate with their prescribers. On top of their routine prenatal care, we make sure they are getting consistent education around neonatal abstinence, expectations around hospitalization and education around pain management and labor.
To better serve this population, the Purple Pod clinic also has a social worker Carly Ogden, a behavioral health specialist Katrin Tchana, and a community-based recovery coach, Cheri Bryer. Additionally, we have a specific care path that we use for this patient population, which is different from the more routine pre-natal population. This includes recommended screenings for hepatitis-C and making sure patients have been offered an HIV test in the third trimester. Since this population is at risk for small, gestational age babies, we also recommend that they get a growth scan for their baby in the third trimester. 
Daisy Goodman: We see some patients exclusively during their pregnancies because they choose to be Purple Pod patients. But we are also available as a consultative option for the OB/GYN department. We offer consultations to patients who have tobacco, marijuana and opioid use disorders, to help connect them with the care and resources they need. Our provider group is trained in motivational interviewing, and we use a checklist to ensure patients get all the elements of care they need, including more in-depth screenings for social determinants of health, like mental health and domestic violence. If patients need them, we have available a behavioral health clinician, a social worker and a recovery coach.  
What is the Pediatric Purple Pod?
Goodman: CHaD pediatrician Dr. Chapman got excited about our OB/GYN Purple Pod and took it a step further by recently developing a concurrent Pediatric Purple Pod so he can follow babies of Moms in Recovery. The goal is to have as many people as possible managed in this sort of family center, since Dr. Chapman is just upstairs from us.  
Steve Chapman: The Pediatric Purple Pod is our effort to support mothers and families in early recovery, thereby helping their children to a healthy start. You can't have a healthy baby without a healthy caretaker. We aim to treat recovery as we would any chronic medical condition, and develop workflows and practice standards that provide the best care possible for the dyad. We are developing a multi-disciplinary team that will work closely with OB/GYN and inpatient pediatrics to support families across service lines. So far, we are focusing on flexible scheduling, smaller teams that promote continuity, collaboration with community partners and greater support between medical visits. We have patient advisors who are helping us design our model of care, and our innovation is really being driven by them. 
Two of the most difficult challenges a human can face are bringing home a newborn and developing stable recovery. To try to do them both at the same time requires tremendous support. Our goal is to provide recovery friendly care that supports healthy growth and development in children. We know if we put patients at the center and are willing to innovate, we can really improve the care we provide.