In This Section
Types of Leadership Rounding: Improving the Employee and Patient Experience
Photography by

Mark Washburn

January 17th, 2018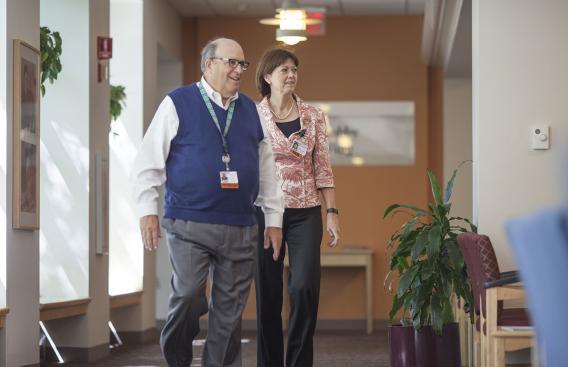 While rounding in health care has traditionally focused on patient care, other types of rounding have proven to be effective when focusing on supporting employees—both clinical and non-clinical—do their jobs well by removing barriers in their work. Research has also shown that leadership rounding can improve employee engagement, resulting in improved patient care.
"Leadership rounding is not a new concept—if you want the best possible perspective of what's happening at the point-of-care, where the action is in a health-related organization, you can't do that by sitting in your office and reading reports," says Sue Reeves, EdD, RN, system chief nursing executive, who believes leadership rounding is essential to improving patient care, as well as improving the employee experience. "As a leader, you need to talk to patients and their families who are receiving care. It is important to be clear about the quality and safety of care being delivered and going to where the action takes place in order to find out what staff need to do their jobs well. The same can be said for employee rounding. It is important to go where the action takes place. That's what leadership rounding is about."
There are different types of leadership rounding that are deployed throughout Dartmouth-Hitchcock:
Informal leader rounding
Formal Patient Rounding
Executive leader rounding – a new rounding program that began  Jan. 15
Informal Leader Rounding
In her role, Reeves works with other nurse leaders throughout the Dartmouth-Hitchcock system to think about how their work affects patients and improves the environment in which patient care is being delivered.
In explaining the different kinds of rounding, Reeves describes the first type of informal rounding is when leaders at any level in the organization meet with staff. "You don't have a particular agenda, you just go and talk to staff in an area, and ask them questions like: How long have you been here? If you could change something about your work, what would it be? What do you like about your work?" she says.
Formal Patient Rounding
Another type of rounding focuses on patient experience at Dartmouth-Hitchcock. This rounding practice has become more formalized under the Office of Patient Experience. "That's where leaders go into an area and they have a script and follow a series of questions. As a leader, you want to query patients and their families about the dimensions of their experience. We carry an iPad and can instantly input comments into a real-time rounding tool called Orchid," she says. Reeves says the value of this type of rounding is: "You're right there in the point-of-care, and you can experience first-hand any trends you're hearing."
We also do patient safety rounding when leaders look to make certain improvements in a practice area. "We want to elevate people's performance around quality and safety. This is a specific, targeted type of rounding. At DHMC, there is the daily safety briefing where you can hear about the state of the organization and what different groups are talking about," she says. "If there's an area that's having a high level of stress, that's a trigger for a designated leader to go to that area to provide their leadership presence and ask, 'What can I do to be helpful?'"
Executive Leader Rounding
The week of January 15, a new type of rounding began at D-H. This Executive Leader Rounding program will include chief officers and certain vice presidents (see list below) who will partner with local leadership in rounding at specific times and locations on the Lebanon campus and in our Community Group Practice locations. This rounding will blend both the informal and formal aspects of rounding. The goal is for these executive leaders to be visible and accessible. These leaders will have specific questions they will ask staff that will be more about the employee experience and not solely focused on patient care.
Reeves says she wants staff to know that this executive leader team is committed to being present at the all levels and locations within the organization. "Our executive leaders are committed to rounding. We are gaining an up-close and personal perspective of the work staff are doing and how that work is benefitting not only patients and families but each other as colleagues," she says. "When you see these leaders coming to your area, this is your opportunity to talk with them and let them know what's on your mind. It's a time to time to tell them: 'What's going right?' 'What are you proud of?' 'What's getting in the way of you doing your job?' 'How could this be better?' That's why the leaders are there." These findings will be shared monthly at a standing Executive Rounding meeting.
Executive Rounding team includes:
Joanne Conroy, CEO and President
Aimee Giglio, Interim Chief Human Resources Officer
Sue Reeves, Chief Nursing Executive
Mary Oseid, Vice President, Regional and System Integration
Steve LeBlanc, Chief Strategy Officer
Dan Jantzen, Chief Financial Officer
Tom Siepka, Chief Pharmacy Officer
Tom Goins, Vice President, Facilities Management
George Blike, Chief Quality and Value Officer
Ed Merrens, Chief Clinical Officer
Marty Purcell, Vice President, Information Systems
Jeff O'Brien, Senior Vice President, Clinical Operations
John Kacavas, Chief Legal Officer and General Counsel
Patrick Jordan, Chief Operating Officer
Peter Solberg, Chief Health Information Officer
Jennifer Gilkie, Interim Vice President, Communications and Marketing