Photography by

Mark Washburn

August 30th, 2018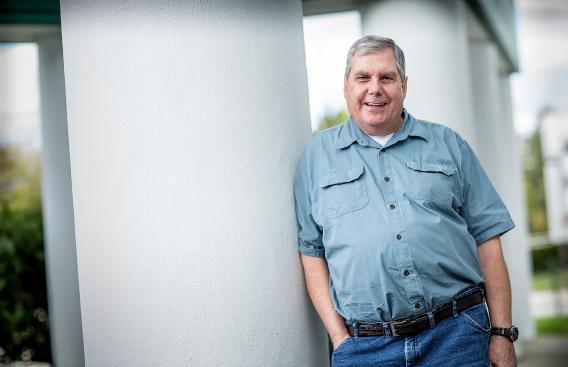 There's no cure for migraines, but there is treatment and it works.
Barry Rhodes, Jaffrey, NH
A few years ago if someone had asked Barry Rhodes, of Jaffrey, NH, what he had done on any given day, his reply would have been, "I had a headache."
In 1990, Rhodes had brain surgery to repair an abnormal enmeshing of blood vessels called an arteriovenous malformation that had caused regular headaches, bleeding on his brain as well as sporadic episodes of leg and arm paralysis. After the surgery, Rhodes came away with lingering, persistent head pain. For six years he was treated with periodic trigger point injections, in which a local anesthetic is injected into the muscle where the pain is, and briefly the pain went away. "Then I started getting headaches again, but they were different," Rhodes says. "I knew they weren't on the surface of my head, like the previous headaches I had. The pain was deeper inside my head."
Concerned that these new kind of headaches were somehow related to his brain surgery, he consulted a number of specialists, who repeatedly assured him that he was fine and that if they were migraines, they were mild. So he continued living with the pain.
Rhodes' symptoms worsened over time and went beyond simply a bad headache. "I'd see color, lights, distortions and stuff. I'd get nauseous. It was totally debilitating," he recalls, often having to avoid bright lights, loud noises and too much motion. "I couldn't go anywhere in the car."
Whether playing drums at church, gardening or working on house projects, Rhodes found himself unable to enjoy any of his favorite activities. "I was feeling totally helpless," he says, "and I was getting depressed."
After medications prescribed from his primary care doctor produced inconsistent results, Rhodes was referred to the Pain Management Center at Dartmouth-Hitchcock Medical Center (DHMC), where he was diagnosed with migraines. He was then placed into the more focused care of the Headache Center and Barbara Nye, MD, in Neurology.
Rhodes appreciated Nye's willingness to try a new treatment approach, occipital nerve blocks, about once a month. "An occipital nerve block is an injection of local anesthetic—usually bupivacaine and lidocaine in combination over the occipital nerve in the back of the head—to reduce the peripheral pain signaling," says Nye.
Nye also recommended a relatively new treatment component that uses Botox injections, approved for patients with severe and chronic migraines. Generally associated with cosmetic use, Botox has been shown to be effective in reducing migraine frequency and severity. Injections in predetermined locations for the headaches decreases neuro-inflammation.
The Botox injections have taught Rhodes that the site of pain and how it's addressed don't always line up. "There are all kinds of nerve endings that impact pain, and the nerve endings are not always where you feel the pain," he says. "The injections work this way, and over time they desensitize the nerves so they don't get all excited and cause a migraine that has a life of its own."
Painful though the injections can be, and while he typically chooses to take a day of rest after each procedure, Rhodes has seen improvements. "I might have a headache, but they don't last nearly as long, and don't hurt so much," he says.
He accepts, too, that his treatment isn't meant to cure him of his migraines, but that relief comes incrementally and is largely a matter of self-management. "There's no cure for migraines. There's only treatment," he says. "The thing I wish that people would understand is that this works. It's not convenient. It takes a long time. But it does work. And if you have a life controlled by migraines, it's worth it."
As a long-term patient with the Headache Center, Rhodes feels a sense of family with the doctors, nurses and staff, from Jessica Duplin, RN, who is always ready to help over the phone with appointments or prescriptions, to Alex Burch, LPN, whom he calls his "calming agent" during stressful injection procedures.
In those moments, he is grateful also for Nye's nimble use of the needle. "What's great about her doing injections is that she is very fast and she knows where the target is and she hits it," he says.
After so many years of living with pain, to have found a doctor who understands his migraines and is willing to explore a range of treatments and medications, Rhodes says, has been essential. "Go see a headache specialist," is his advice to others, "and no matter how unusual it may seem, follow their advice."