Photography by

Mark Washburn

February 6th, 2018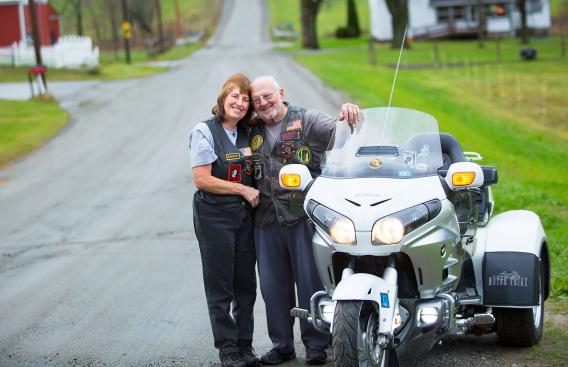 What marvels me is the attitude at Dartmouth-Hitchcock. It's not a phony smile you get from people here—it's the real thing.
Harry Swett, Danville, VT
Harry Swett of Danville, Vermont, was in his best shape in years. Having been overweight and exploring the possibility of bariatric surgery, he was told he needed to lose a certain number of pounds to qualify for the gastric bypass procedure.
He began a rigorous physical therapy regimen, lost over 100 pounds then heard a new reason why surgery might have to wait. "My doctor told me, 'You've lost so much weight, you probably wouldn't qualify now,'" Swett says, "which is a good problem to have."
But he had a more serious underlying problem.
On Halloween Day 2016, Swett drove to physical therapy with a full-sized skeleton—its eyes lit up red—seatbelted in the passenger seat. "I nicknamed him Slim," he says.
Among the exercise equipment inside, he stood beside a StairMaster, a piece of equipment which "I had always said was my demon, that one day would kill me."
No sooner had Swett rattled off a couple of jokes to his workout neighbor and stepped up on the machine he collapsed. "And that's the last thing I remember. It was like a veil had dropped."
Swett's wife, Claudette, who was substitute teaching that morning, remembers being called to the office and then handed the phone. An employee at the facility where Swett was working out told her he had an emergency and was being rushed to nearby Northeastern Vermont Regional Hospital in St. Johnsbury, Vermont. Soon after, Claudette arrived at the hospital and learned that her husband had suffered a heart attack. Doctors stabilized him and prepared him for transfer to Dartmouth-Hitchcock Medical Center (DHMC).
Late that night Claudette and one of their daughters, Joanne, were finally able to see him in the Intensive Care Unit, though he was unconscious and hooked up to a breathing tube. "I think I counted 11 bags and tubes," she says. "That room was so clogged with machines, I had never seen anything like it."
In those difficult, uncertain first hours at DHMC, and throughout Swett's stay, Claudette was comforted by Kristy Webster, MD, a Cardiovascular Disease fellow (a physician who is undergoing a more specialized level of training). "Dr. Webster was amazing. She was the one who kept us updated while we waited to see him; very much like our own relative," says Claudette.
Webster was part of the Cardiovascular team, including Jon Wahrenberger, MD, Bruce Andrus, MD, MS, James DeVries, MD, and Megan Coylewright, MD, MPH.
Earlier in the day Swett had been found to have significant blockage in his left main coronary artery, which supplies blood flow to two thirds of the heart. While typically a situation dealt with by cardiac surgeons, it was after hours and both available surgeons were involved with another critical situation.
Wahrenberger, the treating cardiologist, asked his colleague, James DeVries, MD, for help. DeVries reviewed the case and, aware that it was Swett's only chance of survival, agreed to move forward with the surgery. Assisted by Megan Coylewright, MD, DeVries placed an intra-aortic balloon pump to support Swett's circulation, and then proceeded with placing two stents in Swett's critically-narrowed left main artery.
Swett learned later that no more than 8 percent of patients with his kind of heart failure survive and that Wahrenberger had championed the cause among his colleagues to move forward. "Dr. Wahrenberger didn't want anyone to give up on me," says Swett. "He maintained hope when I wasn't capable of having much. He hoped for me."
After a successful procedure and nearly a week since he collapsed, Swett was taken off of sedation. "It's really and truly like Rip Van Winkle," he says. "I woke up in critical care with a bevy of tubes and hoses out of every orifice, wondering 'How'd I get here? Where am I? And what's going on?'"
After another week of recovering at DHMC, he received a defibrillator pacemaker implant. Throughout that time, his experience as a patient, he says, was amazing. "Grateful seems like a small word to use, but I'm grateful for the staff, nurses, doctors—I'm even grateful for the housekeepers who keep the place clean and for the people who prepare the food. I'm grateful for the patience of everybody."
He adds, "What marvels me is the attitude I see at DHMC, and the caring. It's not a phony smile that you get from people here—it's the real thing."
Discharged from DHMC in late November, Swett started a cardiac rehab program at a facility near his home in St. Johnsbury.
This experience has taught him, he says, "how fickle life is and how it can change literally in a heartbeat." Now he takes fewer things for granted and has grown in empathy for others who have heart issues, often bringing that spirit of good fortune with him to rehab. "I would enter the room and say, 'Good morning, you room full of miracles!' Whatever medical issue people had there, we were all survivors."