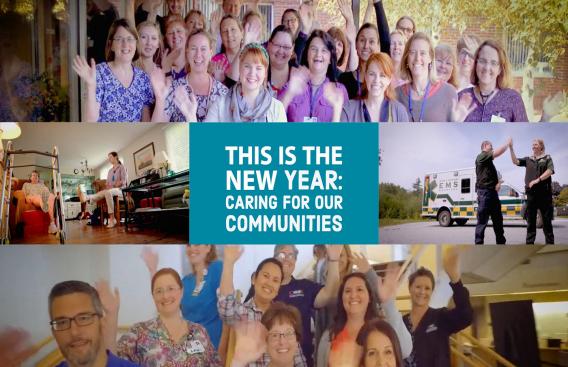 More than 600 staff in 12 locations throughout Dartmouth-Hitchcock and at affiliate hospitals and clinics were filmed for a new video series meant to celebrate the year ahead with the title song "This is the New Year" by A Great Big World. The videos feature employees smiling, waving, caring for patients and enjoying the song, representing departments and units from the following locations:
Visiting Nurses and Hospice of New Hampshire and Vermont (VNH)
D-H Nashua
D-H Bedford (including Bedford Call Center)
D-H Manchester
D-H Concord
New London Hospital (including Newport Health Clinic)
Mt. Ascutney Hospital and Health Center
Alice Peck Day Memorial Hospital
Cheshire Medical Center
D-H Lebanon
The series include versions for each affiliate hospital with only their staff in the video so that each location can show internally to their teams and externally on their social media platforms. Shown here is one version that includes scenes of employees from all of the above locations.
The video series was produced by the D-H Creative Production Team, which is part of the D-H Communications and Marketing Department. It was the first time the team produced a series of videos in collaboration with the communications and marketing teams from the affiliate hospitals.
The song's meaning resonated with the organization's goal to come together as an integrated health system, working together as individuals and as teams to care for our patients across the region. The videos will be shared on social media with the hashtag "DHbettertogether." Below are the song's lyrics.
"This is the New Year" by A Great Big World
Another year you made a promise
Another chance to turn it all around
And do not save this for tomorrow
Embrace the past and you can live for now
And I will give the world to you
Speak louder than the words before you
And give them meaning no one else has found
The role we play is so important
We are the voices of the underground
And I would give the world to you
Say everything you've always wanted
Be not afraid of who you really are
Cause in the end we have each other
And that's at least one thing worth living for
And I would give the world to you
A million suns that shine upon me
A million eyes you are the brightest blue
Lets tear the walls down that divide us
And build a statue strong enough for two
I pass it back to you
And I will wait for you
Cause I would give the world
And I would give the world
And I would give the world to you
This is the new year
A new beginning
You made a promise
You are the brightest
We are the voices
This is the new year
We are the voices
This is the new year
A new beginning
You made a promise
We are the voices
This is the new year