Photography by

Mark Washburn

February 15th, 2018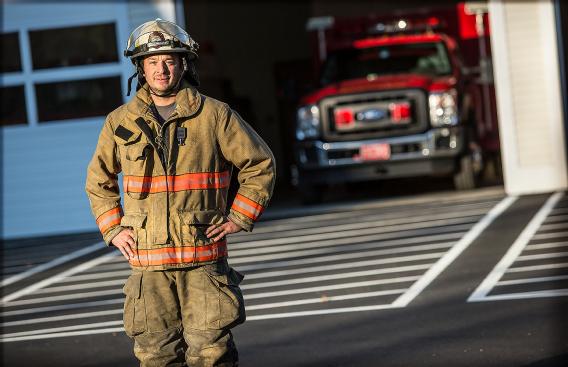 I can't find a word big enough to express how incredibly blessed we are.
Meg Johnson, wife of Stephen Johnson, Barnard, VT
As a volunteer firefighter in Barnard, VT, Stephen Johnson, 39, most loves the opportunity to help people in his community when they are in need. "To make them feel safe or that they have someone to call who will be right there—that's why I do it," he says.
On the morning of May 1, 2017, Johnson found out what it feels like to be on the receiving end of this caring and responsive community.
"I woke up and wasn't feeling well," he says. "So I drank a bunch of fluids and figured, as the day progresses, it will get better. But nothing really seemed to improve."
A logging and excavation professional, Johnson was on his way to a job site later that morning when he began to experience tunnel vision and lightheadedness. He pulled over to the side of the road and sat for several minutes before driving on to the job site. It wasn't long before he called his wife, Meg, and asked her to pick him up.
Stopping at the bank because he needed to sign a check for his business, she noticed how much difficulty he had just writing his name. I started to get an uneasy feeling in my gut."
He waved off her suggestion to go to the hospital, but they agreed that, after an hour of rest at home, if he did not improve, they would get help. And after that hour, unable to sleep or get comfortable, Johnson could hardly get out of bed. "I could just see the excruciating pain on his face," Meg Johnson says.
Meg Johnson called his best friend and fellow firefighter, John Hull, who was there within two minutes, looked at her husband and told them, "I have to call this in." Barnard first responders arrived within minutes as well as White River Valley Ambulance. They administered a 12-lead electrocardiogram monitor, which measures the heart's rhythm and activity, and confirmed that he was currently having a heart attack.
"That's when the chest pains really came on and were unbearable," Johnson says. "It was like being wrapped up in a hot air balloon that was deflating."
In the ambulance on the way to Dartmouth-Hitchcock Medical Center (DHMC), Johnson went into cardiac arrest, and doctors in the Emergency Department spent 45 minutes trying to revive him through several rounds of cardiopulmonary resuscitation (CPR). After a doctor informed Meg Johnson that they would try for only five more minutes, she says she screamed as loudly as she could, "You cannot leave us! You have two little girls that need you!" She remembers, "I no more than said those words and the doctors said, 'We have a pulse.'"
In the Catheritization Lab, Nathaniel Niles, MD, in Cardiovascular Medicine, placed stents to repair a blood clot in Johnson's left main coronary artery—unusual considering Johnson's relatively young age. But as he lay, still on life support, for days following the procedure, his team of doctors were not yet certain he would survive, and if he did, how much brain damage he would experience from the prolonged resuscitation.
Two days later, Johnson had a blood clot in a large vein in his leg. To relieve pressure and restore blood circulation in his leg, an emergency fasciotomy was performed. Weeks later, allowing Johnson's blood to return to its normal baseline, Niles and Hematologist Deborah Ornstein, MD, MS, requested blood samples, and from those tests discovered a deficiency of a naturally occurring blood thinner in Johnson's blood, causing the clotting.
But the blood condition, known as antithrombin deficiency, didn't cause Johnson's heart attack, says Ornstein, though it likely contributed to the blood clot in the leg vein. "Many people, like Stephen, never know they have such a deficiency until they are in a situation that may expose them to developing a blood clot," she says.
To prevent another blood clot, Ornstein has placed Johnson on a daily anticoagulant (blood-thinner) medication and encouraged him to remain active.
Johnson returned to Barnard Volunteer Fire Department in the fall of 2017, though now he drives the truck and directs his fellow volunteers from outside the burning buildings. He and his wife are grateful for friends, family and medical personnel who responded quickly and efficiently. "I can't find a word big enough to express how incredibly blessed we are," she says.