Photography by

Mark Washburn

February 20th, 2018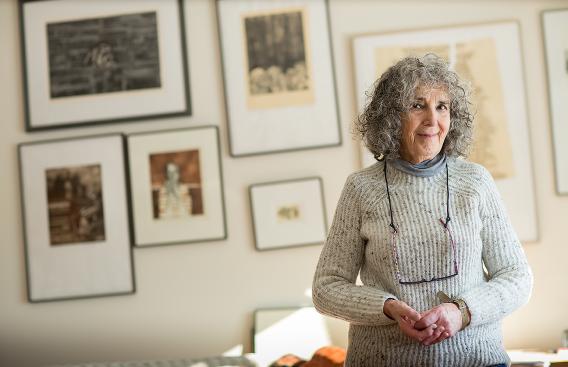 "I think the thing that made me an artist was the era I came from," says Penelope Bennett of Norwich, Vermont. "The second World War, the difficulties of survival."
Born in England, Bennett was a young child living in London during the German bombing raids on the city, and images of their aftermath have remained with her. "As my mother walked me to school, we would see on the street what appeared to be doll's houses. But as we got closer, I saw they were real houses with one side taken off, and saw all the different floors filled with furniture."
Secondhand clothing shops became an early catalyst of her social conscience. "I never wanted to go near them because everything they sold would be the result of a bombing."
Art, Bennett says, is where she found her voice. "I feel that you have to say something. To me, art is about saying something that is humanistic. It's what I have to do."
Moving to New York to attend college, she then began work as a textile designer. A few years later and now married, she and her husband decided to go to the Catalonia region of Spain, where Bennett fell in love with the rich, expansive culture. "We were there for 13 years, which was such a wonderful thing," she says of how life in Spain broadened her aesthetic. "It was a very good experience to be in a country that had a long artistic history."
While In Spain, she and her husband had children, and they grew concerned about the quality of schooling their children were receiving. "So that's why we came to America," Bennett says of the move that landed them in the Upper Valley region of Vermont. "But as we got older, we realized the real gem that we had come back for was health care."
A self-described "great strong horse" when it comes to her creative life and work, over the years Bennett has dealt with many health issues, and feels fortunate that most of her medical treatments, including the surgery to remove a benign tumor in her ear (known as an acoustic neuroma) as well as the operation to repair one of her hips, all took place at Dartmouth-Hitchcock (D-H).
Bennett's most recent experience with her providers at D-H, she insists, saved her life.
Her primary care provider, Stephanie Prisch, MD, in General Internal Medicine, followed up on a concerning heart sound during a chest exam and ordered a computed tomography (CT) scan to find out the cause. "Within three days, I was headed into open heart surgery."
Her CT scan uncovered the serious concern: an aortic aneurysm which occurred in the part of the artery where blood flows out of the heart, known as the ascending aorta. Caused by a bulging in the body's main artery, the risk for which increases with age and general weakening of artery walls, an aortic aneurysm that bursts would lead to severe internal bleeding and possible death. Bennett was placed in the care of Alexander Iribarne, MD, MS, in Cardiac Surgery, who performed the surgical repair.
All along heartened by Iribarne's calm and empathetic demeanor—"a very proper gentleman"—she remembers what he told her about who deserves most of the credit. "He said I should thank Dr. Prisch. If it hadn't been for her, I would have been another one of thousands of people who unexpectedly die."
A year since surgery, Iribarne is impressed with her recovery. "Penelope has done remarkably well," he says. "She has returned to her art, and I believe she is an inspiration to others. Penelope shows that you can have major heart surgery and then continue the activities you love."
Bennett is grateful, certainly, for Prisch, Iribarne and all the nurses and care providers who have allowed her to continue working, and says the experience has only made her a smarter artist. "Because I value my life more, and, I still have things to say. D-H keeping me alive has made me able to say them."