In This Section
Addressing Patient Flow: Work of ACT (Access, Capacity and Transfers) Committee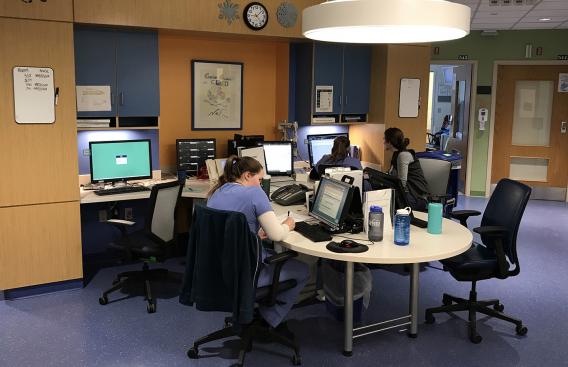 At the heart of Dartmouth-Hitchcock's mission statement is to "provide each person the best care, in the right place, at the right time, every time." To do that effectively and efficiently, D-H has taken a collaborative, multi-disciplinary approach with the work of the ACT (Access, Capacity and Transfers) Committee to leverage our partnerships with our affiliate hospitals, reorganize our inpatient structure and patient flow processes, and re-invigorate the work of the D-H Transfer Center.
Maria Padin, MD, chief medical officer for DHMC, and Jeff O'Brien, senior vice president for Clinical Operations for DHMC, outline the work of this committee in a conversation with Joanne's Journal.
Managing patient access at the medical center is important to make sure D-H is caring for the most acute patients in the right setting. But often this is a challenge. Can you explain?
O'Brien: We continue to struggle with demand for patient care that is greater than the resources we have. We need to continue to improve access for the patients in our region who need the level of care we provide at DHMC—these are the highly acute patients who can't get that type of care in other places, unless they go to Boston. We have to continue to prioritize this work so we are meeting the greatest demands. For patients who don't need the high-level of care we offer, they are best served at one of our affiliate hospitals so they can get the high-quality care offered there and can possibly be closer to home. Under the umbrella of our ACT (Access, Capacity and Transfers) Committee, we are deploying a number of strategies to help us better manage patient access, flow and transfers so that we can more effectively meet our mission statement – to provide each person the best care, in the right place, at the right time, every time.
Can you tell us more about these strategies to improve patient access, flow and transfers?
Padin: One of our patient flow strategies involves actual construction and redesign of our physical facility here on the Lebanon campus at DHMC. It is important for people to know that these decisions to embark on these initiatives have been driven by data as we continue to prioritize the greatest needs. Our committee has worked with the Analytics Institute and inpatient unit leadership on the following initiatives:
Redesign of CHaD Inpatient Unit: On March 6, the Children's Hospital at Dartmouth-Hitchcock's (CHaD) will open a redesigned CHaD Inpatient Unit on 5 East, which will house both the Pediatric Critical Care Unit (PICU) and the Pediatric & Adolescent Unit (Pedi). This newly renovated space will include critical care, intermediate care, and standard medical-surgical care for children and adolescents, all in one integrated unit. It will eventually have 21 beds encircling its new central therapeutic play space, with nursing stations located closer to patient rooms.
Additional Adult Critical Care Beds: Because of the PICU transition, we will be able to reuse the previous PICU space on the third floor for adult critical care beds.
Birthing Pavilion: Expansion is underway to add three beds to the Birthing Pavilion to accommodate an increase in the number of expectant mothers to deliver at DHMC. This has been a part of our integration planning with Alice Peck Day for a number of years and is expected to come to fruition in July of this year.
Neuro-ICU: We are beginning the planning for a Neuro-ICU to care for this particular patient population.
O'Brien: While these are actual in-progress construction projects that will help us relieve some of our capacity constraints, we have a number of other initiatives that are also underway to help us meet the same goals. These initiatives include:
Future expansion of Short-Stay Unit: The current Short-Stay Unit is an 8-bed outpatient unit designed to provide rooms for patients who may need an overnight stay after an elective surgery. We are working toward adding an additional four beds to make this a 12-bed unit for patients who require observation before they are discharged. On average, we have eight of these "observation" patients who are located in much-needed inpatient beds because of a lack of space in the appropriate setting. Moving four of those patients to the Short-Stay Unit will free up four those beds for patients who need inpatient-level of care.
Decreasing Length of Stay: Through a number of efforts, we continue to decrease our length of stay – which means discharging patients to an appropriate setting in a timely way, while also ensuring we don't have an increase in readmission rates. An important part of this work is the Inter-Disciplinary Rounding (IDRs) that we've instituted to make sure the appropriate clinicians are involved with each patient to ensure care is truly coordinated. This means we are meeting the patient's needs during their inpatient stay and ensuring the timely and efficient discharge or transfer when medically appropriate.
Scheduling Procedures: We are working toward coordinated scheduling for procedures that require inpatient beds. Currently, our scheduling process is decentralized, which can have a significant impact on our inpatient throughput when these procedures result in a patient requiring an inpatient bed. With coordinated scheduling, we will be able to see all of the "reservations" made for an inpatient bed and better manage the throughput as a result of this level of transparency.
You mentioned that capacity and access have been challenges for a long time. What is different now that this work holds the promise of being more successful?
Padin: There are several reasons for our current successes. One is the formation of the ACT committee in 2015. While it may be the same people working on the same issues, what is different now is that we have this multi-disciplinary group convening regularly, working together in a more coordinated way with very targeted, data-driven initiatives with measurable goals. That hasn't happened before. Previously, this work was done in silos. Decisions were made without consideration for the "down-stream" effect—what the impact might be on other units/departments and our own colleagues.
Another example of our success is the work of the Transfer Center using the "quarterback model" to direct patients to the appropriate level of care with our affiliates. The quarterback model was instituted in 2015 and means that we have a dedicated physician to oversee all transfer requests to ensure patients are triaged and moved appropriately throughout the system, based on protocols developed with clinical sections. A multidisciplinary group of physicians rotate responsibility as the physician leader for the Transfer Center, covering select high-volume times. The covering physician will triage patients according to acuity and our capacity, using protocols and a prioritization matrix, and has the authority to make prompt decisions on behalf of the sections. The Transfer Center also has the ability to offer urgent ambulatory appointments to avoid unnecessary transfers driven by need for specialty access.
O'Brien: We also are leveraging our relationships with our affiliate hospitals in ways we haven't in the past. Our affiliate partners now have the capability and the access to accept transfers of patients who are more appropriate to receive care at their facilities and often times these patients can receive their care closer to home instead of coming to DHMC.
When is this work expected to be completed?
O'Brien: There is certainly more work to do. The demand for services continues to outpace our ability to meet that demand. It is our responsibility to address these issues and continue to do more so that we meet the health care needs of our region.