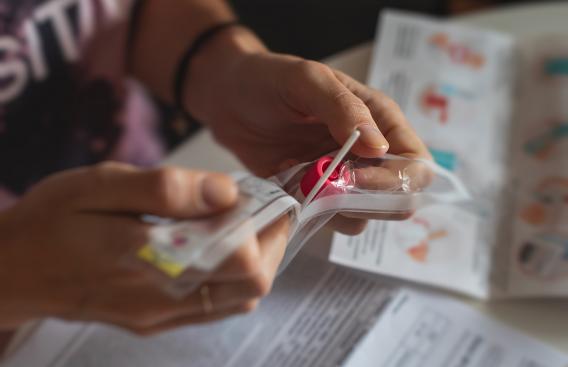 Some of best news of 2020 came in early December when the Food and Drug Administration (FDA) approved the first COVID-19 vaccine. Since then, vaccines from Pfizer and Moderna have been made available and more are on the way.  But roll-out will take time and COVID-19 continues to be aggressively infectious. Testing that identifies infected individuals so they can be isolated and treated remains an essential part of the COVID-19 prevention toolkit.
Until recently, COVID-19 tests have been exclusively administered by medical professionals in clinical settings or municipal facilities. "People who have access to a medical center like Dartmouth-Hitchcock can get an accurate, state-of-the-art test that delivers fast results," says Robert Nerenz, PhD, assistant director of Clinical Chemistry. "But, rural communities and some people at high risk of infection often lack easy access to safe testing."
Through its Emergency Use Authorization the U.S. Food and Drug Administration (FDA) approved at home sample collection kits in April of 2020 and at home sample collection and test kits in November and December of 2020. "The Emergency Use Authorization doesn't follow the full FDA approval process," says Nerenz. "Fewer people participate in the evaluation so there are fewer results to analyze. That means that it will take time to understand how well new, at home test kits are performing."
More precisely, it will take time to know how self-testers perform. "These kits aren't simple," says Nerenz. "First, the tester has to go online and maybe download an app that collects information about their symptoms and health. That information is evaluated by a physician associated with the test kit company. If the physician determines that COVID-19 testing is appropriate, a test kit is sent out."
Most kits come with instructions, sometimes a video or even scheduled, live guidance. "Testers swab their noses to collect a sample and put the swab in a device that contains chemical buffers. After an incubation period, results are delivered through the device or the app," he says.
Despite all the available kit use instructions, accurate testing requires a properly collected sample, and Nerenz explains, "there's always the chance of an error with the device itself. It's easy to imagine an asymptomatic person (one with no symptoms) with COVID-19 getting a false negative and feeling confident enough to eat with family members or go out."
Nerenz stresses that if a tester receives a negative result from an at-home COVID-19 test but continues to experience symptoms, they should consult a physician or arrange a professionally administered test. Positive results also require medical follow-up.
He also points out that COVID-19 carriers have the highest viral load (the amount of virus) before developing symptoms. "That means that no matter what results are received from a test, we all have to remain vigilant and take effective COVID-19 precautions; wear a mask, practice physical distancing and wash hands frequently," says Nerenz.
As COVID-19 vaccination becomes more widespread and infection rates decrease, so will the need for testing. Until then, professional and at-home testing will help individuals keep themselves and the people around them safe and healthy.