By

Sarah J. Roane, PhD

February 2nd, 2021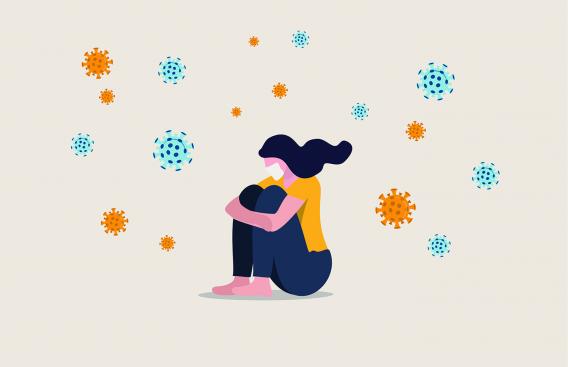 During the COVID-19 pandemic, rates of anxiety, depression, suicide—and thoughts about suicide—have dramatically increased. This isn't surprising given the extreme stress many face with the ongoing pandemic. Adding to the stress is the current peak time for Seasonal Affective Disorder (SAD).
The good news is there are strategies for managing anxiety and depression and support for anyone who needs it. The first step is to practice acceptance. This doesn't mean we agree with or are happy about the pandemic, but we can accept current events instead of focusing on what we wish was happening. That only feeds frustration, creating feelings of powerlessness and lack of control.
For example, the days are short and cold, and instead of wishing it was summer and staying inside, a quick walk at lunchtime can boost your mood. Accepting the situation can be the beginning of change.
Strive for balanced thinking
Our thoughts can negatively affect our moods and actions, making us less likely to help ourselves. Negative thoughts often cause feelings of shame, making sufferers turn inward. You do not have to "suffer in silence" or be alone with your thoughts; there are people you can turn to for help. If you don't have a trusted friend or family member to talk to, there are professionals and hotlines available (see sidebar).
Try to avoid extreme thinking. If you are diagnosed with COVID-19, you don't want your doctor to say, "You're positive, and you're going to die!" or "You're positive, but it's no big deal." You want balanced advice, like, "Get plenty of rest, stay hydrated, monitor your temperature and call with any concerns."
The same applies to your own thoughts. We can take unhelpful thoughts that make us feel worse and make them more balanced and accurate. If you say to yourself, "I'm at the end of my rope today, and I can't do this anymore," you'll fall deeper into despair. But if you think, "I usually get up and make it through the day, but I need a break today," you'll be more likely to take action to manage your feelings. Try to look at the whole picture.
Turn positive thoughts into actions
Tips for Managing Depression–Even during a Pandemic
Drink enough water and eat well if you can.

Move your body in a way that feels good to you.

Connect with a trusted friend, even virtually.

Seek purposeful activities, like volunteering (there are many virtual opportunities).

Try to avoid extreme thinking and focus on more balanced and accurate thoughts.                   

Access your employee assistance program or contact your primary care provider for a mental health counselor.
We often feel like change has to be all or nothing. But if you start small, you can give power back to yourself. If you haven't been showering daily, take a shower. If you haven't left the house for a while, take a walk around the block. This can feel overwhelming, but convince yourself to try it one time. Try to practice self-compassion and do what's necessary to feel better. 
Think about how you can be more active. When we do purposeful things, like taking a walk, we feel better about ourselves.
If you have suicidal thoughts, it's okay. Don't keep them to yourself: talk to someone. If you have a loved one you're worried about, ask them if they're having suicidal thoughts—you're not going to give them the idea to act on it.  
This isn't a healthy time for anyone, but we can try to take better care of ourselves—and each other—as we progress through the pandemic.                                                                       
If you're in crisis, there's always someone available to talk with you:
D-H Psychiatry Emergency Services: 800-556-6249 and press 7
National Suicide Prevention Lifeline: 800-273-8255 (TALK)
Text HOME to 741741 (www.crisistextline.org)
Sarah Roane, PhD, is the Director of Mood Disorders Psychological Services at Dartmouth-Hitchcock Medical Center, and an assistant professor of Psychiatry at the Geisel School of Medicine.