By

Heather Wolfe

March 30th, 2018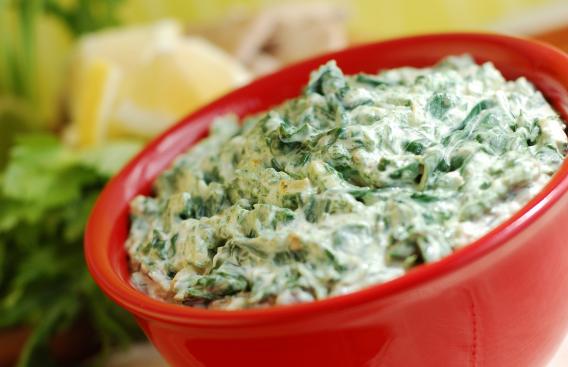 A typical restaurant order of spinach artichoke dip has about 1,600 calories, 100 grams of fat and 2,500 milligrams of sodium. Greek yogurt is the star of this skinny version, keeping the creaminess but shedding the unhealthy fat.
Makes: 8 servings
Serving size: ½ cup
Ingredients
1 can (14 ounces) artichoke hearts, drained and chopped
1 package (10 ounces) frozen, chopped spinach, thawed and drained
8 ounces (1 cup) plain, nonfat Greek yogurt
8 ounces Neufchatel or low-fat cream cheese
¼ cup green onions, chopped
1 can (4 ounces) diced Jalapeno chilies, drained (optional)
Instructions
Combine all ingredients and mix well.
Pour mixture into 1-quart casserole dish or 9-inch pie plate.
Bake at 350 degrees for 20-25 minutes or until heated through.
Serve with whole grain crackers and vegetable crudité.
Heather's Healthy Hints
What is the difference between Nefchatel and cream cheese? Not much. Neufchatel is lower in gat than regular cream cheese and comparable to low-fat cream cheese. Per 1-ounce (2 tablespoons serving) both Neufchatel and low-fat cream cheese have approximately 6.5g of fat compared to the 10g of fat in regular cream cheese. You can substitute freely in recipes that call for either.
Nutrition (per serving)
Calories 100, Total Fat 5g, Saturated Fat 3g, Carbohydrates 7g, Protein 7g, Fiber 2g, Sodium 291mg
Download a PDF of this recipe.
Watch a video of this recipe being made:
Find more recipes and healthy eating tips in the Cooking Up Health section of D-H Health and Wellness.

Heather Wolfe, MPH, RDN, LD, CHC, is a registered dietitian and certified health coach with Dartmouth-Hitchcock's Live Well Work Well Employee Wellness Program.