In This Section
New Hampshire Magazine Recognizes 110 D-H and Member Physicians as "Top Docs"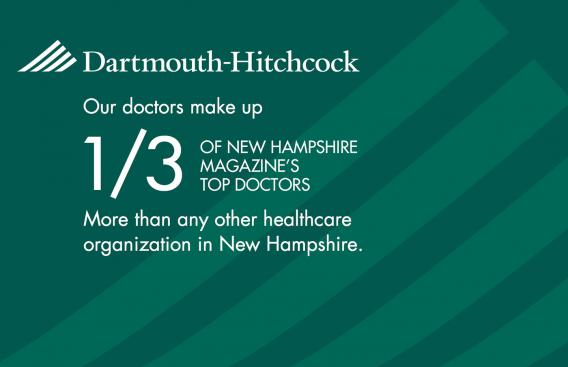 One hundred and five Dartmouth-Hitchcock physicians representing 44 specialties were named among the best doctors in New Hampshire, according to New Hampshire Magazine's annual "Top Doc" survey.
Additionally, five physicians from two D-H member hospitals—Alice Peck Day and Cheshire Medical Center—were named in 44 categories.
Earlier this year, the magazine distributed surveys to every physician licensed to practice in the Granite State, asking them to nominate specialists who they would recommend to friends and family for treatment. The surveys were then compiled and the top vote getters named as the top doctors and leading physicians in their respective specialties.
Dartmouth-Hitchcock and member physicians were voted "Top Docs" in 44 of the 55 categories. Congratulations to all of our physicians recognized and thank you to all of our physicians for your commitment to providing our patients with the best possible care.
The following are the 2018 Dartmouth-Hitchcock "Top Doc" honorees listed by specialty:
Adolescent Medicine
Keith Loud
Cardiovascular Disease
Alan Ted Kono
Bruce W. Andrus
Emil Pollak, Jr.
Child Neurology
Jan B. Wollack, MD, PhD
Clinical Genetics
John B. Moeschler
Colon & Rectal Surgery
Jeffrey R. Harnsberger
Dermatology
Denise Marie Aaron
M. Shane Chapman
Developmental-Behavioral Pediatrics
Nina Sand-Loud
Diagnostic Radiology
Steven Brian Birnbaum
William C. Black
Endocrinology, Diabetes & Metabolism
Lara Joy Levin, Cheshire Medical Center
Richard J. Comi
Family Medicine
Annika Meith Brown
Barbara A. Bates, Cheshire Medical Center
Catherine Pipas
James Gilliam Johnston II
Jonathan B. Thyng
Patricia T. Glowa
Scott C. Jaynes
Gastroenterology
Brian E. Lacy, MD, PhD
Corey A. Siegel
Jack Thomas Bueno
Richard I. Rothstein
Srikrishna Nagri
Stuart R. Gordon
Gynecologic Oncology
Evelyn Fleming
Leslie R. DeMars
Loyd Avery West
Hand Surgery
Paul C. Bettinger
Hematology
Elizabeth M. Bengtson
Gary N. Schwartz
Jill Marie Winslow
Kenneth Meehan
Marc Gautier
Hospice & Palliative Medicine
Lisa Ann Leinau
Internal Medicine
Brian Andrew Binczewski
Heather Lynn Marks
John Alexander Batsis
Lijun Song, MD, PhD
M.T Charisse Marquez
Stephen K. Liu
Vijaya Upadrasta
Interventional Cardiology
John E. Jayne
Maternal & Fetal Medicine
Emily R. Baker
Medical Oncology
Bradley Arrick, MD, PhD
Kathryn C. Hourdequin
Keisuke Shirai
Konstantin Dragnev
Mary Dickinson Chamberlin
Peter A. Kaufman
Neonatal-Perinatal Medicine
James E. Gray
Steven A. Ringer, MD, PhD
Nephrology
Brian D. Remillard
Neurological Surgery
Nathan E. Simmons
Neurology
Barbara C. Jobst
Jeffrey Allen Cohen
Keith McAvoy
Lara K. Ronan
Vijay M. Thadani, MD, PhD
Obstetrics & Gynecology
Joan Crane Barthold
Valerie A. Bell
Occupational Medicine
Phillip B. Collins, Alice Peck Day Hospital
Robert K. McLellan
Ophthalmology
Patrick James Morhun, Alice Peck Day Hospital

Orthopaedic Surgery
Anthony H. Presutti
Cherie Holmes
Gregory Leather
John-Erik Bell
Mark B. Silbey
William A. Abdu
Otolaryngology
James P. Bartels
Benoit J. Gosselin
Andrew R. Spector
Pathology
Arief Suriawinata
Wendy Wells
Pediatric Cardiology
Jenifer Glatz
Naomi Gauthier
Pediatric Endocrinology
Samuel J. Casella

Pediatric Hematology-Oncology
Jack van Hoff
Julie Kim, MD, PhD
Pediatric Nephrology
Adam R. Weinstein
Pediatrics
Andrew Jeffrey Schuman
Mark Dixon Carney
Stacey Kopp
Plastic Surgery
Dale C. Vidal, Alice Peck Day Hospital
Psychiatry
Paul Holtzheimer
Pulmonary Disease
Harold Manning
Richard I. Enelow
Joseph Hou
Radiation Oncology
Alan C. Hartford
Rheumatology
Alicia J. Zbehlik
Christopher M. Burns
Daniel A. Albert
Richard C. Chou
William F.C. Rigby
Surgery
Brent Carleton White
Kari M. Rosenkranz
Richard J. Barth Jr
Stacey Abbis
William S. Laycock
Thoracic & Cardiac Surgery
David J. Finley
Jock N. McCullough
Urogynecology/Female Pelvic Med & Reconstruct Surgery
Elisabeth A. Erekson
Urology
Elizabeth Ann Gormley
William Bihrle III
Vascular Surgery
David Howard Stone
Philip Goodney
Richard Powell