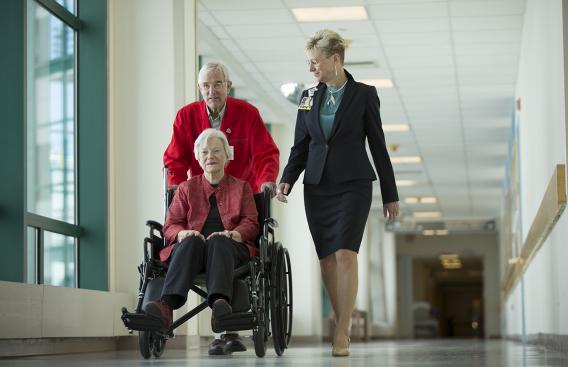 Volunteers at Dartmouth-Hitchcock Medical Center (DHMC), Dartmouth-Hitchcock (D-H) Concord, D-H Nashua and D-H Manchester make the D-H system a friendly and familiar place for patients, family, and staff, and are an integral part of the culture and a connection to the community, according to Beth O'Connor. Together, D-H Concord, D-H Manchester, D-H Nashua and DHMC partner with over 600 volunteers to help enhance the patient experience and improve community health.
O'Connor, director of the Office of Volunteer Services, says volunteers at DHMC, D-H Concord, D-H Manchester and D-H Nashua are the most "dedicated, service-minded people I've ever met. They are each bring a unique perspective and skillset to our community," she says.
Volunteer Week, April 16-April 20, is an opportune time to learn about and celebrate the important roles volunteers play across the D-H system.
Joanne Conroy, MD, President and CEO of Dartmouth-Hitchcock, says volunteers are often the "unsung heroes who do much impactful work behind the scenes. They assist patients, help our staff, and give kind words and offers of support to anyone and everyone," she says. "While we thank our volunteers throughout the year, Volunteer Week gives us an opportunity to shine a spotlight on these dedicated individuals who deserve our gratitude."
Below watch a video of Dr. Conroy sharing a message of appreciation to our volunteers.
This year, Volunteer Services is celebrating 85 years of dedicated service at DHMC, where they are also celebrating the milestone of one million recorded service hours.
"DHMC only began tracking volunteer hours a few years ago. While we are celebrating 1 million recorded hours of service, we know that this is only a fraction of what has been served by volunteers over the years," O'Connor says.
Volunteers work throughout DHMC—from the welcome desk, to The Gift Shop, to the Emergency Department and Intensive Care Unit waiting rooms, to all units reached by Palliative Care. They do everything from helping transport patients, to providing a calming presence in rooms where patients are feeling lonely or isolated.
"Volunteers provide something the rest of our team wishes they could give more of: time. Time to sit and listen. Time to allow the magnitude of the diagnosis, disease or injury to find full expression," Kathryn Kirkland, MD, section chief and director, Palliative Care, says. "This dedicated team of unpaid professionals is absolutely critical to our team's ability to provide the right care to our patients and families."
O'Connor says volunteers are "a diverse group of people that share a common dedication to helping others. They help us make sure all patients and their families feel welcome and comfortable in their most vulnerable moments."
For those interested in learning more, or becoming a volunteer, please see Volunteering at Dartmouth-Hitchcock.