By

Dr. Samir Soneji

April 30th, 2018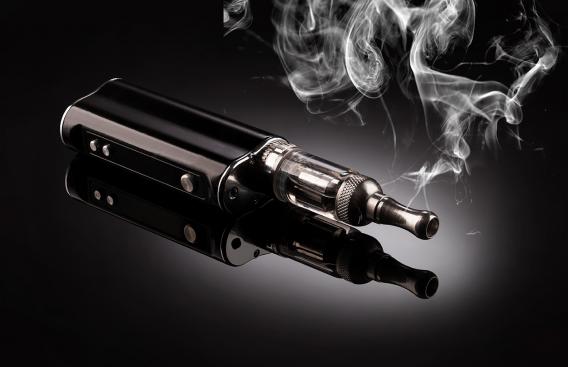 Are teens attracted to e-cigarettes as a cooler and "safer" form of smoking? New data from Dartmouth researchers evaluates this conception.
What are e-cigarettes?
E-cigarettes are a device that electronically delivers nicotine without the combustion, through a process called "vaping." Developed in the 2000s as a smoking cessation tool, e-cigarettes were imported to the U.S. around 2007. E-cigarette marketing is not restricted like traditional cigarette marketing has been under the Master Settlement Agreement. This freedom became known as "the wild west of tobacco." There are now paid media sponsors and celebrity endorsements. They can be advertised on television in magazines, at big concert series and music festivals, and sporting events. Kids notice that.
What the evidence suggests
By 2014, data revealed that more kids vaped than smoked. About two-thirds of those kids were not current smokers. The tobacco industry capitalized on the growing and lucrative e-cigarette market by buying out several e-cigarette brands, promoting them as a "safer alternative to smoking", and introducing appealing flavors to attract youth.
This is when our Dartmouth research group, Samir Soneji, PhD, and James Sargent, MD, both affiliated with the C. Everett Koop Institute at Dartmouth along with our collaborators at University of California San Francisco, University of California San Diego, and University of Pittsburgh, approached the question of benefit versus harm.
The potential group that could benefit are the 10 million adult smokers who tried and failed at quitting. However, evidence suggests that e-cigarettes are actually about as effective as or less than common nicotine replacement therapies. The potential group that could be harmed are impressionable and curious adolescents. The first study about potential harm of e-cigarettes by the University of Southern California in 2014 showed that nonsmoking kids who vaped were more likely to become smokers a year later. Shortly after, our study showed a consistent finding.
There have since been a multitude of published studies that, two years ago, Dartmouth aggregated and found that vaping indeed increases the risk of smoking. Studies have since doubled and all show the same consistent finding. The Institute of Medicine found conclusive evidence that e-cigarette vapor has important health consequences for the body's biochemical processes at a cellular level. The vapor has concentrations of chemicals that break down into a dangerous and toxic form when heated.
What should parents know?
Why do e-cigarettes have such high use among junior high kids? Peer influence and recruitment by the tobacco industry using strategic, unlimited, "wild west" exposure to advertising could be responsible. Today, parents should expect that their kids have been exposed to e-cigarette advertising. We're currently conducting another study that looks at product placement embedded in hip-hop, the leading music genre among all demographics of kids. Also, modern e-cigarettes attract today's tech-savvy youth group by intentionally looking like a USB drive in which an e-juice cartridge plugs. The e-cigarette industry continues to innovate with new products that remain highly attractive to kids.
E-juice also intentionally comes in more than 7,000 flavors, many of which kids like. Kids are more likely to say that they wouldn't vape if flavored e-cigarettes didn't exist. There has been an increase in calls to poison control centers from kids drinking flavored e-juice.
So where do we go from here?
We don't know what happens to a person's body who has vaped for 40 years. But, we do know that the cigarette industry used the same marketing to today's older generations—who are now suffering the consequences—that the e-cigarette industry is doing to today's adolescent generation. Nothing has changed. Anti-smoking advocacies' exposure of cigarette advertising trickery worked, and led to a decline in smoking rates. Similar advocate groups have already formed around e-cigarettes. The California Department of Health has a series of well-produced YouTube videos for youth that expose industry manipulation. The videos could be a good tool for parents.
Frankly, I would love if e-cigarettes became effective at helping adult smokers quit and if kids were not interested in vaping. In a relative sense, it looks like e-cigarettes are safer than traditional cigarettes, but that's a pretty low bar. Just because something is "safer" it doesn't mean it is safe. But even if e-cigarettes are "safer," societally, do we want another generation of people who are addicted to nicotine?

Samir S. Soneji, PhD, he is a member of the Cancer Control Program at Dartmouth-Hitchcock's Norris Cotton Cancer Center and of the C. Everett Koop Institute at Dartmouth. He is also an Associate Professor at the Dartmouth Institute for Health Policy and Clinical Practice, Geisel School of Medicine, Dartmouth College. His research interests include the value of cancer care, tobacco regulatory control, and cancer screening, and focus on developing and applying innovative and quantitative methods to questions in tobacco control and cancer screening.