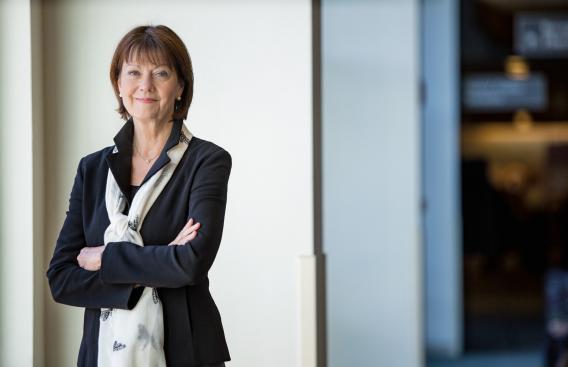 Joanne's Journal Digest for April
D-H Health and Wellness introduces a new feature called Joanne's Journal, a compilation of messages from Joanne M. Conroy, MD, CEO and President of Dartmouth-Hitchcock (D-H). Joanne's Journal reflects Dr. Conroy's thoughts and opinions on a wide variety of topics affecting the health and wellness of our communities.
Planning for life . . .
Planning for the unexpected in life is really important. This means getting life and disability insurance, creating wills and doing your advance care planning.
When my husband and I were completing our wills, our lawyer asked us to complete advance directives as well. I know the conversations are uncomfortable, but it is important to have them ahead of time. How many of you have taken your cat or dog to the vet, and they ask you if you want to have them resuscitated in the event of a cardiac or respiratory event? How many of you had a hard time answering that? As uncomfortable as it may be, we need to make these decisions.
When we are clear about our wishes, our health care proxies can advocate for our decisions rather than feeling burdened by having to make the decision.
Here is a link to a story that appeared in late March in the New York Times about how even the best care planning can go sideways if it is not well documented in an individual's medical record so it can be communicated to providers.
April 16 was National Health Care Decisions Day, when we promote the importance of health care decisions in general, and specifically, the importance of choosing someone else to make decisions for that time when we are not able to do so for ourselves. The best decisions are made when a patient's goals and values help form the basis for decisions involving the patient and his or her physician. This is called Shared Decision Making. At Dartmouth-Hitchcock, we established the first Center for Shared Decision Making in the country.
There is evidence from the experience of others that advance care planning makes a difference:
Patient rating of their overall health care experience is higher.
Surviving family members experience less distress when engaged in the process.
Health care agents can make decisions which are more aligned with patient wishes in the face of serious illness when they are involved in advance care planning.
Health systems that formally address quality improvement around advance care planning can achieve and sustain better success in advance care planning (e.g. over 95 percent of patients having an advance directive, and more than 99 percent of patient choices being honored).
The cost of care in the last two years of life is significantly lower in a health system with mature advance care planning systems.
So as difficult as many of these conversations are…set a goal this year to get your will done and complete an advance directive. For more information, check out our website.
Giving back . . .
In April, we celebrated National Volunteer Week (April 16 – 20), which gave us a chance to take a moment to thank those who volunteer their time throughout all of the locations and practices across the Dartmouth-Hitchcock Health system. Our volunteers at DHMC are celebrating significant milestones this year – their 85th anniversary, as well as reaching 1 million hours of service in those 85 years! Our Volunteer Services team is always looking for more volunteers to join their ranks. For more information about our volunteers, check out this article.
People choose to volunteer for a variety of reasons. For some it offers the chance to give something back to the community or make a difference to the people around them. For others it provides an opportunity to develop new skills or build on existing experience and knowledge.
The great part of our work in health care is that we get to give back to our community through our jobs. It's well documented, that one of the secrets to career fulfillment is doing a job that involves helping others. In a study by the Pew Research Center in 2013, occupations that were felt to contribute the most to society's well-being were first soldiers, followed closely by teachers, physicians, scientists and engineers.
We all have so many demands on our time…..why volunteer?
Volunteers are happier and healthier than non-volunteers. In fact, during later life, volunteering is even more beneficial for one's health than exercising and eating well. Older people who volunteer remain physically functional longer, have more robust psychological well-being and live longer.
Working alongside people who feel as strongly as you do about supporting a particular cause creates a path to developing strong relationships with others.
People who volunteer make connections that lead to career opportunities. Volunteering in your current career industry—or an area you'd like to transition into—is an especially effective way to leverage social connections for career goals.
Many businesses, and almost all mission-driven organizations, are successful only if they maintain a strong volunteer workforce. These businesses are committed to doing good things for society and by volunteering for these organizations, you participate in helping our society meet the needs of people from all walks of life.
The key factor to the health benefit of volunteering is that it serves to express and facilitate opportunities to carry out one's sense of purpose. The very nature of volunteering means choosing to work without being paid. As a result, people choose to spend their time on issues they feel strongly about. Committing even as little as one hour a week can have a profound benefit on your life and on the organizations that rely on such help to thrive. You'll get more back than you ever imagined.
We have many opportunities for volunteers throughout Dartmouth-Hitchcock for those who wish to give of their time. For example, our Children's Hospital at Dartmouth-Hitchcock (CHaD) is looking for volunteers and participants for many of their events throughout the year. Check out the CHaD website for volunteer opportunities. And of course, the annual Prouty fundraiser is coming up on July 13 and 14 to benefit Dartmouth-Hitchcock's Norris Cotton Cancer Center.
Whether you choose to give of your time, money or talents – with Dartmouth-Hitchcock or with another organization in need – thank you for giving!