Photography by

Mark Washburn

May 30th, 2018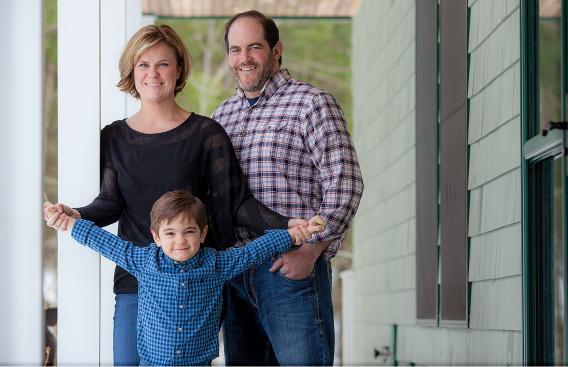 I have a special relationship with the care team who took care of me in a very meaningful way.
Aimee Giglio
Early on in her pregnancy in the spring of 2013, before settling on a name, Aimee Giglio, Dartmouth-Hitchcock Health's (D-HH's) chief Human Resources officer, and her husband, AJ, came up with a nickname for their baby.
"Blueberry," she says, "because on my first ultrasound it looked like a little blueberry on the screen."
At 20 weeks, Giglio and her husband went to Dartmouth-Hitchcock (D-H) Concord for another ultrasound, this time to learn the sex of the baby. When the nurse asked if they had a preference, to Giglio's surprise her husband said, "Actually, yeah, I'd love to have a little boy."
"Well, that's what you're having," the nurse promptly told them.
Excited to start sharing the news as they headed out of the hospital, Giglio says they were in the parking lot when another nurse came running after them, saying, "You've got to come back in here. We want to talk with you about your ultrasound."
The ultrasound had also revealed a condition that suddenly put Giglio's pregnancy at high risk, which meant transferring her care to Dartmouth-Hitchcock Medical Center (DHMC) for closer monitoring, including weekly ultrasounds.
It was in her 23rd week, on August 1, that Giglio experienced both the convenience and the difficulty of having her work and her health care in the same building. After leaving an early morning meeting to have another ultrasound, she was told she needed to be hospitalized because the ultrasound revealed she may go into labor at any time. "I was petrified," she says, "and they wanted to wheel me in a wheelchair from Obstetrics to the Birthing Pavilion."
At first embarrassed to be seen by colleagues, she says she was reminded by her care team that, "I work in a facility where people understand. I was doing this for my baby."
Giglio was officially admitted to DHMC, and her doctors issued the strict requirement that she "remain on bedrest until further notice," she says.
During the six weeks Giglio was in the hospital, she learned firsthand the extraordinary extent to which the staff cares for patients. "They would come in every morning and help me get ready for the day," she says, "they always treated me with such dignity and respect. And, I know this is part of their routine – to create an environment of support and comfort for all patients."
Her nurses helped her keep a positive outlook by placing an X each day on a wall calendar to signify the continued health of her baby, who by now was known to all as Blueberry. They even celebrated Giglio's birthday with her work team members during her stay.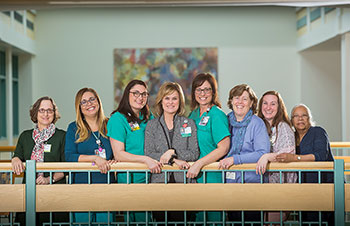 Her appreciation also extended to the licensed nursing assistants (LNAs), the Birthing Pavilion housekeeping staff, volunteers, chaplaincy, ultrasound technicians and all those who, she learned, "make the patient room function." The level of care along with the level of intimacy contributed to a sense of family. "I have a special relationship with the care team, who took care of me in a very meaningful way, and I have the utmost appreciation for them." One of the LNA's even made a banner to go in her room with little onesies cut out of scrapbook paper that spelled "Blueberry."
In late September, Giglio was discharged under the condition that she continue bedrest at her home for another six weeks. "I was right on the cusp of 37 weeks," she recalls, "when one morning I sat up in bed and my water broke."
Since she was able to transfer her care back to D-H Concord and there was concern she didn't have enough time to get to DHMC, Giglio's husband took her to Concord Hospital in Concord, NH. After some concern that the baby was arriving too early, Giglio says, "I had a completely natural birth, my doctor from D-H Concord was able to deliver Jack and he was a healthy seven pound baby. We were discharged within a couple days."
Today, Giglio's "Blueberry," Jack, is a "very bright, energetic and healthy" four-year-old, she says. "He likes to play soccer, loves books, snowmobiling, and loves Spider-Man, too."
Looking back on her journey, Giglio remains grateful to all the staff who cared for her during that difficult period of her pregnancy, and who always protected her privacy and dignity. "As an employee who became a patient, I feel everyone embodied the patient experience by doing what was best for me as a patient. I will be forever grateful to call the staff at DHMC part of my family. It was because of the care I received that I can now call myself a mother."