By

Dr. Margaret Guill

May 30th, 2018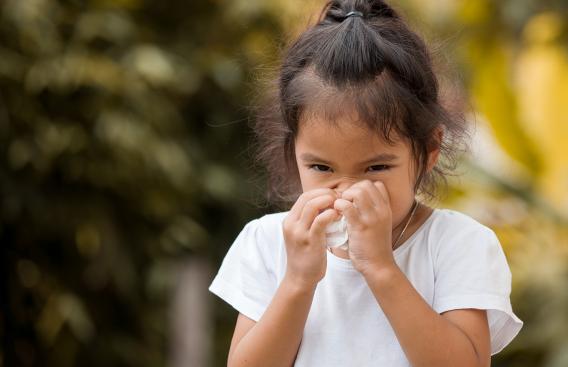 When flowers and trees bloom in the spring, sniffles and sneezing often follow. So, it's not surprising that the Asthma and Allergy Foundation of America (AAFA) recognizes May as "National Asthma and Allergy Awareness Month." Since it can be difficult to determine whether these springtime sniffles are the result of asthma and/or allergies or a cold, Children's Hospital at Dartmouth-Hitchcock (CHaD) pediatric pulmonologist Margaret Guill, MD, gives some advice on distinguishing between these symptoms.
If there is a family history of asthmas and/or allergies, certainly that makes the likelihood of asthma greater for a child.
Young children in daycare or older children starting school get a cold about once a month in the first year. But if the cough lingers between colds or never goes away, the underlying cause may be asthma and/or allergies.
Croup is a viral illness with a striking cough and sometimes a high-pitched noise while breathing in at the end of the cough. Many children have one or more episodes of croup as toddlers and preschoolers. But a recurrent croupy cough, especially if not associated with a viral illness or if persisting beyond the preschool age, may be a sign of asthma.
So, the question of "Do I go to the doctor for this?" is a difficult one. In an otherwise well and happy child, a cough that persists up to eight weeks may not mean that you need to see a specialist. A cough that is associated with wheezing or difficulty breathing are reasons to schedule an appointment with a specialist. A cough that persists when usual cold symptoms are over or persists throughout the winter illness season may also mean that your child should see a specialist.

Dr. Margaret Guill is a pediatric pulmonologist at the Children's Hospital at Dartmouth-Hitchcock (CHaD) and practices in Lebanon and Manchester, NH.