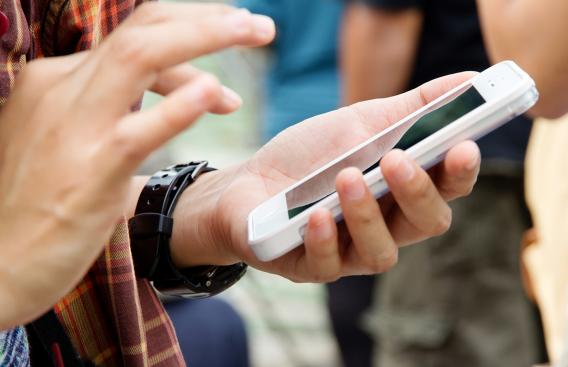 Recently, Dartmouth-Hitchcock (D-H) began allowing access to its online patient portal, myD-H, to adolescents to increase health care collaboration between parents, teenagers and their providers.
"Parents like this because their adolescent becomes much more involved in their own care," Shelley Sanyal, MS, MBA, project analyst for myD-H, says. "Before, if an adolescent wanted to ask their provider a question, their parent would have to do it for them. Now, the teen can do it for themselves, and can be much more involved in their medical condition."
myD-H is an online patient portal, which allows adult patients to communicate with their provider by sending and receiving messages, schedule an appointment, pay their bills, request medications and view test results. For teenagers, myD-H allows them to have partial access to their providers at D-H by allowing secure messaging with a provider, and the ability to see their medications and future appointments.
Shira, 16, uses myD-H, and says it's convenient, easy-to-use and helpful.
"I go to school out of state, and I come home on the weekends, so I'm not home most of the time. myD-H makes it easy because it's an app, and I bookmarked it on my computer," she says. "With me living more independently, I can make my own appointments and interact with providers if I have a question."
When adolescents turn 12, their parent(s) receive standard access, which enables them to message a provider, request medication refills, schedule appointments and pay bills. However, some areas of health care, delineated by New Hampshire law, are considered confidential to the teen and include certain aspects of reproductive and mental health care.
"As an organization, we are excited to be able to offer adolescents and their parents the ability to access medical information online. Currently, work is underway with our pediatricians to design the portal to meet the needs and requests of our patients while still adhering to the New Hampshire statutes for confidential treatment of minors," says Cheryl Rowe, operations manager for record management and myD-H project manager.
The team started work on the design over a year ago, and so far, 149 adolescents between the ages of 12-17 have signed up to have access to their own records. Regardless of their teen's myD-H access, all parents continue to receive standard access to myD-H. In collaboration with their health care providers, some teens who have complex medical conditions may opt to grant their parents an expanded level of access.
"I'm very glad it's here and it's happening," Hoffer says.
Catherine Shubkin, MD, in Pediatrics at the Children's Hospital at Dartmouth-Hitchcock (CHaD), says from her perspective as a physician and a parent of an adolescent, giving young people access to this portal is beneficial.
"It allows teenagers to start owning the responsibility of taking care of their own health. The best way to think of this is like training wheels; at the magic age of 18 they're going to have to do this by themselves, so by having access to myD-H, it gives the teens a taste of independence with the continued support of their parents and physicians," she says.
"With confidential health issues, it's allowed my daughter to communicate with her primary doctor directly and allowed me to trust somebody else with her care," Shubkin says. "Teenagers are already comfortable with apps and online messaging systems, so access to myD-H improves their ability to get knowledge about how to take care of their bodies and their health in a communication style they're already used to."
Please note: If you are between the ages of 12-17 and would like your own standard myD-H account please contact myDH@hitchcock.org. Your account must be linked to one or both of your parents active myD-H accounts.