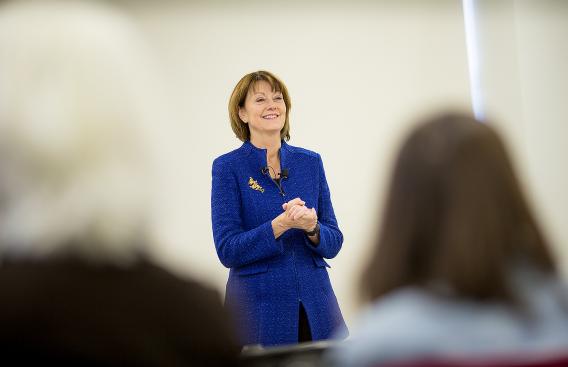 Joanne's Journal is a compilation of messages from Joanne M. Conroy, MD, CEO and President of Dartmouth-Hitchcock (D-H). Joanne's Journal reflects Dr. Conroy's thoughts and opinions on a wide variety of topics affecting the health and wellness of our communities.
Celebrating Our Nurses: Pride, Compassion and Resilience
The second week of May, we had the opportunity to celebrate all of our nurses throughout the Dartmouth-Hitchcock Health system during National Nurses Week. Below is a photo of one of our celebrations at Dartmouth-Hitchcock Medical Center. Nurses are a critical part of how we deliver care in both the ambulatory and the inpatient settings, as well as in community-based and home settings. They also serve in roles beyond the traditional image of nursing…functioning as quality leaders, case and care managers, educators, project managers, nurse scientists and site and system leaders.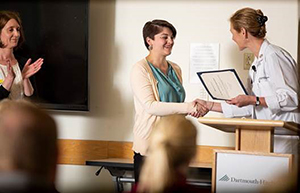 Nurses were ranked the most trusted profession in 2017, according to the annual Gallup Poll on honesty and ethical standards. Nurses have topped the list of 22 most trusted professions for the past 16 years.
Nurses practice in a wide range of settings, from hospitals to visiting people in their homes, from teaching students in schools to making discoveries in research in labs. Nurses work in occupational health settings, long-term care facilities, camps, pharmaceutical companies and in military service.
Nurses act as advisers and consultants to the health care and insurance industries. Many nurses work in health and patient advocacy at companies. Some are practicing attorneys and others work with attorneys as legal nurse consultants, reviewing patient records to assure that adequate care was provided in legal cases and testifying in court. They also work in the development and deployment of electronic health record systems, palliative care and advanced care planning. 
This highlights the impressive range of expertise and talent we have in our nursing organizations. We have close to 2,000 direct care nurses and nearly 400 nurses in advanced practice at D-H, and even more across the D-H health system.
When an individual suffers from a traumatic injury or a chronic illness, the emotional and mental impact can be devastating to both the individual and the immediate family members. It is likely that the care nurses have provided during these difficult times has helped many families survive the crisis and ultimately stay together.
Whether it's the birth of a child, recuperating after a traumatic accident, or providing end-of-life care, nurses are part of some of the most important events human beings experience at every stage of life. While we celebrated our nurses in May, we hope you will take the opportunity to thank a nurse next time you have a medical appointment or need to visit a hospital. They are the heart and soul of any health care organization.
It's Time to Prouty . . .
I can already tell that we are ramping up for the Prouty…flyers promoting the event have been stuffed in every mailbox across the Upper Valley, encouraging people to participate in multiple ways. The two-day event to support Dartmouth-Hitchcock's Norris Cotton Cancer Center (NCCC) will be held on July 13th and 14th in Hanover, NH. The Prouty includes one-day bicycling events ranging from 20 to 100 miles, a two-day 200-mile Prouty Ultimate ride, multiple walk routes, rowing on the nearby Connecticut River and the ability to participate by playing golf. (That is how I am contributing!) The event attracts some 5,000 participants and 1,000+ volunteers to a town of 13,000.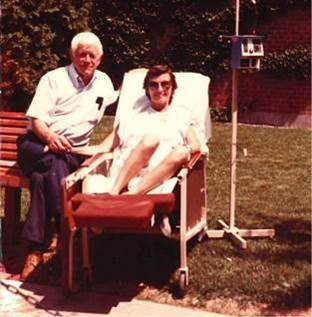 This all started after Audrey Prouty, who was a cancer patient at NCCC, lost her nine-year battle with ovarian cancer in July 1982. For one of the nurses, Patty Carney, Audrey had a special impact on her life. During Patty's second year at Dartmouth-Hitchcock Medical Center (DHMC), she met Audrey Prouty. Susan Reeves (who is now Dartmouth-Hitchcock Health's Chief Nurse Executive and Executive Vice President for Research and Education) was nurse manager during the day on the oncology unit at the "old hospital" in Hanover, and Patty Carney was the manager for the night shift. Patty Carney recounted a number of stories that demonstrated not only Audrey's courage but her ability to live in and reflect upon the present in a very positive way.
Susan Reeves remembers the "pluck" that Audrey displayed every day. She was on three chemo-therapeutic agents and had every side effect you could have. However, make no mistake, Audrey Prouty was going to make her own decisions about her care…refusing to fall into despair in an era when the outcomes were dismal. After she died in 1982 on July 7—Patty's birthday—Patty and three other nurses held a 100-mile bike ride across the White Mountains to honor Audrey's courage and raise awareness and money for cancer research. The four nurses (Patty Carney, Cindy Spicer, Heather (Adams) Klassen and Catherine (Hallisley) Shannon) raised $4,000. And wow, did they start something—since that time, the Prouty has raised more than $33,000,000, and this year a goal has been set to raise $3.2 million!
The Prouty represents NCCC's largest annual fundraiser. The signature event is organized by the Friends of Norris Cotton Cancer Center, a group wholly devoted to raising funds to support innovative cancer research and important patient services for the Cancer Center. Nearly 90 cents of every dollar raised goes to support cancer research and patient supportive services at NCCC. Although the fundraising statistics are impressive in their own right, the money raised each year actually has far more impact than many might realize. For example, the Prouty funds on average 10 pilot projects every year. Prouty Pilot grants are novel scientific ideas with the likelihood that a little starter money will springboard them to external funding. These research projects are peer reviewed by NCCC scientists. NCCC has awarded $3,444,177 since 2008 to more than 186 scientists and clinicians through the Prouty Pilot grants program. The overall return on investment in Prouty Pilot grants is 23 to 1.
For those who may not know, NCCC operates 14 regional centers throughout Vermont and New Hampshire, either alone or with partner hospitals. It is one of only 49 treatment centers designated as a Comprehensive Cancer Center by the National Cancer Institute (NCI), and the only one serving the Northern New England region. NCCC also consistently ranks among the best in outpatient care among the NCI-designated Comprehensive Cancer Centers.
As you think about what you will be doing on July 13 and 14…think about following in the footsteps of a remarkable group of our nurses who simply wanted to honor another woman's courage. For more information about how you can participate, visit the Prouty website.