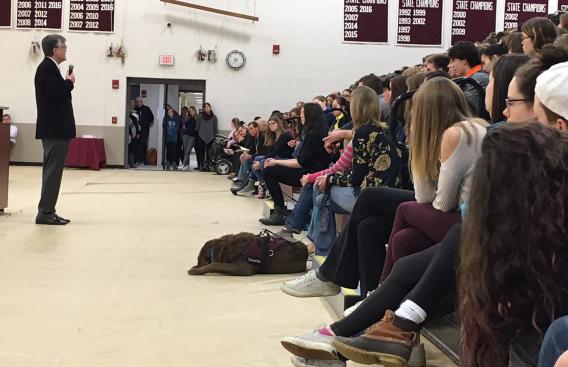 According to the National Alliance on Mental Illness (NAMI), one in five American adults experience mental illness in a given year and one in five American youths between the ages of 13 and 18 experience a severe mental disorder at some point.
"Any room you go into with more than a few people in it will have someone whose life has been directly and substantially touched by mental health issues," says William C. Torrey, MD, vice chair for clinical services for the Dartmouth-Hitchcock (D-H) Department of Psychiatry.
Despite touching countless lives and families, mental illnesses continue to be stigmatized in our culture. "Stigma piles shame on top of the pain of illness. Stigma keeps people isolated. It often keeps people from talking about their life experiences, seeking help, and advocating for needed funding and services," says Torrey, noting that society would not tolerate such poor treatment of people who suffer from other illnesses like breast cancer, diabetes and heart disease. "No one signs up to have a mental illness any more than they do any other painful disorder."
This is why NAMI launched #CureStigma, an anti-stigma campaign that is being heavily promoted on social media, especially during the month of May, which is National Mental Health Month. D-H's Senior Director of Public Affairs John Broderick has also been working to reduce stigma and raise mental health awareness by visiting schools throughout New Hampshire, as well as some in Vermont. He is spreading the word about R.E.A.C.T., a collaboration between D-H, the Children's Hospital at Dartmouth-Hitchcock (CHaD), the New Hampshire Department of Education and the Vermont Agency of Education. Over the past year, Broderick has spoken to almost 50,000 high school and middle school students, teachers, school administrators and community members at nearly 90 schools throughout the two states.
R.E.A.C.T. is a list of steps individuals can take if they or someone they know are in emotional pain and feel like professional help is needed. A companion to Change Direction's "Five Signs" campaign, the R.E.A.C.T. steps are:
Recognize the signs of emotional suffering
Express concern and offer support
Act now and talk to someone you trust—a parent, teacher, coach, relative, friend or doctor
Care enough to follow through and follow up
Text the word "signs" to 741-741 or call 603-448-4400, 24 hours a day, seven days a week
Broderick says it is especially important to deliver this message to young people. "Half of all mental illness in America arises by age 14 and two-thirds by age 23," he says. "Every year more people die by suicide in America than by car accidents." According to NAMI New Hampshire, suicides are the second leading cause of death in the Granite State among people ages 10 to 34. For individuals who are experiencing mental health crises, NAMI has created a downloadable crisis resource guide for them and their loved ones.
Broderick became an advocate for mental health awareness after he was assaulted by his then 30-year-old son in 2002. His son, who served three years in prison after being found guilty of first-degree assault, was ultimately diagnosed and treated for severe depression, anxiety and panic attacks by a prison psychiatrist. "Due to my own ignorance about what mental illness was and what the signs were, I made mistakes in my family's journey with mental illness," he says. "And I realized that we need to have a conversation and educate more people about it."
D-H has compiled a list of treatment and recovery services in New Hampshire and Vermont, and the New Hampshire Department of Education has created an online "Student Wellness" toolkit for school administrators. During his school presentations, Broderick encourages young people to seek help from school psychiatrists and guidance counselors, community behavioral health centers and their family physicians.
"We're trying to open the conversation about mental illness to help reduce stigma and encourage people to seek help," says Broderick. "For many people, mental illness is still a shame zone. In order to move mental health awareness forward in America, we have to first take away the stigma so people feel it's okay to say, 'I have a mental health problem.'"