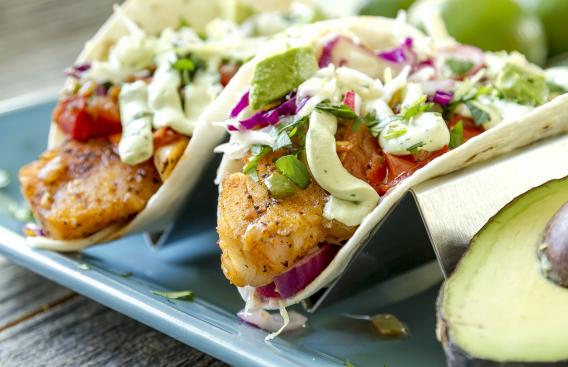 Dartmouth-Hitchcock's Culinary Medicine Program offers a healthy version of tacos with fish and rainbow slaw as the main ingredients.
Makes: 6 servings
Serving size: approximately half a cup
Preparation time: 10 minutes
Cooking time: 15 minutes
Ingredients
Corn tortillas (flour tortillas, either soft or hard tacos, can be used)
2 pounds tilapia or other white fish (about 6 filets)
Slaw:
1 red pepper, thinly sliced
1 small cucumber, thinly sliced
2 carrots, thinly sliced
½ small head of red cabbage, thinly sliced
½ small head of green cabbage, thinly sliced
Vinaigrette:
¼ cup olive or canola oil
¼ cup lime juice
2 tablespoons honey or maple syrup
Salt and pepper
Sauce:
Greek yogurt – 7 ounces., plain non-fat or low-fat
Chipotle peppers in adobo sauce
Instructions
Slaw: Slice cabbage, red pepper, cucumber and carrots. Toss with lime vinaigrette, add salt and pepper to taste. Let stand 15 to 20 minutes while preparing other ingredients.
Chipotle-yogurt sauce: Mix yogurt with one diced chipotle pepper in adobo sauce (or ¼ tsp chili powder), a pinch of salt and pepper.
Tortillas: Warm tortillas briefly in oven or microwave and wrap to keep warm.
Fish: Sprinkle salt and pepper on fish and one diced chipotle pepper with adobo sauce (or sprinkle with chili powder). Heat 1 to 2 teaspoons of olive or canola oil in a non-stick pan on medium heat. In batches, brown fish on one side, turn and simmer until cooked about 5 minutes.
Assemble: Add fish, slaw and your favorite toppings to a warm tortilla, and enjoy!
Additional options
Use a mandolin, food processor or grater to prepare the slaw. Pre-packaged slaw is a quick option.
One bunch of cilantro, washed and de-stemmed (optional)
Topping Ideas: Avocado, cherry tomatoes, black beans, corn (fresh or frozen)
Nutrition (per serving)
Calories 161.2, Total Fat 9.4g, Cholesterol 0.0mg, Sodium 144.6mg, Carbohydrates 19.9g, Dietary Fiber 4.4g, Protein 2.6g
Download a PDF of this recipe.
Find more recipes and healthy eating tips in the Cooking Up Health section of D-H Health and Wellness.