In This Section
Meg Seely Receives the 2018 Edith Amsden Award for Volunteers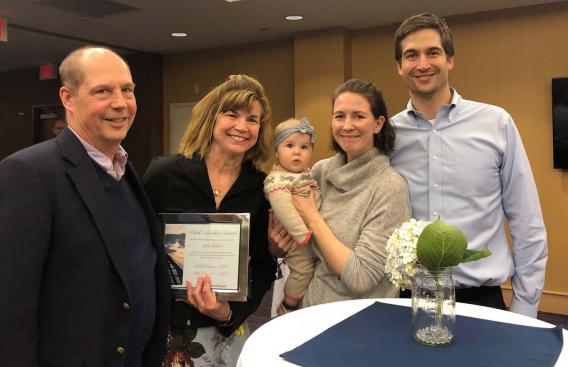 The Dartmouth-Hitchcock (D-H) Office of Volunteer Services and the Volunteers Leadership Board has announced that Meg Seely is the recipient of the 2018 Edith Amsden Award for Volunteers. Seely was recognized for her service as a Patient and Family Advisor and Patient and Family Voices volunteer.
"Meg has served over 5,000 volunteer hours at Dartmouth-Hitchcock. Her dedicated, empathic and poised nature only further amplify each of her service hours with us," said Beth O'Connor, director of Volunteer Services, Office of Patient Experience. "She is a true servant leader and model of altruism."
Seely was nominated by Jessica Laperle, CCLS, manager of the Children's Hospital at Dartmouth-Hitchcock (CHaD) Child Life Program, who praised the knowledge and insights Seely brings to meetings and patient care units, as well as her kindness and excellent listening skills. "The connections she makes with our patients and families at Dartmouth-Hitchcock is remarkable," said Laperle. "She has the ability to allow individuals to feel safe sharing their story, to feel comfort in the process and to feel heard in their journey."
Seely was presented with the award at the annual volunteer luncheon, sponsored by the offices of the CEO and Board of Trustees. "It goes without saying that so many of you (volunteers) could be standing up here today," she said. "I am grateful that it is my turn this year and I am incredibly humbled by the honor."
Seely added, "In listening to others during the Family Voices interviews, I have found my own voice. There is such great value in listening, being trained to do so with no judgment, and then sharing what we have heard at leadership tables. That model for sharing information, sharing the perspective of the patient to a leader, has resulted in real cultural shifts, some small changes and some quite significant changes."
The Edith Amsden Award is given in recognition of volunteer excellence and to individuals who show a remarkable dedication to service that Edith Amsden herself embodied during her time as a D-H volunteer. Award recipients are relentless yet empathic change agents committed to enhancing the care environment for patients and families alike.