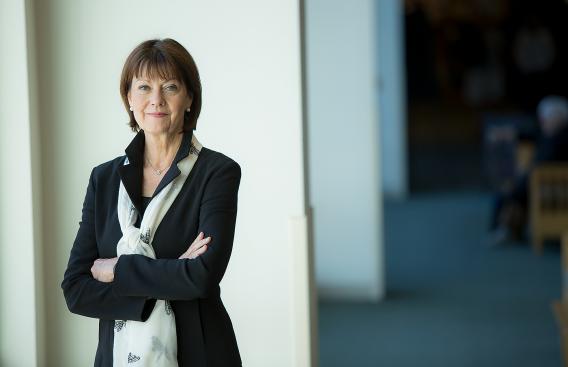 Neighbors taking care of neighbors
One of the most important conversations we are having at Dartmouth-Hitchcock (D-H) over the next few months is about defining our care model. We are trying to articulate the "brand promise," which is distinct to being Dartmouth-Hitchcock and one that we make to every patient who enters anywhere in our system. We need to decide what is unique about how we deliver care. How do these concepts make us different in 2018, while also connecting us to our past "clinic" roots? I think the model will describe how we focus on the individual's desires, how we provide the correct technologies according to patient need, how we ensure quality, how we respect a patient's loyalty to us and how we are committed to supporting our communities.
Last weekend, I attended a celebration of Southwestern Vermont Medical Center's 100th anniversary…and was struck by how palpable the desire was of those families to receive their care from and in their community. This is probably core to the identity of every facility in our system…even the quaternary care center in Lebanon. We have neighbors taking care of neighbors.
I have been the recipient of this neighborliness! Last week one of the cashiers at a local store said as I was checking out, "I know you…you are the face of Dartmouth- Hitchcock!" (Good marketing D-H) In another encounter, at the Hanover Co-op there were three of us who worked at Dartmouth-Hitchcock hanging out waiting for roast chickens to come out of the oven at 7 pm on a weekday night. We were not solving world problems in aisle number three, but laughing about the fact that we live on roast chicken and that they should consider a wine bar for those who wait. There is a sense of community that is the underpinning of who we are, and it translates to how we deliver care.
We have many examples of how our employees care for people in our community in extraordinary ways. We have nurses going out of their way to give families a ride home. We have employees bringing in toys and books for hospitalized kids. We have an army of employees who donate their time and resources to community organizations around the state. There are hundreds of stories about neighbors giving back selflessly. That's what is unique about Dartmouth-Hitchcock and about the communities we serve – neighbors caring for neighbors!
Managing Change
I'm beginning to write this Journal on Tuesday morning. Last night was a scorcher! I realized that this is the first house (aside from my cabin in Maine) I have owned since 1979 that did not have central air conditioning. Now, I did live in the South where temperatures are consistently far higher than in New England. I have to admit…I broke down last week and bought a portable air conditioner for our master bedroom, which kept that one room reasonably cool last night. Funny how all three cats found their way into that cool space. My husband, DJ, did remark that he now appreciates how he has lived a "hermetically sealed" life for so long, and that he is actually enjoying the open windows and fresh breeze. Aside from the beads of sweat collecting around the small of your back, there are many benefits to not having air conditioning.
You may say…what does this have to do with running a hospital or health system? It's all about adapting to change.
Six things that change (and no air conditioning) have taught me:
You really do adapt. You get used to a new normal in heat waves and during change. It is not better or worse…just different. You know when you go outside and its 95 degrees when you come back into the house where it's only 80 degrees, it actually feels quite cool.
You learn to accept sweat. The work of change is hard…you know you're going to sweat, so you just deal with it. It's not the most pleasurable thing about our jobs, but it's not going to kill you either.
You learn the importance of decompressing. You can take a cold shower right before bed each night when it is scorching. It may not be a delightful experience, but it brings your body temperature down enough that you sleep like a baby. During change, you learn how to rest and reset.
You learn to conserve your movements to keep your balance. Change can be tumultuous. You mentally prepare for it.
You learn the value of movement and momentum. When it is hot…it doesn't matter how warm the breeze is, any breeze is better than no breeze, so get those windows open!
You learn to value a big front porch. And you prefer one that's large enough to invite a lot of people who need to be part of the change.
Anyone who works in health care knows that we as an industry are going through incredible change at a rapid pace. What is important to know about my colleagues here at Dartmouth-Hitchcock, is that we are becoming more nimble and better at adapting to change.
Since we are on the topic of change, I also want to take a moment to reflect on the possible change to the name of the Norris Cotton Cancer Center, which many of you have likely seen debated in the local media. As part of the Geisel School of Medicine at Dartmouth's Interaction Capital Campaign, there is an opportunity to provide a truly transformative gift that would allow the donor, should they choose, to re-name the Center.
It's important to put in perspective and to bear in mind the incredible impact that $100 million would have in spurring advances in the discovery and delivery of cancer care and prevention for the patients who we serve and will continue to serve. If we are fortunate enough to receive a transformative naming gift, we will find an appropriate way to continue to honor Senator Cotton for his support of cancer research and treatment. The change in a building's name as part of a capital campaign is not unprecedented, and it does not mean that we do not honor Senator Cotton. It means that we will put these dollars into shaping the future of cancer care and cures, something the Senator himself most certainly would have understood and appreciated.