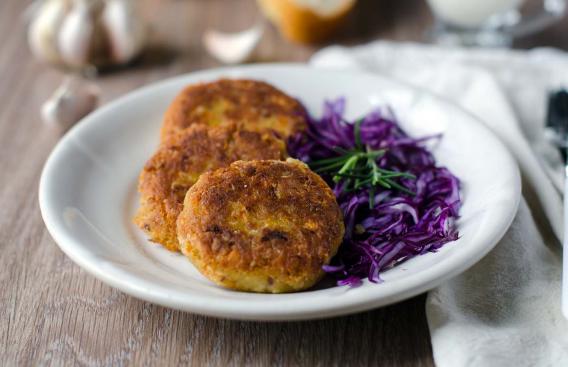 Dartmouth-Hitchcock's Culinary Medicine Program offers a meat-free burger featuring lentils, feta cheese and Tzatziki dressing.
Makes: 4 servings
Serving size: 1 patty
Preparation time: 10 minutes
Cooking time: 40 minutes
Ingredients
2 tablespoons olive oil
½ cup finely diced onion
1 garlic clove, pressed
½ teaspoon red pepper flakes or cayenne
Salt and pepper to taste
½ cup bread crumbs
1 egg
2 cups cooked French green lentils
½ can rinsed/drained white beans
¼ cup crumbled feta
1 teaspoon fresh chopped oregano
Tzatziki Dressing
1 cup plain Greek yogurt
1 clove minced garlic
½ small cucumber, grated
1 teaspoon olive oil
1 teaspoon lime juice
Fresh chopped cilantro
Salt and pepper to taste
Instructions
Burgers:
Rinse lentils. Bring 4 cups water to boil, add 1 ½ cups rinsed lentils and simmer until tender, approximately 20-25 minutes.
Sauté onions on medium heat until they begin to brown, then add garlic, red pepper flakes, salt and pepper on low heat until soft.
Gently combine bread crumbs, egg, lentils, white beans, sautéed mix and combine with hands to break up the white beans.
When mix begins to come together, add feta and oregano and gently form into patties.
Heat 1 to 2 tablespoons of oil in a non-stick or well-seasoned pan and sauté the burgers for 3 to 4 minutes per side to brown.
You can finish these burgers in a 325 degree oven for 5 to 10 minutes.
Dressing:
Whisk all ingredients together.
Dietitian tips
Any creamy bean can be substituted for white beans.
Brown lentils will work but don't hold their shape as well.
Nutrition (per serving)
Burgers: Calories 90, Total Fat 4.5g, Cholesterol 0.0mg, Sodium 250mg, Carbohydrates 9g, Dietary Fiber 4g, Protein 3g
Tzatziki Dressing: Calories 11.9, Total Fat 0.8g, Cholesterol 0.0mg, Sodium 0.7mg, Carbohydrates 1.3g, Dietary Fiber 0.2g, Protein 0.2g
Download a PDF of this recipe.
Find more recipes and healthy eating tips in the Cooking Up Health section of D-H Health and Wellness.