In This Section
Weight Loss Study for Seniors Leads to Exercise With Friends
By

Bonnie Barber

Photography by

Beth Rexford

August 3rd, 2018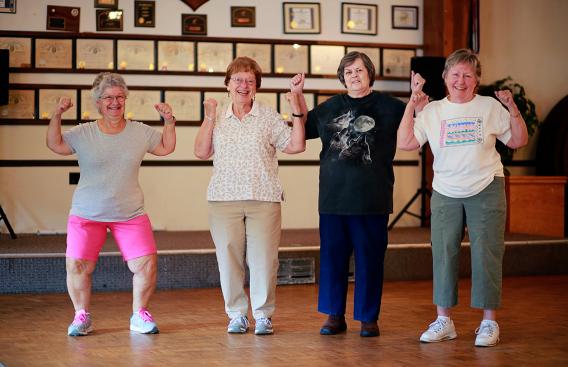 When Edwina Brady's primary care physician Catherine E. DuBeau, MD, suggested that she participate in a Dartmouth-Hitchcock Medical Center (DHMC) weight-loss study for seniors, the 77-year-old agreed to look into it but wasn't very optimistic. "I had lost weight in other programs, but always gained it back," she says. But Brady hoped her results would be different this time since the program—Mobile Obesity Wellness Intervention (MOWI)—was part of a national research study that included weekly meetings with a dietitian, a twice-weekly exercise program overseen by physical therapists and mobile technology to track participants' exercise.
By the time the three-month program ended in June, Brady was "blown away"—she had lost eight pounds and lost another two after the program's conclusion. "I was impressed with how good I felt and I have completely changed my eating habits," she says, noting that she tracked her results with a Fitbit provided by the research team and in a logbook, where she recorded everything she ate. Fitbits are wearable devices that can track such things as the number of steps walked, heart rate and stairs climbed. "I have done diets before where you have to eliminate things, but this meal plan lets you eat the things you like. You just eat foods in different portions and different combinations. It made it easy to lose weight along with the exercise."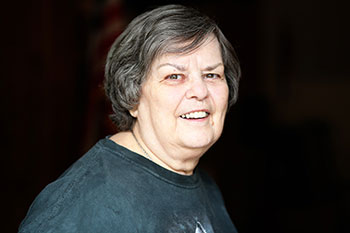 In addition to losing pounds and improving her health, Brady also made some good friends in the program. She and five of the participants now meet once a week to exercise at the Moose Lodge in Newport, NH, bringing with them the resistance bands and weights they were given during the program.
MOWI Study: Losing Weight and Improving Fitness
"This study is perfect for patients who are motivated and live in the area and who can come in twice a week to the Aging Resource Center [in Lebanon, NH]," says DuBeau. "Every patient of mine who has participated has been absolutely delighted with the program. They've enjoyed it, they've lost weight and they feel better about themselves."
While all the research study data has not yet been analyzed for the 30 participants, "subjectively everyone is feeling better and the average weight loss has been 10 pounds in a 12-week period, which is very encouraging," says John A. Batsis, MD, a geriatrician and clinician-researcher in General Internal Medicine at Dartmouth-Hitchcock (D-H). "Importantly, though, their physical function is improving. Patients' grip strength improved, their walking speed was quicker and their six-minute walk test improved as well. I think the technology is helping. We don't have a comparison group because this is a pilot study, but we've found that technology is acceptable to most older adults."
Batsis' research is being funded by a five-year grant totaling nearly $800,000 from the National Institute on Aging. The grant enables him to focus on strategies for improving health care delivery and wellness in older adults with obesity by using telehealth video-conferencing, personal monitoring devices such as Fitbits and frequent coaching by health care providers. "We also received additional NIH (National Institutes of Health) funding and are conducting a side study looking at the impact of protein shakes post-exercise," Batsis says. "We're working with the DHMC Pathology Department testing individual's bloodwork for biological markers that may change when people lose weight and improve their physical function."
How the MOWI Study Works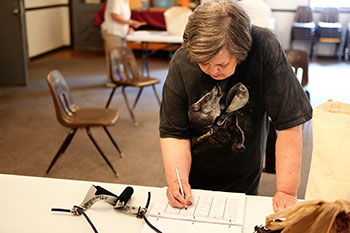 This component of the MOWI research project started in September 2017; to date there have been four 12-week pilot programs. Batsis is currently recruiting for one more 12-week, in-person study, which will be held at the Aging Resource Center from September to December, as well as a six-month telehealth study (see email address at the bottom of this article to express interest in the study). Research study participants include D-H Primary Care patients and community members over the age of 65 who are screened over the phone for the following eligibility criteria:
A body mass index over 30 kg/m2
No serious illnesses, recent hospitalizations or cancer diagnoses
The ability to perform activities of daily living
No cognitive impairment
Medical clearance from their provider
"Safety is of paramount importance; we carefully screen participants because we do not want anyone to have an adverse event," says Batsis. "This is not clinical care, it's a research program where we are evaluating whether this type of program does indeed work."
Each pilot has consisted of eight to 10 participants who meet with a registered dietitian and a physical therapist for baseline assessments. During the course of the 12-week program, they meet once a week for 30 minutes with dietitian Rima Al-Nimr, MS, RDN, LD, and twice a week for group exercise at the Aging Resource Center with physical therapist Aimee Burnett Greeley, PT. Dawna Pidgeon, PT, designed the fitness portion of their program. "The dietitian has developed a nutrition curriculum based on evidence-based practices," Batsis says. "And the exercise program focuses predominately on strength training, flexibility and resistance exercises, although there is also an aerobic component."
Weight Maintenance and Telehealth Weight Loss Study
Patients who have completed one of the pilots, may also participate in a maintenance program, which was developed by postdoctoral fellow Courtney Stevens, PhD. "One of the things participants expressed early on was, 'I do this for three months and then what?'" says Batsis. "We're lucky that Courtney, who is a psychologist trained in behavioral medicine, has an interest in exercise and weight maintenance; she has been instrumental in developing this maintenance program. Every three weeks for six months, the MOWI participants are coming back in and we're providing them with strategies to maintain the benefits they achieved after the initial program."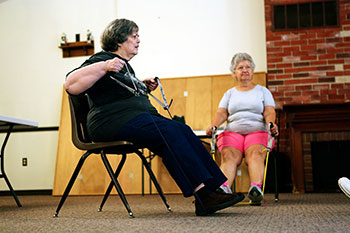 To help seniors who live further away from DHMC and the Aging Resource Center, Batsis is next launching the telehealth phase of the research study with the D-H Center for Telehealth. Participants will be recruited starting in August and September and the initial six-month program will begin in October, followed by another telehealth pilot in the spring. In addition to meeting the criteria listed above, participants must have high-speed internet at home and access to email.
"We'll be piloting this in patients' homes using telehealth," Batsis says. "It will be a six-month intervention where they'll interact with a dietitian face-to-face via a live video chat. They will connect their tablet, which we provide, to their television. They will also be able to see our physical therapist from the Aging Resource Center on their TV and the other patients who are part of the group. Telehealth participants will get together once a month at the Aging Resource Center because we know how it important that is for group cohesiveness.
"I give the following example: I want to help patients that live as far away as Derby Line [Vermont] who cannot come to DHMC once or twice a week because of the distance. This rural area lacks specialists, resources and access to community programs. Can we achieve the same results using telehealth? If we can, great! If not, we will go back to the drawing board and reevaluate. This is exactly why we are conducting this research. If we can make this work, we can have a larger reach going forward in northern New England. The data looks promising, so we are very hopeful."
For those who are considering participating in the research study, Brady gives it a thumbs up. "I'd say definitely do it. The PTs, the dietitian and Dr. Batsis were all very professional, caring and knowledgeable, and they were all invested in helping us achieve our goals. The time commitment might seem daunting, but it is well worth it. It was very motivating to see the results. And it was a nice side benefit to make some friends, who I still see and exercise with regularly. I'm so glad that I agreed to do the study."
To express interest in the telehealth research study, email Emma Brooks at: mowi@hitchcock.org