In This Section
Joanne M. Conroy, MD, Named One of "100 Most Influential People in HealthCare"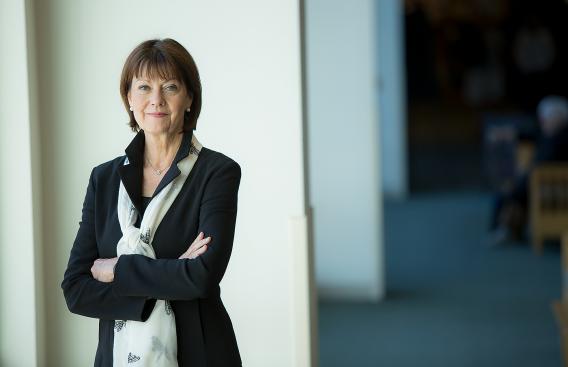 Dartmouth-Hitchcock CEO and President Joanne M. Conroy, MD, has been named one of the "100 Most Influential People in Healthcare 2018" by Modern Healthcare, a leading industry publication.
The annual "100 Most Influential" list was released on Saturday, August. 18, by the magazine, and includes a broad range of leaders in health care delivery, health policy, government, and regulatory agencies. The citation for Conroy notes that, during the first six months 2018, she oversaw a rise in the system's operating margin to 4.4%, up from -0.8% in 2016. Under Conroy's leadership, Modern Healthcare notes, D-H also refinanced $650 million in debt and earned solid rating reviews from Standard & Poor's and Fitch. She has also launched several programs aimed at improving staff engagement and retention.
Conroy was also named one of 50 "Most Influential Physician Executives" by Modern Healthcare in June, 2018
 "I'm honored to be included in this year's 'Most Influential' list," said Conroy. "To be included with such an important group of influential leaders is humbling. But this is really a reflection of the terrific people at D-H that I'm privileged to lead. All of us here are working with the same purpose…to deliver high-quality, compassionate care as safely and efficiently as possible to the people we serve. It's a mission we take very seriously."
Others on the "100 Most Influential" list include Centers for Medicare & Medicaid Services Administrator Seema Verma, surgeon and writer Dr. Atul Gawande, Dana Farber Cancer Institute CEO Dr. Laurie Gilmcher, HHS Secretary Alex Azar, Apple CEO Tim Cook, and Anthem President and CEO Gail Boudreaux. The list is headed by President Donald Trump.
The "100 Most Influential People in Healthcare" awards & recognition program honors individuals in healthcare who are deemed by their peers and the senior editors of Modern Healthcare to be the most influential individuals in the industry, in terms of leadership and impact.