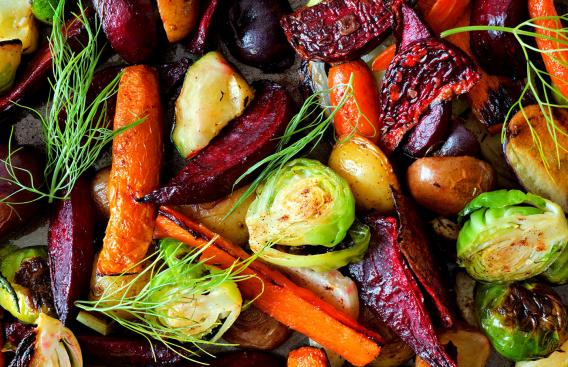 Dartmouth-Hitchcock's Culinary Medicine shares their tips for roasting vegetables.
Makes: 8 cups
Serving size: 1 cup
Preparation time: 10 minutes
Cooking time: 30 minutes
Ingredients
1 large red onion
1 red, yellow or orange pepper
1 small cauliflower
½ pound Brussel sprouts (about 20)
½ pound broccoli
2 carrots, orange and purple
1 squash, any variety
¼ cup olive oil
3 cloves garlic, chopped
½ teaspoon salt
¼ teaspoon pepper
Optional seasoning: ¼ teaspoon cumin, ¼ teaspoon coriander, or ¼ teaspoon red pepper flakes, ½ teaspoon fresh or dried herbs
Instructions
Preheat oven to 400 degrees.
Wash vegetables and cut into similar sized pieces (no need to peel carrots and squash), or substitute any veggies you have available.
Toss in a bowl with olive oil, garlic, herbs, salt and pepper.
Roast in a 9x13 pan (or baking sheet) for 20 to 30 minutes, until tender and slightly browned.
Tips
Substitute your favorite vegetables
Use favorite spices and herbs
Add to a frittata or salad
Nutrition (per serving)
Calories 116.2, Total Fat 7.1 g, Saturated Fat 1 g, Protein 3.2 g, Cholesterol 0 mg, Sodium 180.2 mg, Total Carbohydrate 12.6 g, Dietary Fiber 4.8 g.
Download a PDF of this recipe.
Find more recipes and healthy eating tips in the Cooking Up Health section of D-H Health and Wellness.