By

Bonnie Barber

Photography by

Bonnie Barber

August 30th, 2018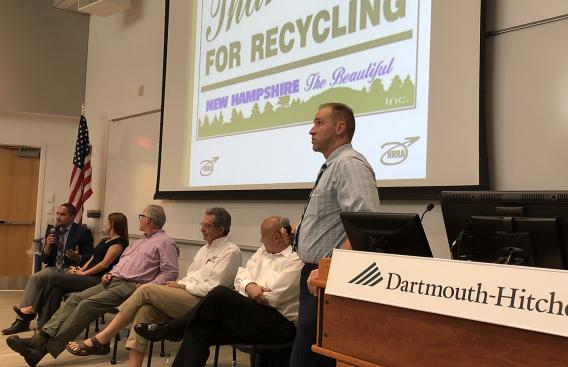 A drastic worldwide drop in demand for recycled materials and China's 2017 decision to no longer accept 60 percent of U.S. recyclable exports has led to substantial changes in the recycling business, said experts at the Northern New England Recycling Summit at Dartmouth-Hitchcock Medical Center (DHMC) on August 8. As a result, northern New England towns and residents need to find ways to create local recycling markets that can lead to closed loop recycling programs, and businesses need to help develop new products and manufacturing markets for recyclable materials.
Co-sponsored by D-H and University of Vermont Medical Center, the recycling summit brought together the following experts:
Zachary (Zac) Conaway, manager of Waste, Recycling and Training in DHMC's Waste Management and Environmental Services Department
Jennifer Bergeron, supervisor of Environmental Services at University of Vermont Medical Center
Michael Durfor, executive director of the Northeast Resource Recovery Association
Christopher Bodkin, president and CEO of Circular Blu
John King, vice president of Foley Distributing
Bob Cappadona, vice president of Recycling at Casella Waste Services
According to Conaway, DHMC in 2017 reused and recycled 33 percent of its waste (paper, corrugated cardboard and metal combined), creating a rebate cost savings of more than $50,000 from our landfill diversion. This offset DHMC's waste costs by 25 percent. DHMC's Waste Management Center, which is staffed by six employees who are split between two shifts, handles an average of 12 tons of waste and recycling daily. DHMC's landfill diversion program includes nine different types of recycling: mixed recycling, office paper, composting, corrugated cardboard, electronics recycling, blue sterilization wrap recycling, universal waste (light bulbs and batteries) recycling, construction and demolition disposal, and scrap metal recycling.
Click here to watch an archived video recording of the Northern New England Recycling Summit. You can also learn more from Durfor about recent changes in the recycling market at this link.