By

Tom Haushalter

Photography by

Mark Washburn

June 15th, 2017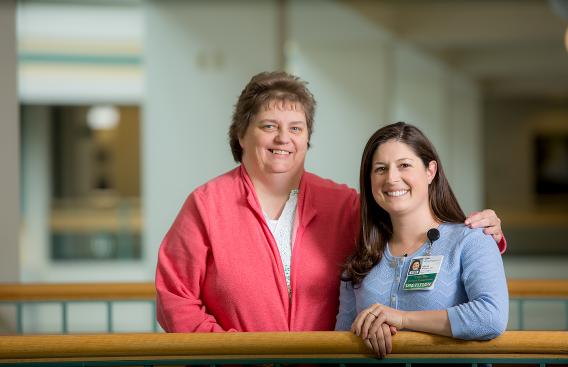 I'm a firm believer that yoga and nutrition combined is an amazing non-pharmacologic and therapeutic way to change someone's life.
Alicia Armstrong RDN, LD, CDE, RYT-500
Over the years, Rene Bartlett of Hartford, VT, has been a Dartmouth-Hitchcock (D-H) patient many times, for many reasons. When she was 38, she got uterine cancer and was successfully treated, followed by two other cancer diagnoses.
Cancer has touched Bartlett's loved ones, too, claiming the life of her boyfriend three years ago, and now her mother is battling brain cancer, for which she is receiving treatment at Norris Cotton Cancer Center at D-H.
Throughout much of her life, Bartlett has had Type 2 diabetes, which she describes as "an up and down battle" to manage, and in a similar way has always struggled with fluctuations in her weight. Some years, she says, were good, as doctors and dietitians in Endocrinology guided her on a diet and weight management program.
But after her boyfriend passed away, Bartlett says she fell into a rut. "I gained 30 pounds and left the program. I spiraled for about three years."
Although she struggled with weight gain and controlling her diabetes, she continued to see her endocrinologist for periodic check-ups, a routine that eventually ceased to be sufficient. Last fall, Bartlett says, "one of my doctors looked at me and said, 'You're a three-time cancer survivor. Why do you want diabetes to kill you?'"
As her ailing mother's primary caregiver, Bartlett realized something needed to change. "My doctors have given me every tool, every opportunity and all the booklets and information I've needed. But finally it had to come from within, and I've had to ask myself, 'Do I want to live?'"
Embracing a new diet and yoga
Motivated by the experiences her brother and sister each had in the D-H Bariatric Program, from their significant weight loss before and after their bypass surgeries, to the fact that they no longer have diabetes, Bartlett decided in January 2017 to begin the process of gaining approval for her own bariatric surgery.
The approval process includes a targeted weight-loss goal and the requirement of multiple visits with a registered dietitian—two pieces that Bartlett has had difficulty with. "I've been to so many dietitians in the past," she says, "and I know they're skilled and that they know what they're doing, but I've not always felt fully understood."
One day her endocrinologist handed her a flyer for a yoga class led by Alicia Armstrong, RDN, LD, CDE, RYT-500. Immediately, Bartlett thought, "I can't do yoga. I have trouble just getting up." So she put the flyer aside and thought nothing more of it.
Soon after, she had her first regular appointment with Armstrong, and Bartlett quickly recognized that this dietitian was different from all the others she'd worked with. "From the very first, Armstrong was completely nonjudgmental of me," she says. "She made a real effort to know and understand me, from the inside out and I made a connection with her right away."
Inevitably, Armstrong's yoga class came up during one of their appointments, and Armstrong is emphatic about its potential benefits.
"Yoga is a very powerful tool," she says. "And it's more than just about movement. Yoga can help with stress management, stretching, building lean body mass, increasing range of motion, improving circulation." Bartlett thought about it and decided to try it.
After a handful of hour-long sessions, held each Tuesday at 4 pm, Bartlett is already amazed at the difference in her breathing and her stress levels, crediting Armstrong's patience and persistence. "Even if I'm the only one to show up," says Bartlett, "she still holds the class, explaining everything thoroughly and going at my pace."
Armstrong, of course, is very glad that Bartlett joined the class. "It's really helped us develop a connection that isn't always possible in an office setting," she says.
Between yoga and Armstrong's dietary guidance, Bartlett's weight is down 5 percent since January, and her insulin needs have changed as a result of her lifestyle improvements. That progress helps her toward acceptance into the bariatric program, but it isn't only for the sake of surgery that she has embraced these new habits. "The tools I've gained in this process I'll need just as much after surgery as I do now," she says.
With the strong support of her family, especially her brother and sister, to help her weather any setbacks and to stay positive, and as she continues to stretch it out on the yoga mat, Bartlett gains confidence day by day.
And Armstrong hopes she sticks with it. "I'm a firm believer that yoga and nutrition combined is an amazing non-pharmacologic and therapeutic way to change someone's life." 
Bartlett's Advice to Others Managing Their Diet
Preparation is key. Every day after dinner, I get my breakfast and lunch ready for the next day, and it's in the fridge waiting for me.
It helps if your dinner is a balanced meal and leaves enough for lunch leftovers!
You don't have to be all-or-nothing with regards to food. But keep track of what you've eaten. Write it down. Put in the time. Turn your food weakness into a strength.