By

W. David Jones

June 16th, 2017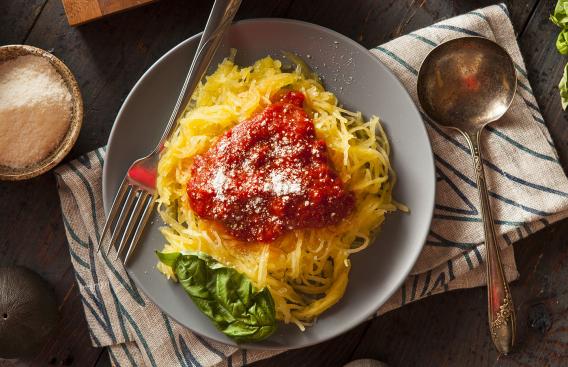 Makes: 8 servings
Preparation time: 20 minutes
Cooking time: 45 minutes
Ingredients
2 teaspoon oregano, ground
2 teaspoon parsley, dried
2 teaspoon thyme, ground
1 tablespoon basil
⅓ cup, raw chopped carrots
1 clove garlic
¼ cup, raw chopped onions
¼ cup chopped green bell peppers 
⅓ cup, sliced zucchini 
6 cup spaghetti squash 
⅓ cup, sliced summer squash 
1 can (29 oz.) pureed tomatoes 
1 cup water
1 teaspoon sugar
3 cups whole peeled plum tomatoes
3 tablespoon Extra Virgin Olive Oil
1 teaspoon black pepper
½ teaspoon salt
Instructions
Sauté vegetables in olive oil with seasonings and sweat for 5-10 minutes.
Add tomato puree, peeled tomatoes, sugar and water to sautéed vegetables and simmer.
Slice squash in half lengthwise, remove seeds, and place on baking sheet sprayed with cooking spray, cut side down.
Cook at 325 degrees for 40 minutes or until the skin begins to bubble.
Let cool until cool enough to handle.
Remove flesh with a fork and place on a cooking sheet and drizzle with 1-2 Tablespoons olive oil, salt and pepper to taste and bake at 325 degrees for 5-10 minutes or until desired temperature is reached.
Nutrition (per serving)
Calories: 150.8, Total Fat: 5.9 g, Cholesterol: 0.0 mg, Sodium: 746.8 mg, Total Carbs: 23.5 g, Dietary Fiber: 5.9 g, Protein: 3.6 g
Download a PDF version of this recipe.
W. David Jones is the Executive Chef for Food and Nutrition Services in the Dartmouth-Hitchcock Culinary Medicine Program.
Find more recipes and healthy eating tips in the Cooking Up Health section of the Health and Wellness newsletter.