Photography by

Mark Washburn

August 2nd, 2017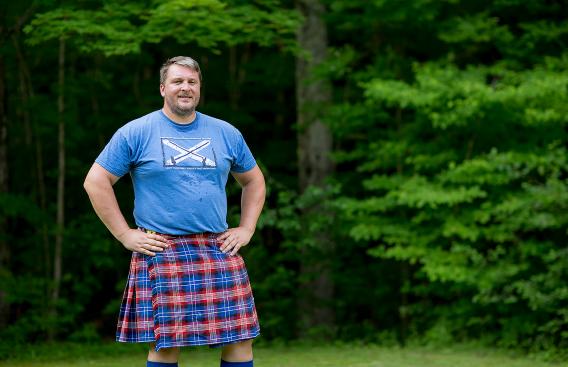 If they say your function will come back it will. Be patient.
Bill Waddell
My hobby is competing in the Scottish Highland Games which involves nine different throwing and lifting events. I am Scottish and Irish so I feel like I have a good connection to the sport. After serving in the military, I was looking for the same comradery and I found it first participating in Strongman competitions, and then in the Highland Games. For me, it's not about competing; I don't care if I win. The crowd loves it and the competitors have a good time. As a bonus, to compete at a high level I have to work out and live a healthier lifestyle. Now that I'm in my 40s, I'm considered a "Master." I compete in up to 15 competitions throughout the year and most often win at least one or more events. Once, I came very close to breaking the world record. To say my arms are necessary for the sport is a serious understatement.
Last May, I was messing around with friends and lifted my left arm in an awkward position. I felt the familiar "pop." The last time I felt that was in 2010 when I had a distal bicep rupture in my right arm and knew right away what it was. This is the muscle that helps you to rotate your hand and flex the elbow. I scheduled an appointment with Dr. John Nutting, who did an excellent job on my surgery six years earlier. When I met with Dr. Nutting he knew about my involvement with the Games and told me, "I'm going to get you back out there." I was scheduled for surgery on May 5, 2016.  
The surgery was not an easy one, but Dr. Nutting was able to repair it successfully. My tendon was shredded and it was only a matter of time before it was going to tear. During my recovery, my hand seized into a clutched position. After an MRI with no conclusive answer as to why, Dr. Nutting decided to go back into the operating room to make sure that the nerve was untouched. Thankfully, Dr. Nutting saw no damage. What struck me was how concerned he was. He stayed up all night and called upon all sorts of specialists to be sure I received the care I needed, including going into surgery at midnight. I felt like he called in his "A Team" to make sure everything would turn out OK for me. One nurse asked if I was somebody famous because so many different doctors came to consult with me.
About a week after surgery I started rehab exercises with Jamie Perry, OT CHT, an occupational therapist and certified hand therapist. I came in twice a week at first, then down to once a week after I started making gains by doing exercises and having nerve stimulation treatments to get the muscles firing in my arm to extend my fingers. Jamie built different types of braces to restrict how much I moved my arm and even a special device to help hold my fingers up using rubber bands. Slowly, I gained function over the course of four to five months.
During that time I also continued to go to the gym a couple of times a week so that I didn't lose too much muscle in the rest of my body.  Jamie monitored my progress every step of the way, including how much I was able to care for myself, sleep at night and do my regular chores. What I like about Jamie is that he never talked down to me. Being someone who works out a lot, I understand the anatomy of the body so Jamie found a way to tell me what I could and couldn't do, and why. After being cleared to throw again, I competed in October 2016 and won the game easily, coming out at the top except for one event.
I can't thank Dr. Nutting and Jamie enough. I'm glad they do what they do. To have people there that really care, that understand and take the time to get to know you and know where you want to go—that is special.