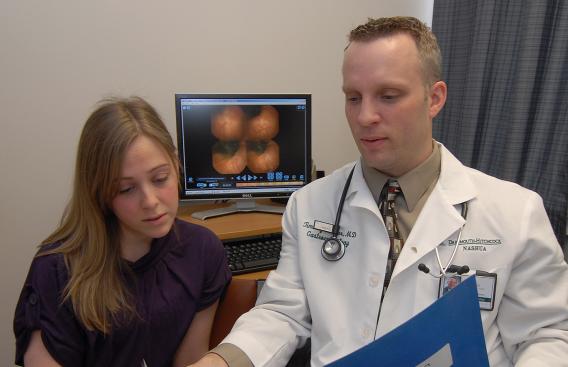 Over the Labor Day weekend, while on call at St. Joseph Hospital in Nashua, Dartmouth-Hitchcock (D-H) Gastroenterologist and Medical Director of D-H Nashua Timothy D. Scherer, MD, experienced first-hand the "benefits of being part of a system," when one of his critically-ill patients was transferred to Dartmouth-Hitchcock Medical Center (DHMC).
"Had he stayed in Nashua, he would have died. There's no question; St. Joseph's does not have the tertiary services," Scherer says of his 66-year-old patient who was suffering from a gastric variceal bleed. "Most of the issues we can deal with here in Nashua. But this time we needed help, and we got great help because of the ease of use of the Transfer Center [at DHMC] and good communication with my colleagues. It was a good exercise in working as a system, with interdisciplinary care and collegiality, all in the effort of taking care of a patient. It was great, and I was very proud to be part of D-H."
Scherer, Intensivist Mark Franklin, MD, who was the attending on call in DHMC's Intensive Care Unit (ICU), Gastroenterologist Arifa Toor, MD, and Interventional Radiologist John Gemery, MD, talked with D-H Today about that day.
Timothy D. Scherer, MD: I was on call at St. Joseph Hospital and got a consult about a patient with a GI [gastrointestinal] bleed. He's had liver disease for a while, which can be quite alarming from the perspective of having a GI bleed. I performed an endoscopy and the bleeding was just immense. His stomach would fill up with blood, and it was difficult to see anything at all. I was concerned that it was a gastric variceal bleed, which is one of the emergency bleeds that I don't have the equipment to manage in Nashua and can take your life very quickly.
I was able to stabilize him, but I knew he had to be transferred. My first step was to call the Patient Transfer Center at DHMC. My experience with the Transfer Center was amazing. I had the nurse coordinator on the telephone and one of the critical care doctors. We reviewed the patient's history so they could understand what my concerns were. They did a fantastic job, and accepted him immediately.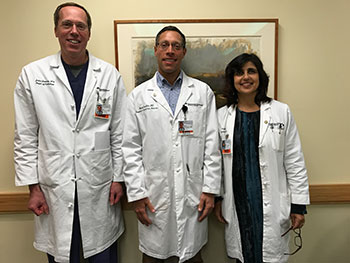 Intensivist Mark Franklin, MD: I take a lot of outside phone calls for transfers in the ICU, [Intensive Care Unit] and I like to say that I'm the guy that always says yes. Our job is to get the information, provide immediate support and get the patient to DHMC as quickly as possible. We try to get the referring physician on the phone and get the ball rolling. A lot of these patients are at institutions that don't have the level of service that we have, and these physicians are looking for help. So, we work to make the process as painless as possible and give great customer service.
We let the gastroenterologists know that someone was coming from Nashua who had an upper GI bleed. We knew this gentleman was going to undergo another endoscopy here and would need to be intubated for it, so we started to prep. We do this pretty routinely with gastroenterology—they send patients for emergent endoscopies and we get the patient ready for them.  
Gastroenterologist Arifa Toor, MD: After the ICU called late that afternoon, I spoke with Dr. Scherer and got the details of the procedure he performed. When someone is bleeding from gastric varices like this, it is something that can be lethal. Dr. Scherer got him started on medical therapy that slowed the bleeding down. Clearly, if that had not been done and he had not been put on the appropriate IV medications, it definitely could have gotten worse and he would have lost a lot of blood before he got here.
What was great about the teamwork here was that once the patient got to the ICU, they let us know right away that he was here. And within an hour, the ICU had him prepared for us to do the endoscopy. Trying to prioritize what comes first takes teamwork, and Dr. Franklin and his team really got moving quickly, which allowed us to make a diagnosis and get him down to Radiology.
We recommended a TIPS (transjugular intrahepatic portosystemic shunt), which is what Dr. Scherer thought the patient would need. So, I talked to Dr. Gemery, and he got his team going. From my standpoint, Interventional Radiology is always ready to help out when they're needed.
Interventional Radiologist John Gemery, MD:  The heart is always delivering blood flow to the bowel, which then drains to the liver. The blood that can't get through a diseased or injured liver gets forced out around the liver. The blood vessels that blood gets forced through were not intended for that kind of flow so they can break and start bleeding. The bleeding in this patient was from the wall of his stomach, and that's not a place that is straightforward for either Dr. Scherer or Dr. Toor to treat.
When we do a TIPS, we come from the heart end of the liver (hepatic vein) and we poke a hole through to the bowel blood inflow end (portal vein). We put a tube between those two points so blood flow can pass through our tube instead of going around the liver. We also blocked off some of the abnormal blood vessels in the wall of the stomach. We were trying to re-route flow through the tube instead of around the liver and then directly block some of the "around the liver" pathways. We finished up about midnight.
What I think is noteworthy is that we work together with the gastroenterologists and see them regularly. I try to go to the Wednesday morning GI and Radiology conferences. On Tuesdays, we have liver tumor conferences. Dr. Toor and I attend, as do other interventional radiologists and hepatologists. We have lunch, talk about patients and spend time together. So, when a case comes up, we already know each other quite well. And to me that's helpful and speeds up a handoff. I'm not sure that other hospitals have that, at least not to the same degree.
Toor: We do know each other really well, and we really feel comfortable with Radiology calling us and us calling them. We know that we can question each other without any hesitation. I also think my job was easier with this patient because of how well the team worked to expedite things. I didn't have to wait; I didn't have to call anybody to do anything. It was all done just as it should have been.
The patient is doing quite well. As expected, it wasn't an instantaneous turnaround. He was in the ICU for another day or two, but he was in the hospital for less than a week. He was discharged to rehab and he's already had his outpatient ultrasound that showed the TIPS procedure is working well. He hasn't had any recurrent bleeding.
Scherer: If we talk about giving the right care, to the right patient, in the right place, every time, that's exactly what happened here. My patient got the care he needed to save his life, and the Transfer Center allowed me to do that. It couldn't have gone any better.