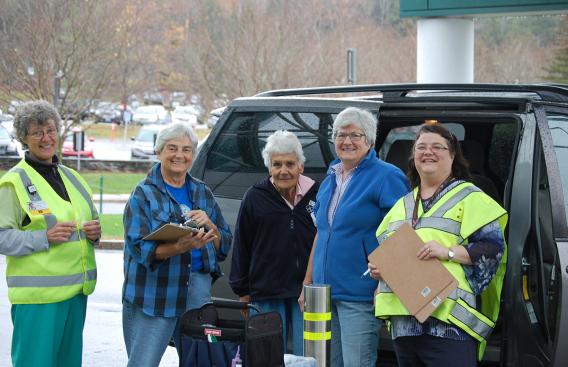 With many children wearing Halloween costumes, there was a festive feel to Dartmouth-Hitchcock Medical Center's (DHMC) final fall public flu vaccination clinic on Sunday, October 29. Even those who weren't in costume were in high spirits on the drizzly day, laughing and joking with nurses at the front entrance who provided "drive-thru" flu shots for those with limited mobility.
"This is the highlight of our year. It's the only time we get out!" Norwich resident Kathy Petersen joked with nurses Brenda Moore, RN, and Maureen Troumbley, RN, as they administered flu shots to Petersen, Sheila Taraska, and Faith Boone outside their mini-van in front of DHMC.
"These gals were out here waiting for us," said Taraska, a retired nurse like Petersen. "We love it! It's so quick and they're all so friendly. And they know what they're doing!" Petersen added, "But seriously, it's always a pleasure having people like you all take care of us in the community."
Inside at the flu clinics for adults in Auditoria A through D and the flu shot clinic area for families, in the Spine Clinic, you heard that same gratitude from local residents. "I think it's fabulous that Dartmouth-Hitchcock offers this service to the community," said Elizabeth Duval of Quechee, who was getting a flu shot with her husband David. "I like going right to the source here at the hospital, and feel more confident getting my flu shot here."
DHMC's streamlined process was also a plus for West Lebanon's Kristin and Morgan Swan and their five children. "It's convenient and efficient because we can get it all done at once in the same room," said Kristin, who has been bringing her kids to DHMC for flu shots for the past five years. "And the shots are given by reliably calm and cheerful people."
Enfield resident Nicole Kahiss and her husband brought their three children and said they have been coming to DHMC for flu shots since their kids started school. "They all come willingly and our 4-year-old actually went first today," she said. "I'm not in the hospital much, so it's cool to see a different environment," said their 12-year-old daughter Ryan.
Hanover resident Bob Bonner came for flu shots with two of his three sons because, he joked, "My wife [Leslie Butler] told me to. We usually come every year as a family of five, but my oldest son and my wife are out of town." Bonner's middle son Matt looked subdued as he and his younger brother filled out their forms. "I'm nervous," said the Hanover High School sophomore. "I don't like shots."
For nervous children younger than Matt, three Girls Scouts from Hanover Troop 33974 were handing out stickers and giving pep talks as the children awaited their flu shots. Troop leader Barbara Rieseberg said the Girl Scouts have been volunteering at the flu vaccination clinics for four years. "They meet the children, direct them to the room, and try to calm them down," said Rieseberg, director of D-H Lebanon's Primary Care Population Health Operations.
Elizabeth Bailey, the operations manager for General Ambulatory Services, said nervousness is common for many people getting their flu shots. "But they're happy that we offer it, it's well-run and people are moving through the lines quickly," said Bailey, who helped run the flu clinic. "This is part of our vision of having a healthy population, and it's a great benefit for people in the area."
Many of those who attended the free flu vaccination clinics said they come every year because of the "incredible nurses" and because the clinics are so well organized. Susanna Gadsby, RN, who was the lead nurse for the flu vaccination clinics, said she was pleased by how smoothly the clinics went.
"This location was closer to the main entrance and it was easier for everyone to exit from Auditoria A through D," she said. "People have been very appreciative and it's nice to provide a service for the public that helps them."
DHMC offered its first weekend flu vaccination clinic for adults and children on September 30, and flu clinics were also held in Enfield, Canaan, Orford and Plainfield. Four public flu clinics have been held at D-H Manchester. Seven public flu clinics have been held at D-H Concord. Patients have also been able to schedule appointments for free flu shots throughout September and October at D-H Merrimack and D-H Milford, D-H Nashua and D-H Hudson.
DHMC Public Flu Clinics: By the Numbers
The public flu clinics held on September 30 and October 29 provided flu shots to 3,702 employees and community members. The table below describes the age groups and number of individuals that received immunizations during the two clinics.
September 30
October 29
Employees
160
Employees
79
65&older (High Dose)
861
65&older (High Dose)
314
19-64 years
792
19-64 years
658
3-18 years
386
3-18 years
374
6-35 months
45
6-35 months
33
Total
2244
Total
1458