In This Section
Spotlight on New Leaders of the Jack Byrne Center for Palliative & Hospice Care
Photography by

Mark Washburn

November 21st, 2017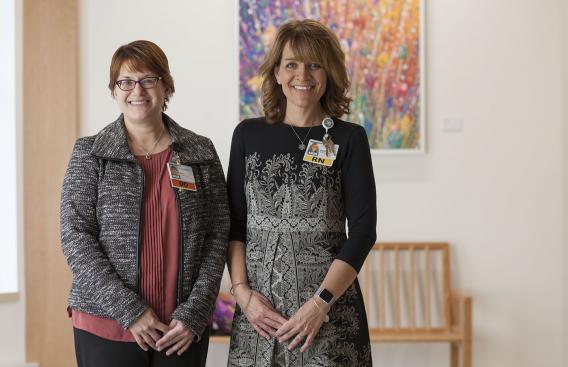 Set to open in late December, The Jack Byrne Center for Palliative & Hospice Care offers patients new services in a new facility. Its leaders are new too. Ruth Thomson, DO, MBA, medical director for the center joined Dartmouth-Hitchcock (D-H) in August and Melissa Garland, BSN, RN, nurse manager assumed her new responsibilities in July.
Thomson and Garland explain the care that will be delivered by the Jack Byrne Center staff and why they're excited to lead the team.
How will the Jack Byrne Center benefit patients across the region?
Garland: The center will give us the opportunity to collaborate with our partners in the regional hospice agencies, while providing inpatient care to patients in our community.
Thomson: We will provide interdisciplinary team care to address the medical, psych-social, and spiritual needs of patients and families. The team is focused on quality of life and meeting patient goals.
Caring for hospice patients that need a higher level of care is where the Jack Byrne Center will make a difference. Some patients might come in for symptom management and then transition to home. For others, the center will provide end-of-life care.
How are preparations going?
Thomson: Things are going well. We have been holding a series of open house events to show people the new facility before we open for patients in late December. The majority of staff has been hired and we are excited to get everyone onboard so we can train together.
Garland: Building our team has been one of my priorities in the past few months. I have had the opportunity to meet with candidates who are passionate about palliative and hospice care. Many are current D-H employees who have been following the center's progress.
Dr. Thomson, you have an impressive background in hospice and palliative care at other organizations. What drew you to New Hampshire and the new Jack Byrne Center?
Thomson: From my work in hospice settings, I know how important it is to offer patients the entire scope of hospice and palliative care. Patients in this region have needed a dedicated place for symptom management that can't be done in the home. I felt my experience would help foster and grow access to that kind of care here at D-H.
Things really came together for me in this position. I love New England and often say I'd like to retire here. My family and I have found people to be so warm and welcoming.
Melissa, after many years at D-H – mostly in the inpatient setting – what attracted you to this new role for the Jack Byrne Center?
Garland: I have been a nurse manager for 17 years and really love this role. I have been able to stay connected to patients and work closely with staff who are at the point of care. Building teams and bringing people together around a common goal are some of the things I like most about my work.
Throughout my 28-year nursing career, I have been able to witness the value to patient care that palliative and hospice services can add. I am feeling extremely grateful and privileged to be part of this work at the Jack Byrne Center.
How will the Jack Byrne Center be different than other palliative care services and hospice centers?
Thomson: There are many wonderful palliative and hospice care facilities across the country, and the Jack Byrne Center is similar to them in layout and concept. We offer private, home-like rooms and interdisciplinary care with a focus on supporting the needs of patients and their families.
Most hospice facilities are associated with a hospice organization, the Jack Byrne Center is unique in that it is part of an academic medical center. We are able to deliver expert symptom management and end-of-life care in a state-of-the-art setting and contribute to education and research in hospice and palliative medicine. It is nice to have that collaboration to help move evidence-based palliative care forward across the country.
Many people from D-H and the community have worked long and hard to create the Jack Byrne Center. What is your message to them?
Thomson: Community, hospice, D-H leaders and staff have all been so thoughtful and supportive. They put patients and families at the heart of the program and did a great job of laying the groundwork for us.
Garland: I have an overwhelming sense of gratitude to the people who were involved in the center's creation. The detailed planning was exceptional and put us in a great place to implement the vision.