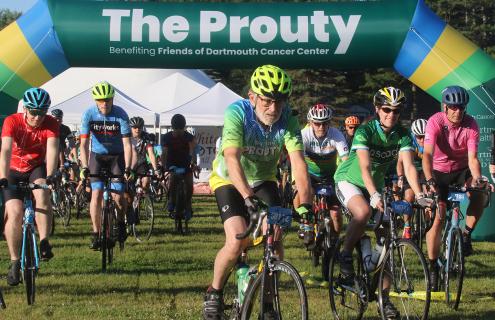 For the first time fully in person since 2019, the 41st annual Prouty fundraiser carried with it the extra joy of a much needed community reunion. Nearly 4,000 cyclists, walkers, rowers, golfers and volunteers joined together to once again break records, raising more than $5.5 million at northern New England's largest family-friendly fundraising event.
Over its 41 years, the Prouty has evolved into a weekend community celebration to support cutting-edge cancer research and patient and family support services with the ultimate goal of ending cancer. Each year on the second weekend in July people from all over the country join together to raise money for Dartmouth Cancer Center. Money raised provides funding for pilot projects in cancer research, equipment for research labs and vital patient and family support services such as massage, reiki, creative arts and support groups through Dartmouth Cancer Center's Complementary Care Program.
"As we salute our 50th year as a Cancer Center where we joyfully launched the Byrne Family Cancer Research Institute, we have much to celebrate," said Steven D. Leach, MD, Director of Dartmouth Cancer Center, who has ridden the 200-mile Prouty Ultimate bike route through New Hampshire and Vermont each year since becoming Director in 2017. "The Prouty is powered by philanthropy and helps us make a difference. Last year, the Prouty helped raise over $4.1 million for life-saving cancer research and important patient support services. Our patients today and those yet to come are directly served by Prouty-sponsored funding."
An example of the impact early seed funding can make is a nearly $33M Patient-Centered Outcomes Research Institute (PCORI) grant awarded to Audrey H. Calderwood, MD, MS, for her team's clinical research on colorectal cancer screening in older adults. Calderwood received Prouty pilot funding in 2017 and 2019 for this work, which set her team up for the success of earning one of the largest grants Dartmouth Cancer Center researchers have ever received.
Sunshine and comfortable summer temperatures contributed to the festive mood as participants walked or cycled through neighborhoods and roads in New Hampshire and Vermont, rowed on the Connecticut River, or played 18 holes at Eastman Golf Links in Grantham.
New to this year's event, an opening ceremony united the Prouty community together as one powerful, cancer-fighting force. The ceremony served to celebrate collective accomplishments, and invite participants to share inspiring stories. In tribute during the ceremony, participants carried on their Prouty journey yellow ribbons bearing the names and messages in honor of loved ones for whom they were participating. At the end of their events, many participants fastened their yellow ribbons to the fence at the finish line.
The Prouty offers activities for elite athletes, those just beginning and every level in between. Jaclynn Rodriguez, Executive Director of the Friends of Dartmouth Cancer Center, who, with a team of volunteers and interns conduct the Prouty every year, spent her day with the many who turned out for the cause. "It is inspirational to see our community all together again, participating and bringing hope, support and love to the patients and families who count on Dartmouth Cancer Center," said Rodriguez. "We crossed the Prouty finish line today, but our Prouty community will continue to carry all of us closer to the ultimate finish line—a world without cancer."
Post-event donations are still welcome and encouraged. For a running total on the 41st annual Prouty earnings for cancer research and patient support, please visit TheProuty.org.
About Dartmouth Cancer Center
Dartmouth Cancer Center combines advanced cancer research at Dartmouth and the Geisel School of Medicine, with award-winning, personalized, and compassionate patient-centered cancer care and clinical trials based at the Norris Cotton Cancer Care Pavilion at Dartmouth Health's Dartmouth Hitchcock Medical Center. With 14 locations around New Hampshire and Vermont, Dartmouth Cancer Center is one of only 53 National Cancer Institute-designated Comprehensive Cancer Centers. Each year the Dartmouth Cancer Center schedules 74,000 appointments seeing more than 4,500 newly diagnosed patients, and currently offers patients more than 240 active clinical trials. Celebrating its 50th anniversary in 2022, Dartmouth Cancer Center remains committed to excellence, outreach and education. We strive to prevent and cure cancer, enhance survivorship and to promote cancer health equity through pioneering interdisciplinary research and collaborations. Learn more at the Dartmouth Cancer Center website.