Photography by

Mark Washburn

November 1st, 2016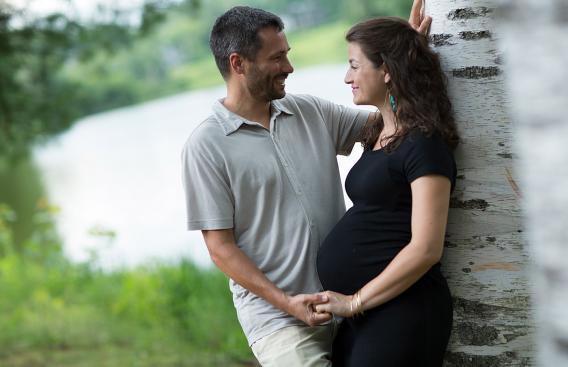 I went from wanting the epidural in the parking lot to giving birth without medication.
Tatiana Lamia
Tatiana Lamia began her pregnancy under the care of an OB/GYN provider she trusted near where she and her husband, Booie, lived in New York City. Mid-way through her pregnancy, they moved to Hanover, NH. As she considered her options for care after the move, Lamia remembers thinking, "There is no way I am going to see residents or midwives." Because Lamia is a doctor, she felt most comfortable seeing an attending physician and made her wishes clear during her first appointment at Dartmouth-Hitchcock Medical Center (DHMC).
At her first appointment, Lamia learned about "CenteringPregnancy," a model of care offered in a group setting at the Women's Health Resource Center. This program combines routine prenatal care with education about health, pregnancy and parenting. Women with similar due dates meet together with a provider for two hours every month throughout their pregnancy. At the time Lamia thought it sounded strange, however she decided to try one of the groups whose members had given birth, wanting to get their feedback about receiving care this way. All of the women she spoke with loved the setting and their group, urging her to consider it and to give the midwives a chance. The women seemed to have a strong support system that had built over time. "One woman expressed how sad she was to return to work because she so enjoyed the time with her group," Lamia says. After receiving consistently positive feedback, Lamia and her husband decided to give CenteringPregnancy a try.
"I was the type of mother-to-be who wanted an epidural at the time of the first contraction, or to schedule a c-section. After the sessions with my CenteringPregnancy group, I changed my tune—I wanted to give birth naturally, and I did," Lamia recalls. As part of the group, she received the information she needed to make a well-informed choice. While going through the birthing process, she felt like the CenteringPregnancy group had prepared her well for what happened. "Because all of the women in our group were at a similar point in their pregnancy, we all benefited from the questions others asked. I felt so prepared. I went from wanting the epidural in the parking lot to giving birth without medication," says Lamia.
Lamia's experience at the Birthing Pavilion was excellent as well. "From the nurse we met when we arrived to when we left, it was the most wonderful experience ever." During labor, Lamia used the tub and the staff encouraged her to try any position she wanted. "They worked with me so I was comfortable. And even though I said that I didn't want a resident, a resident delivered my baby and I liked her," she remembers. The midwife never left her side, so the resident was always under direct supervision.
After giving birth, Lamia's CenteringPregnancy group had a final session to meet one another's new babies and talk about how they were adjusting to parenthood. All agreed that parenting was harder than pregnancy, but they felt well-supported because of their tight-knit group and the after-care at DHMC.
Lamia offers advice to those who are newly pregnant: "If you are thinking about where you want to have your baby, ask questions of the staff at the hospitals you are considering about how comfortable providers are with the patient's preferences. Will they let you try any position you like during labor? And, will they give you suggestions of positions or techniques to try to ease the birth process and potentially deliver your baby with no anesthesia? I can tell you that all of those things were offered to me. Anything I wanted to try, they were game. And, when I couldn't remember the options, they would gently remind me."
Lamia also found that the little things that the staff did made a big difference to her, like the nurse who put her at ease by massaging her hands. And, her midwife, Jessica Densmore, who came to see her after giving birth even though Densmore was not on duty. "The consistency of the kindness and thoughtfulness of every single provider amazed me. I've worked in over 15 different hospitals during my career and I don't think any of them would offer the type of care I experienced at Dartmouth-Hitchcock."