By

Heather Wolfe

January 31st, 2018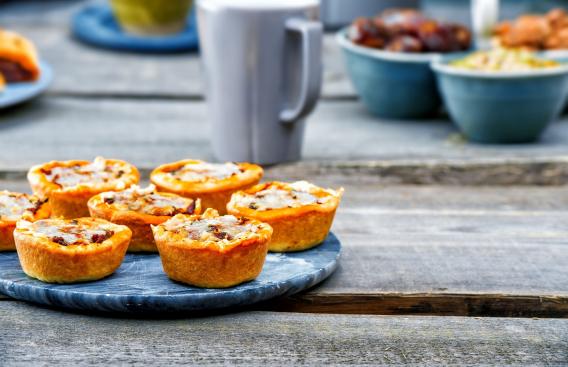 Mini frittatas baked in muffin tins create an individual egg dish perfect for a brunch, snack, appetizer or on-the-go breakfast. Easy to make ahead and reheat.
Makes: 12 regular-sized "muffins"
Serving size: 1 muffin
Ingredients
Cooking spray
1 teaspoon olive oil
¼ cup onion, chopped finely
½ cup green and/or red pepper, chopped into ¼ inch pieces
1 cup other vegetables, chopped into ¼ inch pieces (such as mushroom, asparagus, broccoli, zucchini)
6 eggs (see "Hints" below if using egg substitutes or whites)
½ cup milk (see "Hints" below)
½ cup shredded cheddar cheese (see "Hints" below)
¼ teaspoon salt
⅛ teaspoon ground pepper
Instructions
Position rack in center of oven; preheat to 350F. Coat a nonstick muffin tin generously with cooking spray (see "Hints" below).
Heat a large nonstick skillet over medium-high heat. Add oil to the pan. Add onion and peppers and other vegetables of your choosing. Cook, stirring often until softened, 5 to 7 minutes. Transfer to a bowl. Let cool for 5 minutes.
Whisk eggs and milk in a medium bowl. Stir in cheese, salt and pepper. Stir in cooked vegetables.
Spoon ¼ cup mixture into each muffin cup.
Bake until the frittatas are set in the middle and tops are just beginning to brown, 20-25 minutes.
Let cool on a wire rack for 5 minutes before removing from the pan.
Notes: They will likely deflate upon cooling, so don't worry if the middle sinks some. Serve warm. Cool any leftovers completely before storing.
Heather's Healthy Hints
For egg substitution: 1 whole egg = 2 egg whites or ¼ cup egg substitute.
Choose low-fat or fat-free dairy such as 1% or skim milk and a reduced fat cheddar.
Choose 50% and 75% reduced fat cheddars if available.
For bite-sized frittatas: Prepare a 24-cup mini muffin tin. Fill each muffin cup with egg mixture, approximately 1 tablespoon per cup. Reduce baking time to 12-15 minutes, until set in the middle and tops are just beginning to brown.
A good-quality nonstick muffin tin works best for this recipe. If you don't have one, line a regular muffin tin with foil baking cups.
Make Ahead Tip: After cooling, wrap in plastic. Refrigerate for up to three days or freeze for up to a month. To reheat, remove plastic, wrap in a paper towel and microwave on high for 30 to 60 seconds.
Nutrition (per "Muffin"): Calories 68, Total Fat 3.5g, Saturated Fat 1g, Carbohydrate 2g, Protein 6g, Fiber 1g, Sodium 118mg.
Download a PDF of this recipe.
Find more recipes and healthy eating tips in the Cooking Up Health section of Imagine Better.

Heather Wolfe, MPH, RDN, LD, CHC, is one of the Live Well/Work Well Health and Wellness (Dartmouth-Hitchcock's employee wellness program) coaches specializing in nutrition.